Virtual Visits
Children's Mercy is offering video and phone appointments to patients in their home. We believe that this will help keep everyone safe during the National State of Emergency and the stay at home orders.
You may hear people call these types of appointments different things, such as telemedicine, telehealth and virtual. Children's Mercy uses Microsoft Teams for these visits. If you have a virtual visit scheduled, here are steps to help you prepare for the visit.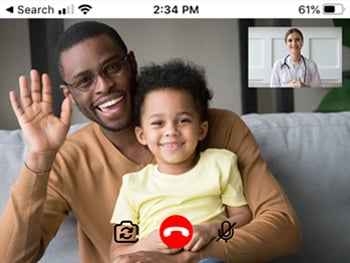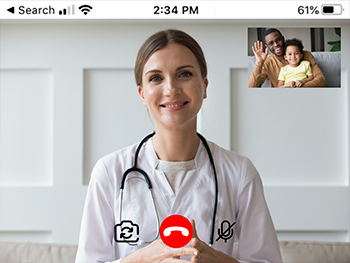 Before the Appointment
Click the pre-registration link to register for the appointment.


Fill out the forms you received in a different email from no-reply@cmh.edu:
• Patient portal authorization
o This lets you see what is in your child's medical record.
• Consent for medical and dental treatment
• Telemedicine consent
• Review of systems
o This is where you explain the changes in your child's health.
• Other forms for certain clinics
If you have trouble finding the email invitation, please check your spam or junk email folder for the email from "CM TeleTeam."


Download the Microsoft Teams App. You will need to give permission to use Audio, Video and Camera on your phone, tablet or computer. Click this Microsoft Teams link to download the app.
Click one of the links below to learn how to set up Microsoft Teams on your phone, tablet or computer.
Day of the Appointment
Have your child with you. Choose a quiet place with the best WiFi or signal where you and your child can be comfortable. Make sure it is a private place.


Things to have during the visit:
• A flashlight
• A thermometer
• Pharmacy name and location
• Your child's height and weight
• Medicine your child takes
• Questions you or your child have


Open the email for the appointment about 10 minutes before the scheduled time. Click on the words JOIN MICROSOFT TEAMS. This is a link that will connect you to a care team. Sometimes you may join the meeting before the care team. This is OK. It's like being in a waiting room. The team will join you soon.


You may be asked to move your phone, tablet or computer for the team to see your child. Make sure to ask questions. This appointment is like an in-person appointment.
If you have trouble setting up Microsoft Teams on your phone, tablet or computer, please call 1 (888) 252-8147. Thank you for choosing Children's Mercy and stay safe!