Instructions for Your Telemedicine Virtual Visit
Children's Mercy is offering video and phone appointments to patients in their home.
If you have a telemedicine appointment, follow these steps to help you prepare for the visit.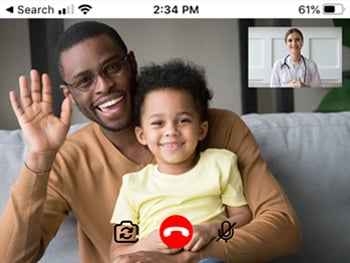 Before your telemedicine appointment
Complete pre-registration.
Complete the electronic forms you received by email from no-reply@cmh.edu or text.
Use the link you received in email or text to connect to your visit through KidCare Anywhere. Click your language below for instructions:

Make sure your child is with you for the appointment.
For technical help with your telemedicine appointment, please call (816) 302-7895.
To reschedule your appointment, call (816) 234-3700.
Day of appointment
Find a quiet, private place with the best WiFi or cellular signal where you and your child will be for the appointment. You and your child must physically be in either Kansas or Missouri during the appointment.
Turn off other electronic devices around you like a TV, video game, computer and tablet.
Have information and supplies you might need for you appointment.

Flashlight.
Thermometer.
Name, address and phone number of your pharmacy you use.
Your child's recent height and weight.
A list of your child's allergies.
Any medications your child takes.
Any questions you or your child have for the provider.

15 minutes before your appointment, click on the link sent to you email or text for your telemedicine appointment.
You will be placed in a virtual waiting room. The provider will join the appointment virtually after they review your information.
You may be asked to move the device you are using to help the provider see your child better. Ask any question you have and treat this appointment like you would if you were meeting with the provider in person.