Virtual Visits (Online Appointments)
How to prepare and what to expect
Children's Mercy is offering video and phone appointments to patients in their home.
If you have a virtual visit scheduled, here are steps to help you prepare for the visit. Thank you for partnering with Children's Mercy and promoting safety!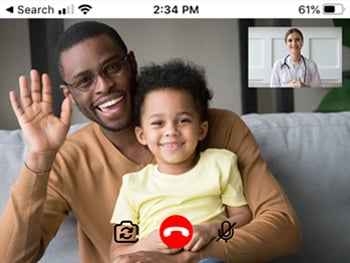 Before the online appointment
Complete preregistration.
Complete electronic forms received in separate email from no-reply@cmh.edu. This may include:

Patient portal authorization (if not currently enrolled)
Consent for medical and dental treatment
Telemedicine consent
Review of systems (explain the changes in your child's health)
Specialty clinic questionnaires

Download the Microsoft Teams App.

Grant permissions to audio, video and camera to use for appointment.
For instructions, click the preferred language below.

Make sure your child is with you for the appointment.

Learn how to set up your device for your visit:


If you have trouble setting up Microsoft Teams on your phone, tablet or computer, please call (816) 302-7895.
Day of appointment
Locate a quiet, private place with the best WiFi or cellular signal where you and your child will be for the appointment.
Gather a flashlight, thermometer, the name/address/phone number of your pharmacy, your child's recent height and weight, medications and any questions you or your child have for the provider.
Click on the Teams meeting link sent to you for your telemedicine appointment, 10 minutes prior to your scheduled appointment time.

Please remember that you will enter a "virtual meeting room" and may wait a few minutes before the health professional joins your appointment.

You may be asked to move the device for the provider to assist with assessment. Remember to ask your questions and treat this appointment like you would if you were in person.