Telemedicine services are part of our commitment to provide extraordinary experiences for our patients and families. Telemedicine is the use of audio-visual technology to deliver medical care when the patient and provider are not physically together.
Children's Mercy offers a variety of telemedicine services including appointments at our regional outreach centers that are supported by a specially trained nurse telefacilitator. The telefacilitator is with the patient/family to ensure the communication between the provider and patient/family is exceptional and to help with the physical assessment.
We also offer direct to patient telemedicine using a secure, private audio-visual solution to allow patients/families to remain at home and still have access to Children's Mercy providers.
Telemedicine benefits

Telemedicine supports access to health care providers by using secure network connections and devices to examine and deliver care when patient and provider are not physically together. As a result, care can be delivered more efficiently and more kids can receive the care they need. Due to the advancements in technology, a Children's Mercy provider can be virtually anywhere delivering the same high-quality care that is the Children's Mercy standard.
A virtual visit allows you to access care from the comfort of your own home using a mobile device or computer. A virtual visit is very similar to a regular face-to-face office visit.
To begin your visit, you will access a secure video link provided to you by your provider's office. Once in the virtual waiting room, your clinician will be notified and will connect with you through the video system. You'll be able to interact in real time, review any labs or medications and communicate just as you normally would in a face-to-face visit.
Learn more about virtual visits
There is a telefacilitator in the room with the patient to ensure both the patient/family and provider have a quality experience. The facilitator does this by helping the provider with the necessary exam, ensuring that everyone can hear and see and that all questions and follow-up are managed just like with traditional appointments.
There is a video screen presenting the provider, and there may be a "picture in picture" so you can see exactly what the provider sees. In addition to the video screen, the telefacilitator may use:
A general exam camera to magnify anything the provider wants to see up-close in high definition.

A dermascope that allows the provider to measure areas on the skin.

An otoscope which is used to look into the ears.

An ophthalmoscope for looking into the eyes.

A stethoscope that allows the provider to listen to your child's lungs, heart, and stomach.
This depends on the type and complexity of care required. There are times when patients and doctors still need in-person visits. Children's Mercy providers will guide you and your child when it is appropriate for telemedicine and when your child needs to be seen in person.
Not usually. The doctors ask patients and families for permission through a consent form if they need to save pictures or recordings.
They are very secure. Even if an unauthorized line were to connect during a session, nothing could be seen or heard due to the level of security.
We try to offer telemedicine services in as many locations and departments as possible. To see if telemedicine is available for you child's appointment, please check with your provider.
Clinical Services
Asynchronous imaging services with subspecialty consultation 24 hours a day, seven days a week in the areas of pediatric neuroradiology, pediatric MSK radiology and pediatric body imaging (CT, ultrasound and MRI), plain film expertise in the pediatric patient, pediatric EEG, EKG, PFT, and ECHO.
For babies determined to likely have a cardiac anomaly, a provider-to-provider consultation with a pediatric cardiologist from the Ward Family Heart Center at Children's Mercy will be arranged with the potential for remote evaluation at the birth facility.
Stories
Delivering complex medical care via telemedicine: TJ's story
Several complex medical conditions make visits to Children's Mercy a challenge for TJ DeCow. Now, telemedicine visits are making it possible for TJ's doctors to check in on him remotely, reducing his anxiety level, saving travel time to and from the hospital, and limiting time away from work for his mom.
Meet TJ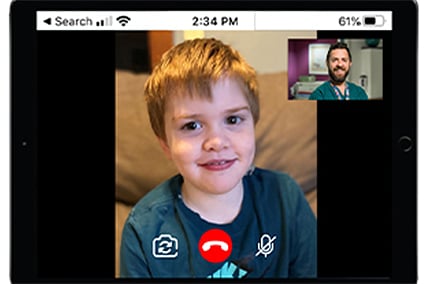 Locations offering telemedicine
Children's Mercy St. Joseph
(816) 236-6900
Children's Mercy Joplin
(417) 578-2200
Children's Mercy Wichita
(316) 500-8900
Children's Mercy Junction City
(785) 579-4300

Contact the Telemedicine Team

You may also contact us at the email address below to discuss your telemedicine needs.