Delivering Complex Medical Care Via Telemedicine: TJ's Story
Meet TJ

At a time when social distancing and remote living are more in-demand than ever, 9-year-old TJ DeCow and his family are trendsetters.
"We live on a little farm in the middle of a field near a small town in southeast Kansas called McCune," said TJ's mom, Donielle DeCow. "And we love it."
But country living also has made it a challenge in the past to get TJ the expert care he needs to manage the complex health conditions he's been battling since his first year of life.
"We live about three hours from the Children's Mercy Kansas City Adele Hall Campus, and we are a little closer to Children's Mercy Hospital Kansas," Donielle said. "We've made that trip many, many times over the years, sometimes several times a month. It can be incredibly stressful for TJ."
Complex conditions and challenges

TJ's primary health problems are autonomic dysfunction, erythromelalgia and eosinophilic gastrointestinal disease.
Autonomic dysfunction is a medical condition that can result in disabling function of the autonomic nervous system, the system that controls the body's involuntary functions like blood pressure, heart rate, temperature, digestion and perspiration. For TJ, it has affected his development, his muscle control and his ability to communicate, eat and sleep.
"TJ seemed like a normal infant until he was about 4 months old," Donielle said. "We don't know why he has this. He's been genetically tested, but that hasn't revealed anything. We've seen several pediatric neurologists, but Keith Coffman, MD, is our lifesaver!"
TJ also has erythromelalgia, a rare neurovascular condition that most commonly affects the feet, but may also occur in the hands, face, or other parts of the body. In TJ's case, his hands and feet become ice cold to the touch, and turn bright red. When this started, he would scream constantly, but his parents had no idea why.
"Because his hands and feet were so cold, we were trying to warm him up with an electric blanket," Donielle said. "It turns out that was the wrong thing to do. Heat actually makes the condition worse, not better."
And then there are the feeding issues. Donielle said those also began when TJ was an infant. "He would literally projectile vomit everything we fed him," she said.
Donielle tried formula after formula, but nothing worked. Eventually, testing revealed TJ has eosinophilic disease, another rare condition that affects his gastrointestinal tract. Over the years, he's had a variety of feeding tubes and even a central line.
To say that his nutritional intake has been difficult to manage would be an understatement, but John Rosen, MD, a Children's Mercy pediatric gastroenterologist, now works with TJ to help manage his feeding problems.
"Dr. Rosen has been wonderful," Donielle said. "TJ doesn't have a voice, but Dr. Rosen lets me be his voice and a significant part of TJ's care team. I really appreciate that."
A perfect connection

Prior to March 2020, TJ's hospital and clinic visits were all in person. Trips to Children's Mercy required Donielle, who has worked remotely from home for several years, to take a day off work to make the trip.
"It's about three hours one way to the hospital, so doctor visits usually require us to eat at least one meal on the road, plus there's the cost of fuel and wear and tear on our vehicle," Donielle said. "It can get expensive." And that's just for routine clinic visits.
"There have been times when we have had to come to the hospital once a week," Donielle said. "When you take that into consideration, it can be exhausting."
But when COVID-19 spread to the area, Children's Mercy began using telemedicine to reach out to patients in Kansas City and beyond, including TJ.
Thanks to advances in technology, a Children's Mercy provider can be virtually anywhere, yet can deliver the same high-quality care that is the Children's Mercy standard.
Telemedicine uses secure, private audio-visual technology to allow patients and families to remain at home and still have access to Children's Mercy providers. Cameras and devices can help with examinations when the patient and provider are not physically together.
Since signing up for telemedicine, TJ has had two remote visits with Dr. Rosen and one with Dr. Coffman.
"TJ is a pleasure to see in clinic, but sometimes he gets tired of having to stay in the exam room while different members of his team come in and out (nursing, nutrition, etc.)," Dr. Rosen said. "Telemedicine has provided him the opportunity to be in his home environment for the whole visit. This was great for him to have his usual comforts and activities available, and great for us to take our time during the visit knowing that TJ could relax."
"I have absolutely fallen in love with telemedicine appointments," Donielle said. "The telemedicine technology has worked amazingly well."
Prior to his appointment with Dr. Rosen, Donielle had TJ's blood tests performed at a local lab, then results were sent to him for review. Plus, other team members could see TJ during the same appointment, including the pharmacist and dietitian.
"The pharmacist had never met TJ before, but with a telehealth appointment, she was able to join us and hear how things are going. It's helping us build a relationship with a new team member we wouldn't normally meet," Donielle said.
From the comfort of home!

What Donielle loves most about telemedicine though is that the team members have been able to see TJ in his home environment.
In fact, at a recent telemedicine visit, TJ snuggled with Donielle from the comfort of their couch while they talked with Dr. Rosen on their 60-inch television. Dr. Rosen even checked the site where TJ's central line recently had been removed.
"We just walked over to the camera and lifted his shirt up so Dr. Rosen could see it, then he wanted to see around his G-tube to be sure it looked fine. I was able to show him that, too. And he wanted to see how soft his belly was, so I pushed around on TJ's belly so he could see that it wasn't distended or hard. It was really easy."
"The examination through telehealth is different than in person," Dr. Rosen said. "I wouldn't say that it is better or worse. For TJ, and many other children with chronic GI disorders, observation of behavior and visual inspection, in this case of his central line site and enteral feeding tube, are the most important parts of the physical exam."
Dr. Coffman has seen TJ recently via telemedicine, too. "The most important thing to me is that Dr. Rosen and Dr. Coffman got to see the happy, giggly TJ who thinks a sneeze is just the funniest thing in the world. That's who we get to see all the time at home, not the stressed-out little boy who melts down every time the exam room door opens and closes," Donielle said.
"It adds that extra piece of the puzzle that may help the team think of him differently. That brings immense joy to me.
"I honestly hope that once we're past the pandemic, we still have the option to keep doing TJ's check-ups remotely," Donielle said. "It's opened up a new world for us, reducing stress on TJ, saving travel time and time away from work. I can see how it would be beneficial for other families whose children have complex medical needs.
"We know that we will still have to make trips to Children's Mercy periodically for TJ's care," Donielle said. "But for us, telemedicine is making a world of difference. It's perfect!"
Stories
Peutz-Jeghers syndrome: Toby's story
A rare genetic condition causes polyps to continually form in Toby Nguyen's intestines. But thanks to the Children's Mercy Polyposis Center and a unique test called double balloon enteroscopy, it's under control.
Meet Toby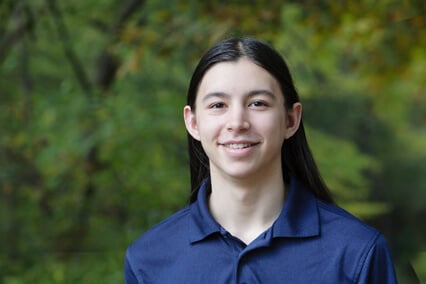 Child Neurology, Neurodevelopmental Pediatrics
Director, Movement Disorders Program; Director, Tourette Syndrome Center of Excellence; Professor of Pediatrics, University of Missouri-Kansas City School of Medicine; Clinical Assistant Professor of Pediatrics, University of Kansas School of Medicine
Pediatric Gastroenterology
Director, Telemedicine & Outreach; Section Chief, Gastroenterology & Nutrition; Professor of Pediatrics, University of Missouri-Kansas City School of Medicine; Clinical Assistant Professor of Pediatrics, University of Kansas School of Medicine