Inflammatory Bowel Disease
Nationally ranked by U.S. News & World Report
What is inflammatory bowel disease (IBD)?

Inflammatory bowel disease, or IBD, describes a group of conditions where the body's immune system causes problems in the digestive (GI) tract.
In most people, the cells and proteins that make up the immune system protect the body from infection. In people with IBD, the immune system mistakes food, bacteria, and other materials in the intestine for a foreign substance. When this happens, the body sends white blood cells into the lining of the intestines. This produces inflammation, which looks like redness or ulcers. If this goes on for a long time, it can cause belly pain, weight loss, and bloody stools.
What causes IBD?

We don't know why a person develops IBD. However, we think it's a combination of multiple factors, including genetics (family history) and triggers like our environment, the foods we eat, and substances that can alter the bacteria in our gut. IBD is different from IBS (irritable bowel syndrome) because IBD is an autoimmune disease. Although they often have the same symptoms, treatments for IBD and IBS are different.
Crohn's disease (CD) is a chronic (long-term) disease that causes inflammation (redness, ulcers) of the lining of the gut and sometimes symptoms outside of the GI tract. Inflammation can develop anywhere from the mouth to the anus, with areas of healthy tissue in between. Crohn's disease can also affect deeper layers of the gut, not just the top lining. Sometimes it causes symptoms outside of the GI tract in places like the skin, joints and eyes.

Ulcerative colitis (UC) is a chronic (long-term) disease of the large intestine (colon) only. People with ulcerative colitis have inflammation in the lining of the colon. The combination of inflammation and ulcers can cause belly pain, bloody stools, and symptoms outside the GI tract, such as in the skin or the liver.

Indeterminate colitis (IC) is a form of IBD with features of both ulcerative colitis and Crohn's disease.
IBD treatment at Children's Mercy

The Inflammatory Bowel Disease (IBD) Clinic provides comprehensive health care for children and adolescents with IBD, including Crohn's disease and ulcerative colitis, in a family-centered environment. Our team understands that IBD includes physical, emotional, behavioral, financial and social needs for our patients and families.
We take a team approach to assess and treat children and adolescents with IBD. This means that your child's care and treatment will be provided by a team that includes a gastroenterologist, nurse practitioner, psychologist, social worker, nutritionist, and researchers who are working together to best meet your family's needs. Clinical care includes access to the ImproveCareNow Collaborative, a partnership between more than 30 pediatric gastroenterology centers working together to improve the care and outcomes for kids with IBD.
Infusion center

Children's Mercy Outpatient Infusion Center offers infusion services and lab draws for children who are on various biologic and immunosuppressive therapies.
We have two metro locations at Adele Hall and at Children's Mercy Kansas.
The infusion centers are equipped with private patient bays that include a recliner, TV, DVD player, video game system and a single chair for a parent or guest.
Room service (food and beverage) is also available for your child upon request.
Vaccinations like yearly influenza, Hepatitis B boosters, and Pneumococcal 15/23 can be given while your child receives their infusion.
We offer rapid infliximab (quicker infusion that lasts 1 to 1.5 hours rather than 2.5 to 3 hours) for those patients who are eligible.
All our outpatient infusion nurses are P.E.A.R.S (Pediatric Emergency Assessment, Recognition, and Stabilization) certified.
Your child will receive the highest quality of care by receiving infusions at a pediatric hospital with direct access to oxygen, emergency services if needed, as well as your pediatric gastroenterologist and your IBD care team.
Our Comfort Promise policy is implemented with every infusion. The Comfort Promise uses 4 evidence-based strategies to reduce or eliminate pain caused by needle sticks and to help prevent long-term negative psychological effects of trauma during infusions. Child Life Specialists can also support your child during infusions to help with anxiety and pain management.
Young Adult IBD Clinic (YAC)

Young Adult IBD Clinic helps IBD patients ages 17 or older become more engaged with their day-to-day health management. This helps them be successful when it is time for them to transfer into adult care.
YAC can help with things like finding an adult GI provider, taking medications as directed, taking greater responsibility for your health care needs and becoming more independent with daily health management.
Please note that a visit to this clinic will count as a regular follow up since you'll be seen by the IBD Nurse Practitioner, who collaborates closely with your primary GI doctor. You will otherwise continue to be seen by your GI doctor. If you report acute needs or if treatment changes need to be made, your primary GI doctor will be notified.
Children's Mercy Specialty Pharmacy

Our dedicated specialty pharmacy team is excited to work with you, your provider and your insurance company to provide smooth communication and make sure that all your pharmacy needs are met. They deliver unique, high-cost medicines to patients through the mail, ensure optimal cost savings, and tailor the entire experience to meet your needs. You will have one-on-one direct contact with our pharmacists and after-hours emergency access to clinically trained personnel as well.

Our services can help you in several areas, including:
Training, education, and counseling about your medications.
Broad medication review.
Copay, patient assistance and other financial assistance programs.
Free medication delivery.
Refill reminders.
24/7 access to clinically trained personnel
Sharps container provided upon request.
Learn what to expect prior to your child's IBD visit and get answers to frequently asked questions.
IBD Patient Family Advisory Council
To co-produce the highest level of care for the pediatric IBD patients and families at Children's Mercy. Learn about this council's mission, accomplishments, and bylaws.
Stories
Crohn's disease: Bailey's story
Bailey has been living with Crohn's disease, an inflammatory bowel disease (IBD) that can affect the entire digestive tract, for almost half of her life. She has powered through flare-ups with the help of our IBD Team and continues to keep a positive outlook on life.
Meet Bailey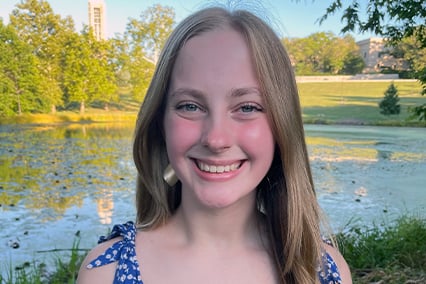 Crohn's disease: Leah's story
Leah Steinacker was a busy, active high school senior when sudden, severe stomach pain landed her in the hospital at Children's Mercy. Her experience receiving care for Crohn's disease inspired her Master's thesis project - a waiting room kit for kids.
Meet Leah