The Children's Mercy Research Institute
The Children's Mercy Research Institute
A Research Center for Children
The Children's Mercy Research Institute (CMRI) integrates research and clinical care with multidisciplinary teams at the point of care while bringing together nationally recognized expertise in genomic medicine, precision therapeutics, population health and health care innovation.
As a result, we accelerate the development of groundbreaking individualized therapies and treatments that transform the potential of all children, one child at a time.
RESEARCH STORIES
Children's Mercy is Home to the World's Most Advanced System for Rare Disease Diagnosis
---
THE CHILDREN'S MERCY RESEARCH INSTITUTE NEWS
September 28, 2022
Dr. Hugo Escobar receives renewed funding to continue research on cystic fibrosis treatments
The Cystic Fibrosis Foundation renewed funding of their Therapeutics Development Network project led by Hugo Escobar, MD, Pulmonology. The $254,699 Therapeutics Development Center Award is for one year and goes through March 31, 2023.
"Discover Cures and Transform Care": The Children's Mercy Research Institute
We, along with the community, celebrated the grand opening of the Children's Mercy Research Institute (CMRI) in February 2021. Replay the virtual celebration that included inspiring stories, Big Slick celebrity appearances, a look inside the CMRI, and a special "lighting of the building" moment, which unveils actual DNA patterns of children diagnosed at Children's Mercy.

Join us!
We are looking for volunteers to be a part of the Family and Community Research Advisory Board.
Genomic Answers for Kids
Thousands of genetic diseases affecting children remain undiscovered and untreatable. But hope is on the horizon with Genomic Answers for Kids, a first-of-its-kind pediatric data repository to find novel treatments for pediatric genetic conditions.
The CMRI's Commitment to Inclusion and Diversity
Inclusion and diversity among research teams, participants, families, vendors and community partners is essential to fulfilling our mission to improve the health and wellbeing of children everywhere.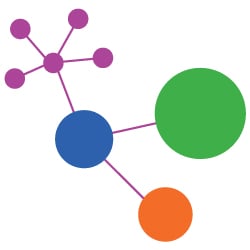 Researcher Network
Learn about the dynamic research programs and explore potential collaborations with our world-renown investigators.