Pediatric research is critical

Children are unique, with lives filled with big dreams and hopes for the future. Their health needs are unique as well. To give children the best treatments possible, to make sure that no disease dims their bright futures, research that focuses on the unique needs of children is critical.
But right now, only 10 percent of the National Institutes of Health's $37 billion annual research budget goes to support pediatric research, and only 5 percent of more than 7,000 rare pediatric diseases have a drug approved by the FDA.
This lack of pediatric-specific funding makes it more difficult to find answers for kids. And it means that kids are being left behind.
Together we can change that. We can help give children a healthy future so they hold tight to their hopes and chase those big dreams.
Together, our LOVE WILL...

Find answers
When a parent wants to know, "Is there a cure?" When a doctor dares to ask, "Can we repair the genetic code of one child?" LOVE WILL Answer.
The physician-scientists at the Children's Mercy Research Institute (CMRI) work hard every day to answer your biggest questions – why do children get sick and how can we prevent and cure their diseases?
The discoveries unlocked will allow us to diagnose more quickly, treat more precisely, and cure and prevent childhood illnesses. Together, our love will find answers.
Help us change children's health
By giving to the CMRI, you support research with a purpose. It means the diseases and conditions we study are directly related to the needs of the children we serve here at Children's Mercy. The questions parents and doctors have are the answers we pursue every day through rigorous research and collaboration. With your help we can get closer to our vision of creating a world of wellbeing for all children.
Make a difference for kids like Kit
This summer, Kit turned eight years old and celebrated a chemo-free summer. It was a long, painful road for Kit to get to a summer of fun with her family, the kind of summer many families enjoy so freely. For two years, she endured more than 20 spinal taps, multiple blood transfusions, surgeries and dozens of hospital admissions. She spent 859 days undergoing chemotherapy. Kit doesn't remember life without chemo for her acute lymphoblastic leukemia.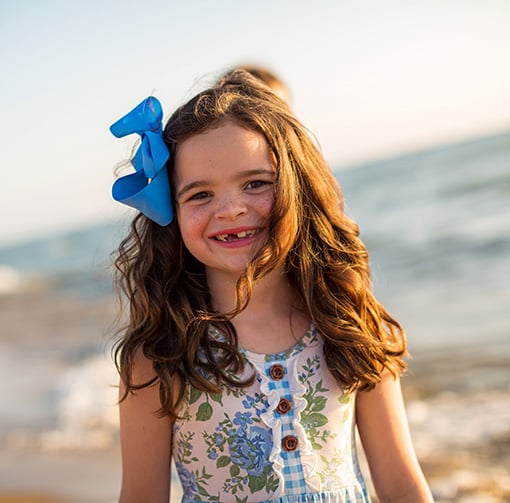 Thankfully, scientific investigation and personalized medicine helped save Kit's life. But what if she and her family didn't have to lose that time while she struggled through heart-wrenching pain? What if childhood diseases like the acute lymphoblastic leukemia that invaded Kit's tiny body were eliminated and children didn't have to suffer at all? What if her family never had to say, "She's still not out of the woods" and wonder and worry every single day?
Together, we can make these "what ifs" a reality. Your support will change the course of a child's life. Every gift will be put to work conquering pediatric disease so kids like Kit no longer have to suffer.
Fuel answers for waiting families
Donors like you will fuel answers for waiting children and families, like Kit. Give today and support the discoveries of tomorrow. 
Your impact on discovery

You make it possible to bring world-class breakthroughs directly to children. Here are just some of the ways the generous support of our donors is making a real difference.
Understanding rare disease: Genomic Answers for Kids is a critical and unique research project dedicated to kids. With support from the community, researchers at Children's Mercy are in the process of collecting genomic data and health information for 30,000 children and their families and building a first-of-its-kind pediatric data repository of nearly 100,000 genomes. This data could lead to accelerated diagnoses and treatments for unknown diseases threatening kids here at home and across the globe. Currently, no one else is focusing on children. Of the 10 U.S.-based genomic sequencing programs, all are adult-only.
Our journey to a diagnosis was very frustrating. He kept getting worse and we didn't know if we'd ever find out why. Receiving a diagnosis through Genomic Answers for Kids was a huge relief.
Decoding Jaden's genetic puzzle: Recent advances in genomic testing gave Jaden's family the long sought-after answers for his many health challenges. Through the unparalleled services of our Genome Center, Jaden was diagnosed with the CHD3 gene mutation, also called Snijders Blok-Campeau syndrome. Jaden is only the 36th individual in the world diagnosed with this rare disorder, which causes developmental, intellectual and speech delays, autistic-like features, sleep disturbances and behavioral problems, muscle weakness and more.
Pioneering the power of precision therapeutics in the NICU: The CMRI is at the forefront of research that could lead to practicing precision therapeutics in the NICU for the first time. The need for this approach arises from the fact that more than 80% of medications used in the NICU are not approved by the FDA for use in babies and may not have been adequately studied, making babies' responses to these medications variable and unpredictable. By considering a baby's age and genetic makeup, the approach involves personalizing a medication dose that will maximize efficacy and minimize toxicity.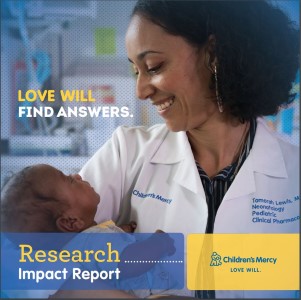 See our latest Research Impact Report
Learn more about the world-class breakthroughs powered by donors like you.
Research is hope for kids like Emmy
Rare disease: Emmy's story
Shortly after she was born, Emerson was diagnosed with extreme liver failure. Genetic testing at Children's Mercy revealed that Emerson is one of only 500 children in the world with Neimann Pick Disease Type C, a rare, progressive – and fatal – genetic disease.
But the family has hope—hope that treatment may slow the disease down—and hope that research may one day lead to a better treatment, or even a cure.
Why donors like the Baier family give

"We created the Rick and Cathy Baier Family Endowed Chair in Endocrinology at Children's Mercy to advance Type 1 Diabetes (T1D) research and treatment. Research can absolutely change the outcome of this disease, functionally curing diabetes, and we're so close to doing that now.
We know how challenging T1D is for families because our adult son Blaise was diagnosed at the age of 9. We spent many, many hours in Children's Mercy clinics, and are still blown away by the care we received. We're investing in the CMRI to make Kansas City a leader in T1D research and bring the best T1D treatment to the kids of Kansas City and the region."
— Rick and Cathy Baier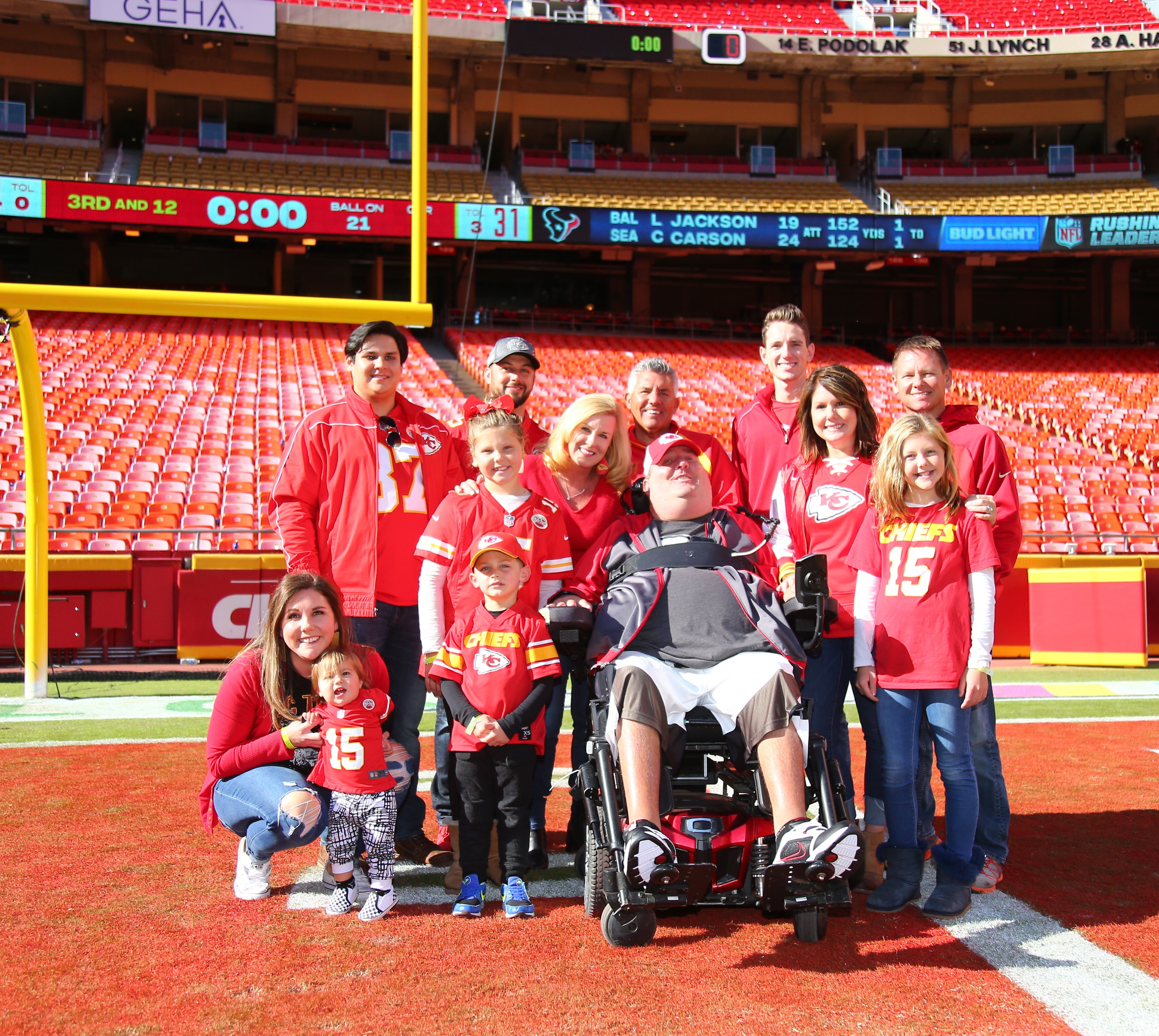 Explore ways to give
Giving helps children and families when they need it most. Explore the ways you can give to Children's Mercy.