Yesterday's visionaries define our future of pediatric health


The very foundation of the Children's Mercy Research Institute (CMRI) is deeply rooted in its long history of innovation. More than a 120 years ago, Children's Mercy founders and sisters Dr. Katharine Berry Richardson and Dr. Alice Berry Graham advocated that understanding children's specific health needs is critical to finding the answers for their disease conditions.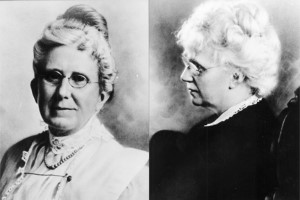 At the forefront of pediatric health care, the sisters understood then, as other pediatric institutions do today, that applying knowledge gained from adult diseases and conditions could not – and should not – trickle down to children, who are not little adults and must be included in research for their own benefit.
The Berry sisters were ahead of their time not only in their understanding that pediatric research is imperative, but also in their outreach efforts to underserved communities and in their social engineering efforts to bridge the racial divide of their time by providing pediatric training for Black doctors and nurses.
Never in the world did Mercy want anything as much as it wants a research laboratory.
The CMRI continues the legacy of its founders with a research enterprise that aims to learn from each encounter with a sick child so researchers can improve the care and outcome for the next child. The Institute is driven to provide a brighter future for pediatric patients through a robust translational research enterprise that is focused on developing new approaches to diagnose more quickly, treat more precisely, and to prevent and cure common and uncommon childhood diseases.
Furthermore, the Institute's vibrant health services and health outcomes research programs address issues like violence prevention and social determinants of health to develop innovative approaches to promote health and wellness for all children.
A culture of collaboration fueling progressive research

Innovation today at the CMRI is conducted with tremendous synergy across all medical disciplines amid a culture of collaboration.
The CMRI employs a progressive approach to translational research that builds upon our clinical strengths and encompasses all areas of pediatric disease and all medical disciplines. Research at the CMRI aims to bring the findings from our scientific pursuits directly to children's bedsides to provide them with the latest, most advanced care possible. From a child's bedside, our world-class investigators and their teams work together to pursue additional avenues of scientific discovery to benefit children both here and around the world.
Our strategic focus on "research with a purpose" is fortified and complemented by this integrated approach to research, building interdisciplinary teams among medical specialties that have a shared commitment to solving the most difficult pediatric health problems.

Make a Gift
Embracing collaboration as a key to success

While scientific advances require integration with medicine, the CMRI recognizes the need for further integration through expansive and collaborative relationships both internally and externally.
The CMRI is committed to building internal teams in which each member's contribution is valued and respected, and the teams themselves reflect the diversity of the patient population that will benefit from the research the team leads. In addition, the Children's Mercy Research Institute is one of the few pediatric research institutions in the nation to fully embrace the need for equal external collaborators at the table to address children's unique health needs.
Our culture of innovation extends far beyond the walls of the CMRI itself and encompasses organizations and entities who share our vision and dedication to children and their families. It is through these collaborative relationships – with other research, industry, government, philanthropic and community organizations, among others – that we more rapidly deliver on our goal to improve the health and create a world of wellbeing for children through world-class, collaborative translational research.
Our external collaborators offer their unique expertise and strategic insight to help the CMRI bring our discoveries as quickly and efficiently as possible to the forefront of pediatric health care.