The world-class research enterprise at the Children's Mercy Research Institute (CMRI) builds upon the hospital's strong and renowned foundation in pediatric health care. All centers, programs and projects at the CMRI strive to integrate research as a complement to the clinical mission of the hospital and into every aspect of pediatric medicine.
The CMRI fosters integrated research through supporting multidisciplinary labs and research groups, providing unique resources that support a rich environment for discovery and collaboration, and recognizing the importance of partnerships with external organizations that share the CMRI's commitment to improving the health and wellbeing of children everywhere.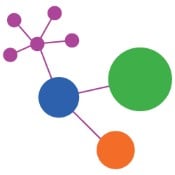 Researcher Network - let's connect
Learn about the dynamic research programs and explore potential collaborations with our world-renown investigators on the Researcher Network. See specific research projects and how each person is connected to others in the broader research community.
Labs and research groups

The investigators and teams leading the CMRI's labs and research groups make great strides every day on our mission of improving the health and wellbeing of children through state-of-the-art translational research. These progressive research programs are accelerating discoveries and changing the future of pediatric medicine.
Resources for researchers

Research at the CMRI is fortified by a variety of resources to support researchers and their teams in the pursuit of discovery both at Children's Mercy and through collaborations with colleagues at other institutions. These resources include everything from laboratory services, such as world-class genomic sequencing, to informatics programs and large-scale data repositories.
Partner organizations

At the CMRI, we value collaboration both within Children's Mercy and with external partner organizations that share our commitment to bringing the results of our scientific discoveries to children's bedsides. The insight and expertise of our partners help propel the fruit of the CMRI discoveries to children and their families as rapidly and effectively as possible.