Institutional Partnerships and Collaborations
Building a network to enhance research, improve health care

Collaboration is the cornerstone of research at the Children's Mercy Research Institute (CMRI) and a key to our success in improving the health and wellbeing of children around the world.
Our team integrates research into every facet of the CMRI and throughout the Children's Mercy enterprise, creating a progressive pediatric research program fueled by a collaboration that transcends traditional medical disciplines.
But the CMRI's commitment to collaboration is not bound by the walls or the Children's Mercy campus. We work with external collaborators at other health care institutions and community organizations, building a network of research and clinical care expertise to meet the unique health needs of the children and families we serve.

Transforming

p

ediatric oncology

with The University of Kansas Cancer Center

Children's Mercy and The University of Kansas Cancer Center are part of a unique collaboration to transform pediatric oncology and make Kansas City a global hub of pediatric research innovation.
Children's Mercy is recognized by the National Cancer Institute as the pediatric consortium partner of The University of Kansas Cancer Center. The Stowers Institute for Medical Research became an official consortium member of The University of Kansas Cancer Center in 2012. This partnership offers progress in cutting-edge cancer research to help advance care for children with cancer.
Children's Mercy and The University of Kansas Cancer announced four first-of-their-kind endowed chair appointments that will help eliminate childhood diseases around the world. The endowed chair positions focus on Genomics, Health Outcomes, Hematological Malignancies and Immunotherapy.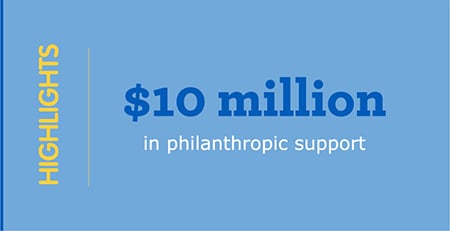 Made possible by $10 million in philanthropic support from four individual donors and four foundations, including unique gift matches from Donald J. Hall and the Hall Family Foundation, these Children's Mercy leadership positions will have joint University of Kansas (KU) faculty appointments.
The endowed chairs are critical to the institutions' integrated pediatric research efforts, enhanced clinical care for children, advanced pediatric academic development and a shared goal to save children's lives in the Kansas City area and across the globe.

Accelerating translational research in the greater Kansas City region

Children's Mercy is a partner in Frontiers Clinical and Translational Science Institute at the University of Kansas, a growing network of scientists in the greater Kansas City region who are dedicated to bringing discoveries made in the laboratory to new treatments and cures at a patient's bedside.
Frontiers is part of NIH-funded Clinical and Translational Science Awards consortium, a national group of research organizations working together to conduct translational research to ultimately improve patient care.
Specifically, Children's Mercy and other members of the Frontiers network collaborate to accelerate the rate at which new drugs are brought to the public, educate patients about clinical trials, and work with communities and other organizations to address their existing and emerging health care needs.
Uniting health care partners through the Health Sciences District

Children's Mercy is honored to participate in the UMKC Health Sciences District, which aims be a premier academic health district, leading state-of-the-art biomedical research and clinical care, entrepreneurship opportunities and education to health care professionals.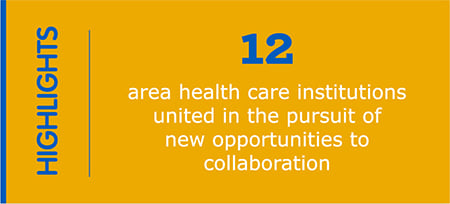 Formed in 2017, the UMKC Health Sciences District is a cooperative partnership of 12 area health care institutions united in the pursuit of new opportunities to collaboration on research, grants, community outreach and other programs for partner faculty and staff, students and the community.