Among the first of its kind with a pediatric focus, the Genomic Medicine Center at Children's Mercy provides clinical genomic services and is an epicenter for genomic research. Although the Center focuses on sequencing and analyzing rare inherited diseases in children, expansion plans are underway to include translational cancer genomics and research on the use of pharmacogenomics in precision medicine.
Genomic Answers for Kids (GA4K) is changing the landscape of pediatric genomics through what may be the most advanced system for rare disease diagnosis in the world. The team has surpassed 1,000 rare diagnoses through their groundbreaking work—far out-pacing other rare disease research programs—and continue to conduct cutting-edge science that has led to a number of "firsts" in the field of genomics research.
GA4K has produced more than 1,000 genomes through a state-of-the-art technique called HiFi sequencing that allows them to see more of the human genome than other techniques; is the first to use 5-base sequencing in their genomic analyses, accelerating answers for kids with rare diseases through the sequencing of the full genome; and is the first to apply "human assembly" to their rare disease genomics work, building hundreds of genomes from scratch to capture the DNA that is missed by the human genome developed in 2014.
An experienced team in genome analysis

The Center's staff includes physicians, PhD-level scientists, nurses and clinical laboratory scientists experienced in genome analysis. The team features board-certified clinical molecular geneticists, genetic counselors, bioinformaticians and software engineers. The Center works closely with the Bioethics Center and collaborate with physicians representing every subspecialty at Children's Mercy.
Genomic research services

Children's Mercy is dedicated to becoming a leader in pediatric translational research – studies that translate medical research into better ways of treating sick kids. This commitment to translational research is leading to new breakthroughs in treating, diagnosing and preventing complex childhood diseases that, in turn, transform the lives of kids in our community and around the world.
The Center performs genomic tests for internal and external investigators and takes a broader "integrated genomics" approach to difficult-to-understand diseases. The Genomic Medicine Center's unique integrated genomics approach:
Combines numerous next-generation sequencing methods to understand the underlying biology of a given sample
Allows for a deeper investigation into the relationship between DNA and inherited diseases
Explores methylation and its potential role in the biological processes behind some rare conditions
Examines expressed RNA to provide clues on what cells in the body are involved, as well as disease progression and severity
Combines whole genome sequence data with additional data to provide more insight on a disease so physicians can enhance the treatments available to sick children
The different types of sequencing, testing and specimen options that are offered by the Genomic Medicine Center may be viewed here. If interested in a research collaboration with the Center, please contact GenomicsResearchCore@cmh.edu.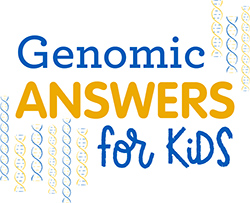 Genomic Answers for Kids
The Children's Mercy Research Institute is undertaking a research initiative to build a first-of-its-kind pediatric data repository to facilitate the search for answers and novel treatments for pediatric genetic conditions. The goal is to collect genomic data and health information for 30,000 children and their families creating a database of nearly 100,000 genomes.
To learn more, contact the study team at GA4K@cmh.edu or (816) 915-4200 (ext. 14200).
Pediatric research with far-reaching impact

The vast majority of funding for cancer research is focused on adult treatments, which must then be explored and adapted for children much later. Children's Mercy researchers are working to define and delineate the characteristics of cancers that develop in children to better determine if there are common factors in adult cancer – even if it's a different type of cancer.
Genomic sequencing provides a tremendous amount of information about the mutations that cause cancer, allowing for the creation of personalized approaches to treat each child and their particular cancer. Much of what researchers learn about childhood cancer can also benefit adults through an increased understanding of the disease and its treatments.
Stories
Genomic Medicine Center: Finding answers for leukemia
Thanks to ground-breaking research at the Genomic Medicine Center at Children's Mercy, new treatments provide hope to infants with acute lymphoblastic leukemia, a rare cancer of the blood and bone marrow that has a very poor prognosis. Watch as baby Brisia joins just 49 other infants around in the world in an oncology trial that pairs special drugs along with her standard chemotherapy in hopes of improving her chances for a cure.
Genomic Medicine Center: Dalton's story
Diagnosed with a rare, life-threatening syndrome called Brown-Vialetto-Van Laere syndrome, or BVVL, Dalton is treated at Children's Mercy by a team of specialists including Jean-Baptiste Le Pichon, MD, PhD, pediatric neurologist. Dr. Le Pichon prescribes vitamin B-12, a promising new treatment, and Dalton's condition greatly improves.
Osteopathia striata with cranial sclerosis: Emersyn's story
Pink tutus and Peppa Pig are just two of the things 4-year-old Emersyn Gross loves. Find out how Children's Mercy helped diagnose and treat her rare genetic condition so she can enjoy being a kid.
Meet Emersyn