Whole Exome Sequencing (WES)

The Genomic Medicine Center began offering whole exome sequencing in 2016. The Center implemented clinical exomes with the goal of identifying the genetic variations responsible for diseases without the higher costs associated with whole genome sequencing.
Exome sequencing allows us to find a molecular diagnosis in families with children who have had an extensive negative work-up for a genetic disease. The Center also uses exome sequencing to identify novel disease genes and to confirm disease-causing protein variants.
The exome sequencing process


Exome sequencing is a technique for sequencing protein-coding genes in a genome. It consists of selecting only the subset of DNA that encodes proteins (known as exons) and then sequencing that DNA. The Genomic Medicine Center uses Illumina technology and PacBio to sequence this DNA.
The Center's laboratory offers exome sequencing on both a clinical and research basis. The clinical tests are performed on Illumina sequencers and the menu currently consists of Comprehensive Symptom-driven exome panels based upon a patient's phenotype. The sequencing is performed on the affected child and available family members as appropriate for the family. Other tests include Macrocephaly panel, Noonan Syndrome and select panels consisting of 2-5 genes. Single gene sequencing is also available. PacBio is currently used only for research purposes.
For more information about clinical WES, or to learn how to request a consultation for a patient, please contact (816) 915-5241. Research investigators should send an email to GenomicsResearchCore@cmh.edu.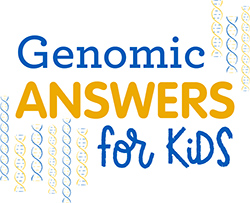 Genomic Answers for Kids
The Children's Mercy Research Institute is undertaking a research initiative to build a first-of-its-kind pediatric data repository to facilitate the search for answers and novel treatments for pediatric genetic conditions. The goal is to collect genomic data and health information for 30,000 children and their families creating a database of nearly 100,000 genomes.
To learn more, contact the study team at GA4K@cmh.edu or (816) 915-4200 (ext. 14200).