The Genomic Medicine Center began offering clinical whole genome sequencing (WGS) on a limited basis to Children's Mercy patients in 2015. The Center was one of the first laboratories in the world offering clinical WGS – most clinical labs offer exome sequencing targeting coding exons only, which represent approximately one percent of the human genome.
The Center implemented clinical genomes due to the uniformity of sequence coverage and the greater potential for detecting exonic deletions. While the analysis is largely bioinformatically restricted to the exome, there is potential for finding disease-causing variants in non-coding regions that are not covered by exome sequencing.
Genetic counseling and consenting are required for conducting WGS, as well as result disclosure, as families must choose whether to receive incidental findings in the report.
Whole genome sequencing facts


Genomic DNA for the assay is extracted from an ethylenediamine tetraacetic acid (EDTA) blood draw.
Targeted turnaround time is 90 days, with an average of 64 days in 2020.
Trio analysis, with WGS performed for the child and whole exome sequencing performed for available parents, is done whenever possible and greatly improves detection rate.
One report will be issued for the patient. Parents will not receive a report.
Patient reports will include disease-causing, likely disease-causing and variants of unknown significance in genes that could potentially be responsible for symptoms at the time of analysis.
Disease-causing and likely disease-causing variants in the 59 genes recommended in the ACMG incidental findings guidelines will be reported if requested.
For more information about clinical WGS, or to learn how to request a consultation and consent for a patient, please call (816) 915-5241. Research investigators should send an email to GenomicsResearchCore@cmh.edu.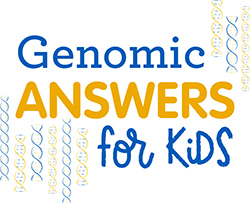 Genomic Answers for Kids
The Children's Mercy Research Institute is undertaking a research initiative to build a first-of-its-kind pediatric data repository to facilitate the search for answers and novel treatments for pediatric genetic conditions. The goal is to collect genomic data and health information for 30,000 children and their families creating a database of nearly 100,000 genomes.
To learn more, contact the study team at GA4K@cmh.edu or (816) 915-4200 (ext. 14200).