Interdisciplinary Feeding and Swallowing Program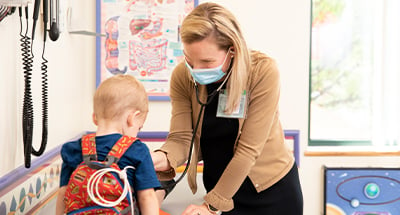 Interdisciplinary Feeding and Swallowing Program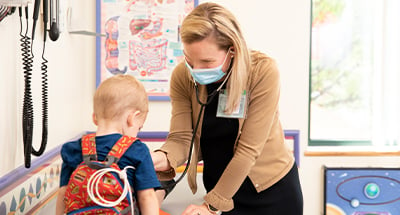 The act of feeding our children is one of the most important things we do as parents and caregivers. Feeding provides the nourishment and hydration that kids need to thrive and grow.
For most families, this happens without difficulty. However, for families with children who struggle with feeding and eating, it can be frustrating and stressful for everyone in the family.
The Interdisciplinary Feeding and Swallowing Program at Children's Mercy is a specialty clinic where you can see several different types of health care providers in one place. The team then works together to help find solutions to your child's feeding concerns.
Health conditions related to feeding concerns

Feeding difficulties can be associated with many different health conditions, including:
Anatomical abnormalities
Cardiac and pulmonary disorders
Cerebral palsy
Developmental delays
Difficult meal-time behaviors
Dysphagia (difficulties with chewing and/or swallowing)
Failure to thrive
Genetic disorders
Pain or discomfort with feeding
Sensory issues/autism
The feeding team will work alongside your child's other specialists to create a comprehensive care plan that fits your family's unique needs.
All your specialists in one place

The Feeding and Swallowing Program is designed to be as convenient as possible for your family. We have clinics at the Children's Mercy Adele Hall Campus in downtown Kansas City, as well as our College Boulevard offices in Overland Park and Children's Mercy Northland.
During your appointment, you will see some or all of the following specialists, depending on your child's needs:
Gastroenterology (GI) physician
Nurse practitioner
Nurse coordinator
Speech-language pathologist
Occupational therapist
Dietitian
Developmental psychologist
Social worker
What to expect at your appointment

Your initial appointment at the Interdisciplinary Feeding and Swallowing Program will be with a comprehensive team, so expect to see several different faces that day. The first appointment usually lasts around two hours.
During the visit, team members will ask questions, the medical provider will do a physical exam, and the feeding therapists will watch your child eat.
Avoid feeding your child for 2-3 hours before the visit, so that we can observe a typical feeding while you are at the appointment.
You will leave your visit with a comprehensive plan for your child, including recommendations for your child's diet, feeding therapy, weight checks, or any additional testing your child might need. You can always reach your feeding team by phone or through the Children's Mercy Patient Portal to ask questions between visits.
Follow-up visits will be tailored to your child's specific needs and are generally shorter, around one hour.
What to bring to your appointment


Preferred and non-preferred foods
Favorite cup, bottle, utensils
Thickener (if applicable)
Video of your child eating at home (if possible)
Remember—please don't feed your child for 2-3 hours before the visit so they will eat while they're here
How to make an appointment

If you have concerns about your child's feeding or eating, talk with your child's primary care provider. They can send a referral to the Interdisciplinary Feeding and Swallowing Program and a member of our team will contact you to gather more detailed information about your child and schedule your appointment.
For questions about an existing appointment, please call us at (816) 760-8853.
Behavioral feeding therapy study: iKanEat


The National Institutes of Health is funding a research study looking at a way to transition a child from tube feeding to oral feeding.
Children from 9 months old to 9 years, 0 months old are eligible to participate in this 6 month study.
Children's Mercy physicians Sarah Edwards, DO and Jose Cocjin, MD are involved in this study.


Resources
Our team often refers families to these additional resources for more information on feeding concerns.
The Ellyn Satter Institute

Ellyn Satter is an internationally recognized feeding expert, registered dietitian, and family therapist. She is known for developing the concept of "Feeding Division of Responsibility." The institute's website is an excellent resource for providers and parents. In addition, her book "How to Get Your Kid to Eat, but Not Too Much" is also a source of valuable guidance on addressing feeding problems.
Help for picky eaters

The Feeding Clinic team recommends the book "Helping Your Child with Extreme Picky Eating" by Katja Rowell and Jenny McGlothlin. This book provides information about common contributors to feeding problems and practical strategies for helping your child broaden their diet.