Surgery at Children's Mercy
The highest level Children's Surgery Center available
Surgery at Children's Mercy
The highest level Children's Surgery Center available
At Children's Mercy, we know that no surgery is routine when it is your child in the operating room. Whether your child needs a simple outpatient procedure or a complex, life-saving surgery, you want the very best surgical team on the job. Children's Mercy is dedicated to providing the most advanced procedures, expert treatment and complete care for pediatric surgical needs.
Top-rated surgery center, always ready

Children's Mercy is one of only 30 locations in the nation to be verified by the American College of Surgeons as a Level 1 Children's Surgery Center. This verification means Children's Mercy meets the highest standards for safety and outcomes determined by the American College of Surgeons. Our surgical care is designed to manage routine to highly complex illnesses. We also have experts in every pediatric specialty ready to go at all times to provide comprehensive care for kids.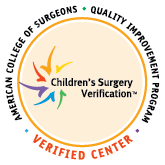 Level 1 Children's Surgery Center
While we perform more than 20,000 surgeries each year, every procedure is tailored to your child's specific needs.
As a children's hospital, we focus on working with kids and teens. Every surgery is attended by pediatric specialists who understand that children's growing bodies have unique needs.
All of our surgical team members, from the anesthesiologists to the nursing staff, are trained in the specialized care of children.
Whether it's starting an IV when veins aren't visible, protecting small airways and fragile lungs, or providing calm reassurance while your child wakes up from anesthesia, every person on their team is focused on helping your child feel as safe and comfortable as possible.
Capable hands for every circumstance

Children's Mercy surgeons are some of the very best in the nation. Our great outcomes across many different types of surgery helped us earn recognition in 9 of 10 specialties included in the U.S. News and World Report "Best Children's Hospitals" rankings.
As part of the American College of Surgeons verification process, we have demonstrated we have the experts and systems in place to handle any scenario and provide the highest level of care at any moment.
Whenever possible, our surgeons use minimally invasive surgical techniques to help kids heal more quickly. This results in shorter hospital stays, faster recovery and reduced risk of complications and scarring after the surgery.
Rest assured that you're in the right place at Children's Mercy, with a full team of surgical staff and specialists in every discipline who are always at the ready.
At Children's Mercy, we know an operation is a major event for you and your child. We want to help make this experience as smooth and comfortable as possible. Some surgeries can be completed through Same Day Surgery. Most children who have surgery at our hospital check in through Same Day Surgery. The majority of our patients will go home shortly after their procedure, but some will stay in the hospital several hours for monitoring (observation stay). Children who require additional care will stay overnight, or possibly longer (morning admission).
Children's Mercy provides the region's only Single-Visit Surgery program, providing excellent pediatric surgical care in one convenient visit. Patients are seen at Children's Mercy Hospital Kansas for a clinic appointment in the morning and are able to have the procedure they need that same day.
Stories
Why choosing a hospital with a Level 1 Pediatric Surgery Center matters
Children are not little adults, which is why even the simplest of procedures requires a hospital that is 100 percent dedicated to caring for children. Children's Mercy is one of only 10 centers in the country to be as recognized as a Level 1 Children's Surgery Center, the highest possible rating. The result? An organization with pediatrics specialists in every subspecialty that sets the standard of care instead of just practicing it.
Surgery at Children's Mercy Menu