Otolaryngology (Ear, Nose and Throat)
Otolaryngology (Ear, Nose and Throat)
The Department of Otolaryngology (Ear, Nose and Throat or ENT) at Children's Mercy provides expert care for children with all types of ear, nose/sinus, and airway problems.

Our team of physicians, advanced practice nurses, and support staff are always ready to help your family. The ENT team works closely with many other specialists--including those in Audiology, Speech Pathology, Pulmonology, Gastroenterology and Respiratory Care--to meet all your child's needs.

Considering ENT surgery? Choose experienced pediatric specialists

Ear, nose and throat problems are one of the most common reasons for surgery in children. Children's Mercy has the region's top pediatric fellowship-trained ENT surgeons.

Whether your child needs a simple outpatient procedure or a complex, life-saving surgery, you'll have the very best team on the job.

Our pediatric anesthesiologists are an active member of your child's care team before, during and after their surgery or procedure. We administer anesthesia for more than 27,000 kids per year—that's 74 per day—so our team is experienced at finding just-right doses of medication for kids of all sizes.

In addition to excellent medical care, we have social, emotional and financial supports in place to help your family handle all aspects of your child's care.

See how we support your whole family.


Connect with your care team
Connect with your ENT care team online through the MyChildrensMercy patient portal. The portal allows you and your child's medical team to talk through questions any time.
You can also call us at (816) 234-3040. We make every effort to respond to your message within one business day.
Comprehensive care for your child
All of our ENT clinics collaborate with specialists within the department and across the hospital to provide comprehensive care for our families. Whenever possible, we schedule you with all the specialists you need to see in one visit.

Both our downtown Kansas City and Overland Park, Kansas locations offer valet parking and wagons to help you transport your kids and any equipment and supplies with you from the car to the clinic.

The ENT team regularly coordinates care for children who are also seen in the Fetal Health Center, Home Ventilator Clinic, Vascular Malformations Clinic, Cleft Palate/Craniofacial Clinic, Down Syndrome Clinic, 22q11 Deletion Clinic, and the Aerodigestive Team Clinic.
Conditions
Throat and airway


Airway and breathing problems
Airway obstruction (blockage)
Chronic aspiration and drooling
Congenital and acquired defects
Gastroesophageal Reflux Disease (GERD)
Laryngopharyngeal Reflux (LPR)
Salivary Gland Diseases
Sleep Disordered Breathing
Tongue tie
Tonsil and Adenoid diseases
Tonsillitis/Strep Pharyngitis
Voice and resonance disorders, including velopharyngeal dysfunction (VPD)


Ear


Acute and Chronic Ear Infections
Conductive Hearing Loss
Ossicular Dysfunction
Ear Drum Perforations
Mastoiditis
Cholesteatoma


Nose and Sinus


Congenital (born with) or acquired (developed over time) head and neck problems
Nose Bleeds
Nasal Obstruction
Sinusitis
Exploring the future of ENT care
Children's Mercy ENT physicians are putting their experience and expertise to work each day through research and innovation. Here are just a few of the doctors' latest initiatives:
Dr. Bradley Thedinger specializes in Neurotology, the medical and surgical treatment of ear and ear-related diseases, with special interest in cochlear implant. He performed the first cochlear implant in the state of Kansas in 1983 and first at Children's Mercy in 1987 and continues to play a key role in the cochlear implant program.

Dr. Jill Arganbright specializes in velopharyngeal insufficiency (VPD). Dr. Arganbright has a special research interest in 22q11.2 deletion syndrome. Her areas of expertise include drug-induced sleep endoscopy and surgical management of obstructive sleep apnea in children.

Dr. Lorien Paulson sees patients in the ENT clinic and performs over 800 surgeries and procedures per year, spanning the breadth of Otolaryngology/Head and Neck Surgery. As a member of the Children's Mercy Cancer Center, she has a strong interest in the management of pediatric head and neck masses and tumors. She also specializes in minimally invasive sinus surgery as well as management of tumors of the nose and paranasal sinuses.

Children's Mercy partners with other hospitals around the world through our membership in the Global Tracheostomy Collaborative (GTC). The GTC collects information about complications and outcomes for people with tracheostomies in order to improve the quality of care.

We also offer the opportunity for eligible children with congenital cytomegalovirus (CMV) to participate in the ValEAR study. This study aims to prevent or lessen the hearing loss often caused by CMV through the use of an anti-viral medication.
Stories
Jude's Story
Ten weeks before their son, Jude, was born, Tracy and Chris Schinzel learned he had a large oral tumor attached to the roof of his mouth that made it almost impossible to breathe. The Elizabeth J. Ferrell Fetal Health Center at Children's Mercy and a team of experts orchestrated a series of complex procedures that put a smile on Jude's face.
Meet Jude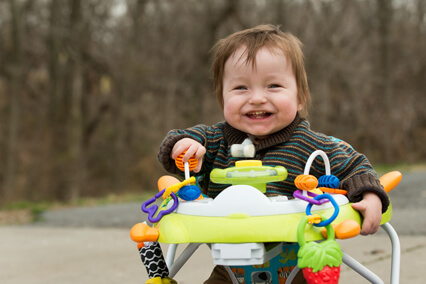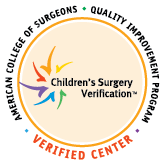 Highest Level of Surgical Care
Children's Mercy is one of only 10 centers in the nation to be verified as a Level 1 Children's Surgery Center — the highest possible rating — by the American College of Surgeons.
Planning for Surgery
From free valet parking at the front door to personalized follow-up care during your child's recovery, we want every aspect of your experience at Children's Mercy to be beyond your expectations.
Read about how to prepare your child for scheduled surgery, what to expect when you arrive, and resources available while you're here.
Pediatric anesthesia at Children's Mercy
At Children's Mercy, a pediatric anesthesiologist is an active member of your child's care team before, during and after their surgery or procedure.
We administer anesthesia for more than 27,000 kids per year—that's 74 per day—so our team is experienced at finding just-right doses of medication for kids of all sizes.