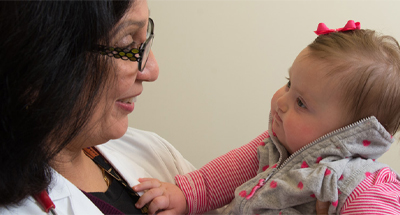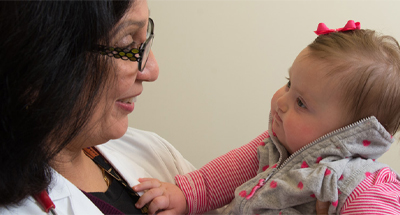 The Down Syndrome Clinic at Children's Mercy offers specialized services to children with Down syndrome and their families. As the only certified pediatric Down syndrome program in the region, our multidisciplinary team has been serving families since 1989.

The clinic staff, led by Medical Director, Nasreen Talib, MD, MPH, includes experienced professionals from several specialties, including pediatrics, behavioral psychology, audiology, genetic counseling, nutrition, occupational therapy, speech therapy and social work. Families also benefit from the knowledge and experience of our Advocate adult with Down syndrome, who is a member of the clinic staff.

Our team works together to collaboratively review the unique needs of each child and improve their quality of life through comprehensive, whole-person care.
What is Down syndrome?

Down syndrome is one of the most common genetic conditions. Individuals with Down syndrome have an extra 21st chromosome in all or some of their cells. This additional genetic material affects the course of development, which can lead to developmental delays, intellectual disabilities and increased risk of certain medical issues.


What to expect at your visit to the Down Syndrome Clinic

The Down Syndrome Clinic is designed to help you see many of the specialists your child might need in one visit to Children's Mercy. At this comprehensive visit, we will screen for common conditions in children with Down syndrome. Early diagnosis and early intervention can help your child function to the best of their ability and lead a healthy and fulfilling life.

The Down Syndrome Clinic visit typically lasts for almost 4 hours. Each child is seen by members of the multidisciplinary team, which may include some or all of the following:
Pediatric specialist - provides age-appropriate education, diagnosis, screening and management of medical conditions commonly seen in children with Down syndrome.

Audiologist - evaluates hearing and coordinates services with the ear, nose and throat physicians.

Clinical child psychologist - provides screening of behavior and development. Makes recommendations for behavior management, educational planning and other areas as indicated (such as toilet training, sleep, life skills and more).

Speech pathologist - evaluates articulation and language skills and makes treatment recommendations.

Occupational therapist - provides screening for motor development, feeding and swallowing, and as the child grows older, makes recommendations regarding appropriate educational programs and services.

Registered dietitian - providers nutritional assessment and dietary counseling to assure appropriate growth and weight, also identifies nutritional problems and concerns.

Genetic counselor - helps educate parents about different genetic types of Down Syndrome.

Social worker - serves as a supportive listener and advocate, and also provides education and assistance related to accessing appropriate resources in the community.

Nurse clinic coordinator- assesses the needs of the family, coordinates clinic services and provides ongoing support for parents and families as needed.
You will also get to meet our advocate for the Down Syndrome Clinic, Karissa, an adult with Down syndrome who works on the clinic staff.
Clinical Services
Initial assessment and testing for infants with Down syndrome.
Annual visits and screenings, including blood tests, X-rays, and hearing tests.
Nutritional assessment with registered dietitians.
Developmental progress assessments.
Referrals to specialists such as ENT, cardiology, sleep clinic, ophthalmology, dental and others.
Genetic testing and counseling where needed.
Mental health care and emotional support for children and families.
Connection to community resources and support groups.
Telemedicine services for families who live at a distance from Kansas City or for whom travel is difficult.
Resources for families and caregivers

There are many resources to help families of children with Down syndrome find support within the community. The following organizations can provide helpful resources for families of children with Down syndrome:
For more local resources, including information about community assistance, financial assistance, mental health, and specific county resources for Missouri and Kansas, please visit our Resources for Children with Complex Medical Needs page.
Down Syndrome Program Menu