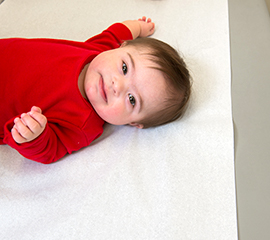 The Down Syndrome program at Children's Mercy is a consultative service and screening that addresses the medical and therapeutic needs of children with Down Syndrome.
Led by medical director Nasreen Talib, MD, MPH, our experienced team includes professionals from Pediatrics, Adolescent Medicine, Behavioral Psychology, Audiology, Genetic Counseling, Nutrition, Occupational Therapy, Speech Therapy, and Social Work. Our team works together to collaboratively review the unique needs of each child. We may schedule a formal therapy evaluation at a future time and date, if needed, following the screening.
We strive to improve the quality of life of each patient and their family.
Down Syndrome Program Menu