Beacon Program and Clinic
Beacon Program and Clinic
Treatments

Often children with medical complexity treat their conditions with the help of mechanical devices. We help our children and families access these resources and properly learn how to use aides, which may include:
Feeding tubes: gastrostomy tube (G-tube), gastrostomy-jejunostomy tube (GJ-tube), nasogastric intubation tube (NG-tube)

Ventriculo-peritoneal shunt (VPS)

Vagus nerve stimulator (VNS)

Suction

Tracheostomy

Ventilator

Adaptive equipment

Diapers beyond normal age of training

Wheelchair
We can also connect you with additional support services, including:
Help with daily living activities

Home nursing or personal care aides

Home or outpatient therapies

Physical therapy

Occupational therapy

Speech therapy

Vision therapy
Stories
Rett syndrome: Quinn's story
Six-year-old Quinn Cunningham has Rett syndrome, a progressively debilitating neurodevelopmental disorder. That's why her family relies on the Beacon Clinic to coordinate her complex care for respiratory, gastrointestinal and neurological issues.
Meet Quinn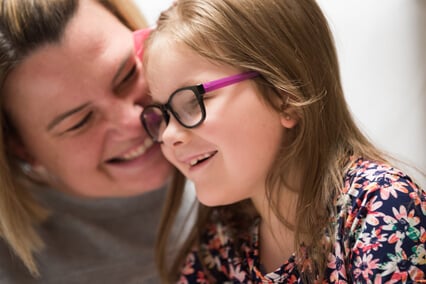 Spinal muscular atrophy: Daniel's story
Though Daniel Andersen was diagnosed with spinal muscular atrophy type 2 at just 2 years old, he's been able to pursue his college dreams with help from The Children's Mercy Beacon Program, which serves as a medical home for children with complex or systemic medical problems.
Meet Daniel
Chromosome 15q duplication and deletion syndrome: Marcus' story
Shaun and Tasha Rye share what a difference the Children's Mercy Beacon Program has made for their son, 2-year-old Marcus. Marcus has a medically complex condition caused by chromosome 15q duplication and deletion syndrome, a genetic defect, resulting in global developmental delays, congenital heart disease including atrioventricular septal defect with restrictive VSD, DORV and PDA, supraventricular tachycardia, gastroesophageal reflux disease, intestinal malrotation, asthma, dystonia, cleft palate, and bilateral club feet. Marcus also has bilateral sensorineural hearing loss, wears glasses, has a gastrostomy tube for medications, and takes continuous jejunostomy tube feedings.
Contact the Beacon Program team
Fax: (816) 302-9738
Contact the Beacon provider on-call

The on-call line is for currently enrolled families and is available Monday - Friday, 4 p.m. - 8 a.m. and 24 hours a day holidays and weekends. Press "0" to reach an operator and then ask to have the Beacon provider on-call paged.
Beacon Patient Family Advisory Council
Learn more about the Beacon Patient Family Advisory Council and how to apply.