Beacon Program: What To Expect
When families enter the Beacon Program they can expect to meet a healthcare team that will be actively involved in their care moving forward. This includes a care plan built specifically for your child, access to a Beacon provider 24/7, inpatient and outpatient care, and integrated care and support for siblings and families.


Building a care plan together

Your first visit to the Beacon Program begins with a complete Health Service evaluation at the Beacon Clinic. This evaluation includes your child's primary care provider and the entire care team. This time together allows the primary care provider, dietitian, clinical services coordinator and social worker to understand your family and all diagnoses at a deep level.

Your family will leave this meeting with a comprehensive care plan that will include:
Appointment reminders

Current medication lists

Information to share with schools and caregivers about medications, feedings and schedules

Information about adverse reactions to food or medications

Insurance information

List of doctors, specialists, other healthcare providers and their contact information

Medical equipment and supply contacts

Preparing for new visits

Questions to ask providers

Summary of care plan

Tips for parents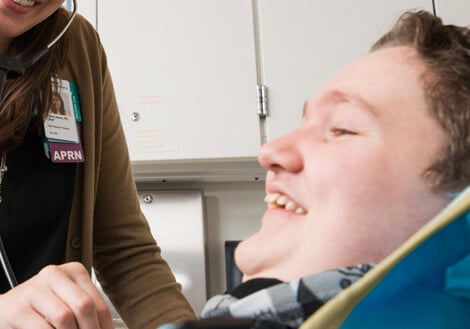 Approximately six months after your initial visit, the Beacon team will meet with you again for a well-child check-up. Your family will check in with your team on your child's progress, answer questions and modify any treatment plans.

At any time a need arises in between your visits to the clinic, we can set up a virtual Care Conference with specialists and other healthcare providers who care for your child. These conferences help us keep the lines of communication open among all the people involved in your child's care.
Access to care 24 hours a day
A Beacon Clinic primary care provider is always on call so that families in the Beacon Program have access to Children's Mercy medical professionals 24 hours a day, seven days a week. Because the primary care provider personally knows each child and family, they can address your child's unique needs and evaluate if you need to seek more urgent care from your local provider or emergency department. We have found that this approach helps families manage their child's needs at home more often and reduces the number of visits to the emergency department and even inpatient admissions.
Outpatient care at the Beacon Clinic
The Beacon Program also includes an established Beacon Clinic. Same-day appointments are often available to established families. The Beacon Clinic is located at our Children's Mercy Broadway and Children's Mercy Kansas locations.
Each family's care team includes a nurse practitioner. If your child is admitted to Children's Mercy or another hospital for an inpatient stay, the nurse practitioner will speak with the inpatient team and communicate back with your primary care provider.
The health of one child in your family impacts your other children as well. Children's Mercy wants to provide your family the best access to medical resources for all your children. That's why the providers in the Beacon Program also care for siblings. Some siblings have mild complexities while others require only routine pediatric care. Either way, our intent is to make it easier for your family to get the best medical care for your children, no matter what their needs might be.
Social workers on our Beacon team are well connected with community resources and work to align resources to further support our families. We have found that our families and providers often develop a strong relationship. To foster and celebrate the work we are doing together, we occasionally host an open house event. The event is a time for families to meet one another, experience other aspects of Children's Mercy, such as meeting our pet therapy dogs, and allow the care team to interact with your child outside of medical visits.
The Beacon Program is committed to helping all our families transition care to adult providers as seamlessly as possible, beginning the first steps when your child is around 12 years old. For some families, this means helping youth and young adults learn how to manage their own healthcare and successfully move to an adult provider before their 22nd birthday. For other families, this means helping the parents and guardians of youth and young adults learn how to manage their child's healthcare and successfully move to to an adult provider before their child's 22nd birthday.
For all Children's Mercy kids, we start having conversations about transitioning to adult care at age 12 as part of their well child checks. For young people in the Beacon program, we will develop a transition strategy with each of their providers and specialists that is tailored to their unique needs and goals.
We occasionally accept referrals to the Beacon program for young adults 18 and older. However, because of the goal to seamlessly transition to adult care providers by the age of 22, we generally only accept these referrals if there are extenuating circumstances.
Information on Navigating Forms
A nurse with the Beacon Program at Children's Mercy helps answer commonly asked questions about required paperwork and forms for care.
Transitioning to Adult Care
The team with the Beacon Program describe the program designed to help kids transition to adult care.
Transitioning to Adulthood: Intellectual Disability & Developmental Disability
Children's Mercy will help you prepare for adulthood, including transferring your medical care to a doctor that cares for adults. Most people can learn to manage their own health. It takes guidance from your medical team and support from the important people in your life.