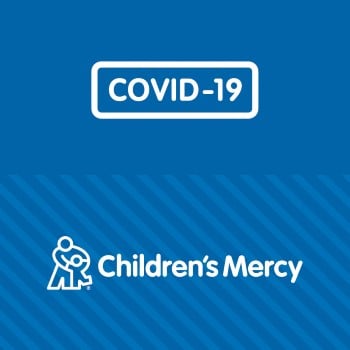 Pregnancy During COVID-19
To learn more about how the COVID-19 pandemic is affecting the Fetal Health Center, visit our video resources page and watch the "Pregnancy During COVID-19" video with Melissa Liddle, FNP-BC.
Finding out that your baby's health is at risk can be overwhelming. When expecting moms and babies need special care, Children's Mercy is ready with the region's most comprehensive and advanced care for select high-risk pregnancies before, during and after delivery.
Diagnosis and testing for fetal conditions

Each year, nearly 400 families like yours visit the Perinatal Clinic at the Elizabeth J. Ferrell Fetal Health Center for a consultation. Here, you'll have access to advanced diagnostic services like amniocentesis, fetal echocardiograms, and diagnostic ultrasound to help your health-care providers understand your baby's condition. Our maternal-fetal medicine specialists coordinate with your obstetrician or primary-care provider to balance the needs of both you and your baby.
We treat thousands of babies with complex in-utero conditions each year. Parents often ask if we've seen a baby with a condition similar to theirs — the answer is yes. We see babies who have heart, gastrointestinal, lung, and other conditions that require immediate attention.
Every expert your child needs - including you

At Children's Mercy, we build an integrated team which includes every fetal specialist who will be involved with your baby's treatment.

As an active member of your baby's care team, you will sit around the table with every specialist your child may need at one time. We'll talk directly with you about your child's diagnosis and treatment options and discuss all your questions and concerns. Then, we will work together to create the best possible plan of care.

Your team may also include:
Genetic counselors

Social workers

Obstetrics and care coordinator nurses

Anesthesiologists

Sonographers and radiologists who specialize in prenatal imaging
Your world revolves around your baby – ours does too

There's no better place for a baby with complex medical needs than Children's Mercy. Our family-centered care approach helps you feel comfortable and informed during your time with us.
Some moms will deliver in our spacious and comfortable birthing suites – located right in the Fetal Health Center so their baby is always close by. Others will plan to deliver at another hospital, but come to Children's Mercy to meet with the doctors who will care for their baby after birth. Either way, you can work with the region's best pediatric specialists right from the start.
Starting from your very first visit with us, you'll have your own specially-trained care coordinator nurse who will get to know you and your family and stay with you every step of the way. He or she will help you with scheduling appointments, completing paperwork and communicating with all your doctors to make your experience as simple as possible. After your baby is born, you can continue to work with the doctors who already know your family's history in a friendly, child-centered environment.
See what you can expect when you visit
Want a second opinion?
If you've recently received a diagnosis or would like a second opinion, experience matters. We're happy to share our expertise with you. Call (816) 855-1800 to make an appointment with our team.
Conditions
The team at the Fetal Health Center works with expectant mothers to diagnose, evaluate and treat all types of conditions before the baby is born. The list below details many—though not all—the conditions we commonly treat at the Fetal Health Center.
Congenital diaphragmatic hernia is a condition in which the diaphragm fails to close during prenatal development and the contents from the abdomen move into the chest.
Congenital Lung Conditions
We treat a wide variety of congenital lung conditions found in infants.
Duodenal atresia is when the first part of the small intestine (the duodenum) does not completely develop in utero.
Esophageal atresia and tracheoesophageal fistula are birth defects which affect the esophagus and/or trachea (the windpipe).
Gastroschisis is an opening in the abdominal wall in which the intestines come out usually to the right of the belly button (the umbilicus). The condition may cause the intestines to be irritated and not function well after a baby is born.
Hydrocephalus is a condition in which too much fluid builds up and puts pressure on the brain. Doctors commonly refer to hydrocephalus as "water on the brain."
Intestinal atresias are intestinal blockages that may occur when there is not enough blood flow to the intestines as a fetus develops in utero.
Omphalocele is when a baby's abdominal wall doesn't close and abdominal organs stick out of the base of the umbilical cord (belly button).
Spina bifida is a birth defect in which the spinal cord isn't properly formed. This is a type of neural tube defect.
Twin to twin transfusion syndrome occurs when abnormal blood flow causes one identical twin in the uterus to not receive the necessary nutrients to grow from the shared placenta.
Airway obstruction

Amniotic bands

Central nervous system abnormalities

Congenital heart defects

Cystic adenomatoid malformation

Cystic hygroma/cervical teratoma
Fetal anemia and thrombocytopenia

Growth restriction

Hydrothorax

Lower urinary tract obstruction (LUTO) and other urologic abnormalities
Neck masses

Neural tube defects

Skeletal dysplasia

Sacrococcygeal teratoma (SCT) and other fetal neoplasms

Twin-reversed arterial perfusion (TRAP) sequence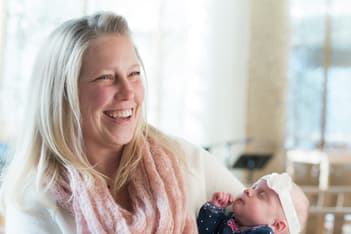 Fetal Surgery and Intervention
Rapid advances in the field of fetal surgery make it possible to correct or manage certain life-threatening conditions even before a baby is born. Children's Mercy cares for a growing number of moms and babies through fetal surgery each year.
Stories
Inside Pediatrics: Evelyn's Story
Fetal surgeons at Children's Mercy push the possibilities with a dramatic spinal repair surgery performed on baby Evelyn before birth.
Schizencephaly: Ajla and Audie's Story
Diagnosed at 23 weeks with a rare brain defect, schizencephaly, Ajla and Audie Leonard have received the advantage of specialized care from a wide range of Children's Mercy's health experts.
Meet Dr. Bennett
Meet Dr. Bennett, the Medical Director of the Fetal Health Center. Dr. Bennett shares the role of the Fetal Health Center in making an accurate diagnosis for unborn babies. See how the Fetal Health Center gives babies with known conditions the best opportunity for immediate care they need after birth.
Spina Bifida: Sarah and Hadley's story
At their 20-week ultrasound, Sarah and her husband, Jed, were excited to learn Sarah was carrying a baby girl. But their doctor also gave them some very serious news—their child had a neural tube defect called open myelomeningocele, the most severe form of spina bifida. Sarah's doctor shared that fetal surgery might be an option for Hadley. Sarah and Jed turned to Dr. Emanuel "Mike" Vlastos at Children's Mercy to create a care plan.
Meet Sarah and Hadley
Spina Bifida: Mary Kate's Story
Having a child is nothing new for parents Jean and Brendan McPherson, who already have four children. But the diagnosis of their fifth child is something they could have never imagined they would experience. Little Mary Kate had open myelomeningocele—also known as spina bifida. With the direction of Dr. Vlastos and the fetal surgery team, the McPhersons made the decision to give Mary Kate surgery while still in the womb.
Meet Mary Kate
Spina Bifida: Milo's Story
The Murphys were excited to welcome their second baby – a baby boy - to their family. What they didn't plan for was the unexpected news that he had a neural tube defect called open myelomeningocele, the most severe form of spina bifida. After the diagnosis they learned that he was not a candidate for fetal surgery but they worked with the Fetal Health Center team to create a care plan fit for Milo.
Meet Milo
The inspiration behind the Fetal Health Center

In 2010, Elizabeth J. and James E. Ferrell gave a generous gift that helped create the Fetal Health Center at Children's Mercy. In collaboration with the University of Missouri-Kansas City School of Medicine, the Center fosters local, national and international partnerships between researchers and physicians. Together, we are leading the way toward innovative treatment options for moms and babies.