Omphalocele
What is an omphalocele?
An omphalocele happens early in pregnancy when your baby's abdominal wall (stomach area) doesn't close. Your baby's abdominal organs stick out of the base of the umbilical cord (belly button). They are usually covered by a thin sac.


What are the causes and incidence of this condition?

The cause of an omphalocele is unknown. Babies with an omphalocele are at risk for other birth differences. Additional genetic testing may be recommended after birth.


Diagnosing omphalocele

An omphalocele can usually be seen with an ultrasound during pregnancy. The size of the omphalocele can range from small (containing only a small portion of the intestine) to large (including most of the abdominal organs). An omphalocele can be seen at birth. An ultrasound of the heart, kidneys and spine will be performed to find out if there are additional problems that need to be addressed.
Treating an omphalocele
Omphalocele is repaired by a surgeon. The goal is to put all the organs into the abdomen.
When the surgery occurs depends on:
Size of the defect

Any other birth defects, if present

Condition of your baby

When surgery is not done right away, the sac protects the organs that are outside the body. This time allows the team to stabilize your baby and look for any other developmental problems.
Depending on the size of the omphalocele, some babies only need one surgery. When the omphalocele is large, some infants may need several surgeries. Sometimes a silo (plastic sac) will be placed to slowly return the organs to the abdomen. When the contents of the sac can fit in the abdomen, the silo is removed and the abdomen is closed. Before, during and after surgery, a ventilator (breathing machine) may be used to help your baby breathe.
Sometimes it can take months before your baby is big enough to close the abdomen.
Your baby is fed with fluid through a vein until the bowel begins to work. Signs of the bowel working are stooling or pooping. Then, feedings will be started through a tube that passes through the nose or mouth and into the stomach.
Mothers planning to breastfeed are encouraged to pump breast milk that will be frozen and stored until your baby is ready to feed. If tube feedings are going well, then feedings can be started by breast feeding or bottle feeding.
The length of stay in the NICU for an infant with this condition varies. Your baby will be able to go home when they can tolerate full feedings and are gaining weight. After discharge, a pediatrician will monitor your baby. Your baby will also come back to Children's Mercy to see the pediatric surgeon or any other necessary specialists.


What are the expected outcomes?

If there are no other of birth differences, most infants recover well. Many infants need several surgeries to completely repair the omphalocele.


Why choose Children's Mercy?

Children with omphalocele require a thoughtful care plan that accounts for all their medical problems. At Children's Mercy, we have the highly experienced specialists capable of working together to coordinate your child's care. Our specialists understand that children with omphalocele can have health issues throughout childhood and will continue to care for your baby even after you go home from the hospital.
Want a second opinion?
If you've recently received a diagnosis or would like a second opinion, experience matters. We're happy to share our expertise with you. Call (816) 855-1800 to make an appointment with our team.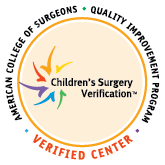 Highest level of surgical care
Children's Mercy is one of only 30 locations in the nation to be verified by the American College of Surgeons as a Level 1 Children's Surgery Center.
Neonatal Follow-Up Clinics: Care for your growing child
We recognize that many of our NICU graduates have special health care needs related to growth and development. The Neonatal Follow-Up Clinics provides follow-up services for your babies after they're home from the NICU.