Fetal Surgery and Intervention
Fetal surgery and intervention at Children's Mercy

Rapid advances in the field of fetal surgery make it possible to correct or manage certain life-threatening conditions even before a baby is born. Children's Mercy cares for a growing number of moms and babies through fetal surgery each year.
The expertise you'll find at Children's Mercy is unmatched in the Kansas City area. We look at all the options and unique circumstances for each family to give babies with complex medical conditions the best possible opportunity for a bright future.
Fetal surgery experts

Our fetal treatment team, led by Dr. Emanuel (Mike) Vlastos, is an integrated group of fetal surgeons, specialists, and support staff who carefully review each case to determine the best course of action for mom and baby.
Dr. Vlastos began his career in family practice more than 25 years ago, so he understands the big picture when caring for expecting moms and their babies. Over the past 10 years, as the field of fetal medicine has rapidly expanded, he has put his experience as a board-certified OB-Gyn and Maternal-Fetal Medicine specialist to work in the realm of fetal surgery.
Dr. Vlastos has performed hundreds of fetal procedures and is internationally known for his expertise in fetal medicine, particularly prenatal treatment for spina bifida (myelomeningocele), bladder outlet obstructions, congenital diaphragmatic hernia and twin-to-twin transfusion syndrome. He often lends his expertise to other providers nationally and internationally as they look to provide this service in their communities.
Your fetal treatment team also includes anesthesiologists who consult with your OB and maternal-fetal medicine specialists to determine the best options for pain control during any situation that impacts you or your baby, including surgery, labor, and delivery.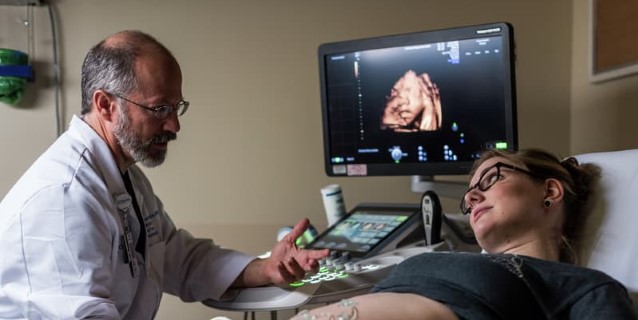 Understanding your options for treatment

Dr. Vlastos and the team will talk with you about all the treatment options available to you in language that you can understand. We believe an honest dialogue that answers all your questions is the best way to help you choose the care plan that's right for you and your baby.
Sometimes, you may need to make a decision quickly and surgery might happen the same day you meet with your team. In other cases, you will have a little more time to think and plan for future treatment. Or you may be able to return home and continue your care with your obstetrician or maternal-fetal medicine specialist.
No matter what, we're here for you—during pregnancy, delivery and as your child grows.


Want a second opinion?
If you've recently received a diagnosis or would like a second opinion, experience matters. We're happy to share our expertise with you. Call (816) 855-1800 to make an appointment with our team.
Comprehensive care for moms and babies

Children's Mercy has a carefully orchestrated system in place for both emergency and preplanned fetal surgery. We coordinate the many different departments and care providers involved in your family's case to ensure you are supported on all sides.
Your medical team is always caring for both you and your baby—and in some cases, multiple babies. The team includes your surgeons (in some cases, both a fetal surgeon and another specialist such as a neurologist or cardiologist), nurses, a sonographer, an anesthesiologist, and your maternal-fetal medicine specialist.
We'll also care for your emotional well-being during the difficult process of making decisions about your and your baby's health. Your nurse coordinator will help you schedule and manage all your appointments. A social worker will help you with practical needs, like lodging, travel and support services. Our psychologists and chaplains are always available to provide a listening ear for you and your family as well.
As a comprehensive children's hospital, we are uniquely positioned to provide the best possible treatment for you and your little one. We will surround your family with supportive and compassionate care, even in the most difficult of circumstances.
While many moms have fetal procedures on site at Children's Mercy and stay here the entire time with their babies, there is a connecting walkway directly from the Fetal Health Center to Truman Medical Center to provide a higher level of trauma care for moms in an emergency situation.
"In the Fetal Health Center, we look at the bigger picture, not just the problem with the babe in the womb. We're concerned with what we can do to help the entire family."
Conditions
Often, conditions identified in the womb can be treated with fetal surgery before birth. Here are some conditions that are often treated with intervention:
A surgery to repair birth defects of the spine, spina bifida
One identical twin isn't receiving the necessary nutrients to grow from the shared placenta
The diaphragm fails to close during prenatal development and the contents from the abdomen move into the chest
Amniotic Band Syndrome - the developing baby is exposed to floating tissues that can become entangled around them

Congenital Pulmonary Airway Malformation - where a mass of abnormal fetal lung tissue forms, usually in one lung causing it not to function as normal

Discordant Monochorionic Twins - discordant monochorionic twins creates a possibility that the babies will develop Twin-to-twin Transfusion Syndrome

Fetal Anemia - the baby has an inadequate number or quality of red blood cells in their circulatory system

Fetal Bladder Outlet Obstruction - the baby's bladder has a blockage preventing the urine flow into the amniotic fluid

Fetal Tumors - tumors found in prenatal development that can harm the baby by requiring significant blood supply

Iatrogenic and Previable Ruptured Membranes - management should the amniotic fluids break or leak either spontaneously or after a prior invasive procedure

Placental Chorioangioma - removal of benign tumors in the placenta

Selective Intrauterine Growth Restriction - the baby's fetal weight is below the 10th percentile
Stories
Spina Bifida: Sarah and Hadley's story
At their 20-week ultrasound, Sarah and her husband, Jed, were excited to learn Sarah was carrying a baby girl. But their doctor also gave them some very serious news—their child had a neural tube defect called open myelomeningocele, the most severe form of spina bifida. Sarah's doctor shared that fetal surgery might be an option for Hadley. Sarah and Jed turned to Dr. Emanuel "Mike" Vlastos at Children's Mercy to create a care plan.
Meet Sarah and Hadley
Meet Dr. Vlastos
Meet Dr. Vlastos, the Medical Director of Fetal Therapy. Dr. Vlastos' role in the Fetal Health Center is to bring different fetal therapies to the center, allowing more treatment options for babies in utero. See how Dr. Vlastos and the Fetal Health Center gives babies with known conditions the best opportunity for immediate care they during and after birth.
What to expect at the Fetal Health Center
Find out more about what you will experience at the Fetal Health Center.