The Special Care Delivery service at Children's Mercy is how we deliver many babies we have been following in the Fetal Health Center. Last year we delivered more than 170 babies and more than 1,250 babies have been born here since the program started.
Special Care Delivery brings the region's best pediatric specialists to your baby's side moments after birth. You also will be steps away from the region's only top-level (Level IV) NICU.
Delivering babies with all types of conditions

Many babies who are born in the Fetal Health Center have heart, lung, or central nervous system problems, but we also deliver babies with many other types of birth differences and in some cases, their healthy twins. If you're wondering if we've seen a baby with a condition similar to yours—the answer is yes.
One question many parents ask is whether they will have to have a c-section if they deliver in the Fetal Health Center. About two-thirds of Fetal Health Center moms whose babies have a cardiac condition are able to deliver vaginally, and about one-third of babies with non-cardiac conditions are delivered vaginally. Depending on your specific circumstances, you may be able to labor and deliver vaginally if you prefer.
Keeping families together

Labor and delivery

The care team that has been carefully preparing for your baby's arrival will be ready for you when it's time for your baby to be born. Together, you'll follow the care plan you created so you'll know what to expect and see familiar faces checking in with you once your baby arrives. Your labor and delivery nurse will provide one-on-one care for you during your entire birth experience.
Nearly all moms will deliver at the Fetal Health Center. If your doctor feels that you need critical care during delivery, such as the care of an adult Intensive Care Unit (ICU), you may deliver across the hall at University Health. The Fetal Health Center and University Health are connected by a walkway bridge, making it easy for families and staff to collaborate. The same medical team will be by your side for you and your baby.
Our delivery suites offer comforts like aromatherapy, a refrigerator, and sleep chairs and a recliner for your support person. We will work with you to create a birth plan that fits your family, while keeping the health and safety of you and your baby as our top priority.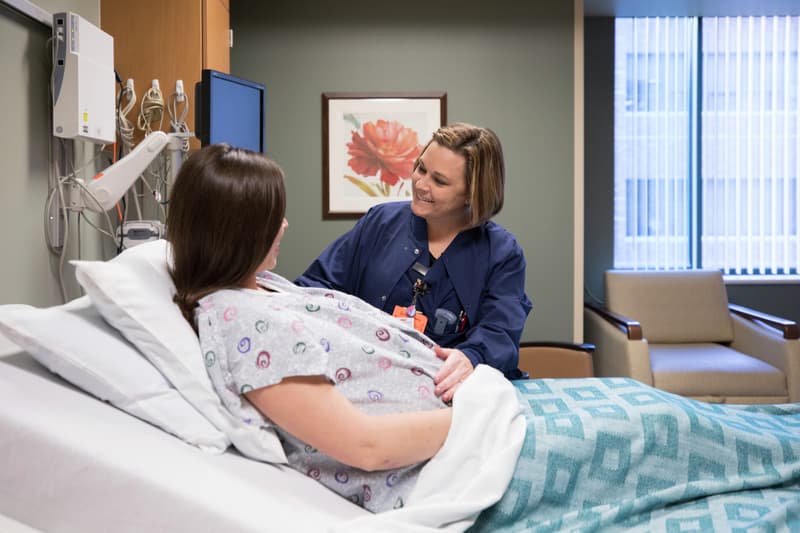 Inside the Fetal Health Center
Our delivery suites offer comforts like aromatherapy, a refrigerator, and sleep chairs and a recliner for your support person. We will work with you to create a birth plan that fits your family, while keeping the health and safety of you and your baby as our top priority.
Postpartum and recovery

After delivery, the care team will stabilize your baby in an adjoining room, so you can see what's going on and your support person can be with both you and your baby.
Families often ask about how soon they will be able to see their baby. As soon as possible, we'll bring your baby to you so you can hold them, breastfeed, have skin-to-skin snuggles, and take pictures. While you recover and baby receives care, you'll be right down the hall from them in our Level IV NICU. Our goal is to keep your family close, comfortable, and connected while you and your baby get the care you need from your Children's Mercy team.
If you have a C-section, we'll bring you to one of our Special Care Delivery rooms for recovery after the procedure. As soon as you're able to sit in a wheelchair, your nurse will take you through connecting doors to the NICU to be with your baby. Read about how Children's Mercy follows the Enhanced Recovery After Cesarean (ERAC) protocol.
Nearly all our Fetal Health Center moms are able to stay in their Special Care Delivery room for their labor, delivery and recovery until they're ready to be discharged (usually 2-3 days). At that time, you'll be part of our NICU parent community, with access to all of those resources, such as the Ronald McDonald House and Family Room and support services through our Social Work, Chaplaincy and Child Life departments. Parents are always welcome 24/7 in the NICU, so you can be with your baby as much as you'd like.


Comprehensive care for your family

One advantage to delivering your high-risk baby at Children's Mercy is the comprehensive care team that will support your family before, during and after baby's birth.
Every morning, you can be part of the care team's daily rounds in the NICU. You'll get the latest updates on your baby's condition and be a part of making their care plan for the day. If you're not able to be there in person, you can connect with your care team by phone or video chat to see your baby anytime, wherever you are.
Your baby deserves the best and most advanced care. Learn more about the importance of the Level IV NICU at Children's Mercy, the highest level of care available to newborns in the region.
If your baby needs ongoing care as they grow, you can continue to work with the same team of doctors who have known them since before they were born. Children's Mercy has an extensive network of outreach clinics and telemedicine partnerships at community hospitals throughout Kansas and Missouri. This can ease the burden of travel for families who live outside the Kansas City area.


Palliative care: walking with you through your journey

For most families, navigating a prenatal diagnosis is unfamiliar and filled with uncertainty. The Palliative Care team is made up of specially-trained pediatric providers who understand both the medical and the emotional impacts of your family's situation. We can sit with you while you weigh all options and we'll be there, no matter the outcome.
Our role is to help you better understand your child's diagnosis, talk about your treatment options, and determine what the best possible quality of life looks like for you and your child. Then, we'll work together with you and your Fetal Health Center team to plan your prenatal care, delivery, and next steps.
Learn more about the care provided by the Palliative Care Team at Children's Mercy.
"Our goal is to embrace and celebrate the life of your baby, whatever shape that might take for your family."
Top doctors and so much more

Children's Mercy is nationally ranked as a top children's hospital in nine specialties rated by U.S. News and World Report. Our specialists will be there to care for your baby every step of the way--before, during and after birth.
In addition to the top-ranked specialists in the region, you'll also have the expertise of highly-trained nurses, anesthesiologists, psychologists, genetic counselors, child life specialists, music therapists, social workers and chaplains. Our entire staff is focused on providing the best possible care for children and families.
"Pregnancy is such an exciting, miraculous, and joyous time in a woman's life. But for those carrying a baby with severe medical conditions, there are so many more emotions involved. It is such a privilege to be part of the family's journey during such a personal time in their life."
Stories
Fetal cardiology: Baldwin family's story
Follow the Baldwin family's journey through the Fetal Cardiology Program at Children's Mercy when their son Hartman was prenatally diagnosed with Hypoplastic Right Heart Syndrome.