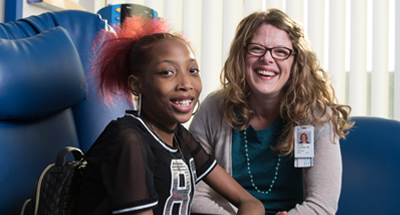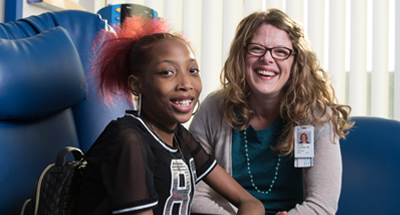 The Children's Mercy Palliative Care Team is a select group of providers dedicated to supporting your family as you care for a child with significant health care needs. We can help you better understand your child's diagnosis, talk about your treatment options, and determine what the best possible quality of life looks like for you and your child.
Setting goals that fit your family's values

Pediatric Palliative Care focuses on getting to know your child and your family. Together, we can help you set goals and make plans for your child's care that fit with your family's values. We can help with relieving physical symptoms as well as supporting your child's mental and emotional health during their illness.
Surrounding you with support and care

The Palliative Care Team is made up of specially-trained medical professionals. That means we can advise you about the potential impacts of different treatments or interventions that your child's main care team suggests so you fully understand how the different options impact your goals for your child.
We also work closely with chaplains, social workers, Child Life specialists, psychologists, and other care team members to come alongside you in meaningful ways as you manage your child's health care needs.
You might move through different areas of the hospital at various times during your child's care. Whether you're in an intensive care unit, visiting one of our clinics for a follow-up, or caring for your child at home, the Palliative Care Team will be a familiar source of support throughout your journey.
Planning for your child's needs

The Palliative Care Team acts as an extra layer of support during the stress and intensity of caring for a child with complex medical needs. We can help develop a comprehensive care plan that centers around your child and your family's needs and goals. Whether you choose to continue disease-directed treatments or decide to focus on comfort care, we will be with you every step of the way.
In some cases, this means modifying activities and experiences to focus on what's most meaningful to your child. There are many creative ways kids can celebrate holidays and milestones even as they face health challenges or extended hospitalizations.
In other cases, this means planning for end-of-life care and what your family's priorities are during that time. When your child has a life-limiting condition, we can talk with you about how to make the most of your time together, create meaningful memories and experiences, and celebrate the uniqueness and beauty of your child with your family and community.
And sometimes, kids surprise us by knocking down every obstacle that comes their way and doing better than anyone could have expected. We are always happy to see families who "graduate" from the Palliative Care Team's services and are ready to manage their child's care on their own, outside of the hospital.
Making informed decisions for a quality life

The Palliative Care Team can help your family talk about what quality of life means to you and your child. That could mean going to school, playing with friends, being pain-free, staying out of the hospital, feeling the sunshine on their face, taking a walk or breathing without difficulty. These goals are unique to each person and may change over time.
As you consider different treatment options, surgery, medication changes or other interventions, it can be helpful to consider how it will affect your child's life beyond the medical aspect. Questions like these are a good place to start a conversation with your family about how an intervention might impact your child's quality of life.
What is most important regarding my child's quality of life?
How will this treatment affect my child's quality of life?
What is likely to happen without treatment?
How will this treatment change my child's prognosis?
What will it be like for my child to go through this treatment?
What will it be like for my family if my child goes through this treatment?
Is this treatment something that will improve the way my child feels? For how long?
Is this treatment something that could make my child feel worse? For how long?
Are there any other options we should consider that might have the same outcome, but with a different approach?
Your Palliative Care Team can guide you through some of these difficult conversations, navigate uncertainty, and help you decide on next steps in your child's care.
"We are your partners as you care for a child with complex medical needs. Together, we'll hope for the best and prepare for the rest—you'll never be alone on this journey."
Resources

Many families in our Palliative Care program have found the following resources helpful.

Within Children's Mercy:
Community organizations: