Children's Mercy Home Care is the only full-service pediatric home-health agency in the region. Our team provides continuity of care following inpatient stays and often instead of hospitalization.
Children's Mercy Home Care provides education, encouragement and support to pediatric patients and their families to help them attain the highest level of health and independence. We actively coordinate with area pediatricians, hospitals and schools to ensure patients and families receive comprehensive home care.
Patients and families assist our team in developing a personalized care plan and are encouraged to be involved in patient therapy. Consistent care between the nurse/therapist and family gives the best results and quickest recovery.
Services are available to infants, children and adolescents who meet defined admission standards without regard to race, color, national origin, disability, sex, religion or ability to pay. We also provide well-mother/newborn follow-up (for mothers under 18 years of age) and high-risk newborn services.
Pediatric, specialized care at home and pediatric pharmacists available 24 hours a day.
Clinical Services
All services use a multi-specialty approach to patient care and case management. Children's Mercy Home Care also provides patients with a smooth transition from hospital to home by helping coordinate all the details of hospital discharge. Children's Mercy Home Care also provides rehabilitative coordination with school programs and other home care services, including pediatric hospice.
Our specialized pediatric nursing staff performs highly technical and quality focused patient care. Services provided include: acute and rehabilitative care, assessment of high-risk newborns, assessment and teaching, diabetes teaching, infusion nursing, respiratory care, specialized treatments, wellness and/or disease-focused education, enteral pumps, formula, supplies and nebulizers.
Physical and Occupational Therapy
Physical and Occupational therapy services provide health care to children whose lives have been disrupted by a physical injury, surgery, or illness or who face problems with development. Therapists work to promote growth and development and help the child to improve or regain their functional abilities through exercise, activities and modalities. In addition, Occupational Therapy can address sensory processing and feeding needs to improve skills of daily living.
Speech therapy services works with patients to prevent, assess, diagnose and treat swallowing/feeding disorders, speech, language, cognitive communication and social communication. Speech therapy also provides rehabilitative services in the areas of speech, voice and fluency.
Clinical Respiratory Services
Clinical Respiratory Service (CRS) is life-supporting, life-enhancing health care performed by licensed respiratory care practitioners and other licensed individuals, under qualified medical direction. CRS provides care and treatment for neonatal/pediatrics patients with various medical disorders and diagnosis with attention specifically to the cardiopulmonary system including diagnostic testing, therapeutics, education and monitoring. Patient, family, caregiver and public education are essential to achieve positive patient outcomes.
Social workers in home health perform a psychosocial assessment that helps to identify social or environmental factors that impact patient care. Social workers identify strengths and weaknesses and help families with problem solving. They can act as advocates, perform case management functions, coordinate services, provide counseling and link with needed resources. They can help families cope with the stress of caring for a child who needs health care services at home.
Durable Medical Equipment
Our team of pediatric professionals teach children and families how to use and care for equipment safely and effectively. Deliveries or shipment of equipment and supplies are made directly to the patient home.
The infusion program uses the expertise of multiple teams of specialists to provide the following: antibiotics, chemotherapy, growth hormone, hydration, IVIG, nutritional support, pain management, TPN, colony stimulating factors and other drug therapies.
Conditions
Asthma

Bronchopulmonary dysplasia

Colostomy status complications

Complex respiratory care

Critical illness myopathy

Failure to thrive

Feeding difficulties
Multi-congenital abnormalities

Preterm newborn

Primary apnea of newborn

Spinal muscular atrophy

Tetralogy of Fallot

Transplant care

Wound care

Common treatment and therapies


Acute and rehabilitative care

Apnea monitors

Assessment and teaching

Assessment of high-risk newborns

Bronchopulmonary hygiene

Cough assist therapy

Diabetes teaching

Durable medical equipment and supplies

Enteral feeding and infusion pumps

Formula

Infusion nursing
Oxygen devices

Pulse Oximetry

Respiratory assessment

Respiratory monitor devices

Specialized treatments

Thorough assessments

Tracheostomy care

Ventilation

Wellness and/or disease focused education for patients and families

Wheelchairs

Wound Care

Pharmacy

Infusion Therapies:
Antibiotics

Chemotherapy

Growth hormone

Hydration

IVIG

Nutritional support

Pain Management

TPN

Other drug therapies
Stories
Bringing care home to kids
Children's Mercy HomeCare brings education, encouragement and health care to kids in need throughout Missouri and Kansas. Meet the team and just a few of the families we have been fortunate to serve.
Home Care: Lucas' story
Even though he is just four years old, Lucas Whitacre has overcome many challenges already, including feeding and nutrition issues, a brain tumor and a stroke. Children's Mercy Home Care helps medically complex kids like Lucas and his mom Shannon get the care they need without the burden of extra trips to the hospital.
Meet Lucas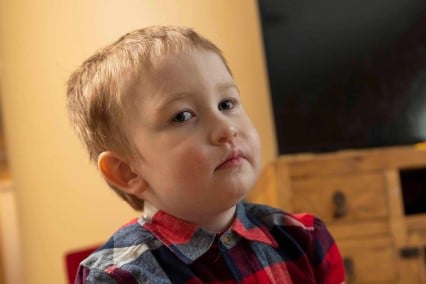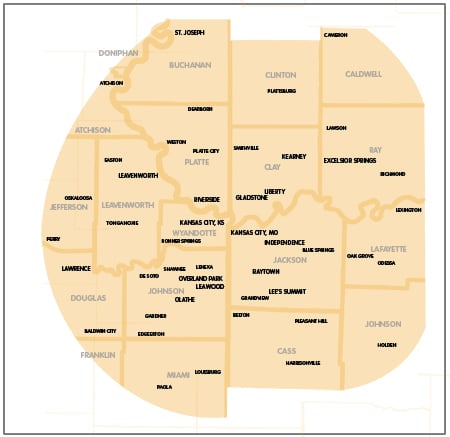 Home Care services are available for patients that reside within a 55 mile service area from our Riverside office. DME and pharmacy services may be available outside of the 55 mile service area. Please contact our office for questions regarding service territory.


Contact Home Care

Missouri
700 NW Argosy Parkway
Riverside, MO 64150
(816) 895-5000
Kansas
5520 College Boulevard, Suite 102
Overland Park, KS 66211
(913) 696-5040