Children's Mercy Home Care is the only full-service pediatric home-health agency in the region. Our team provides continuity of care following inpatient stays and often instead of hospitalization.
Children's Mercy Home Care provides education, encouragement and support to pediatric patients and their families to help them attain the highest level of health and independence. We actively coordinate with area pediatricians, hospitals and schools to ensure patients and families receive comprehensive home care.
Patients and families assist our team in developing a personalized care plan and are encouraged to be involved in patient therapy. Consistent care between the nurse/therapist and family gives the best results and quickest recovery.
Services are available to infants, children and adolescents who meet defined admission standards without regard to race, color, national origin, disability, sex, religion or ability to pay. We also provide well-mother/newborn follow-up (for mothers under 18 years of age) and high-risk newborn services.
Pediatric, specialized care at home and pediatric pharmacists available 24 hours a day.
Clinical Services
All services use a multi-specialty approach to patient care and case management. Children's Mercy Home Care also provides patients with a smooth transition from hospital to home by helping coordinate all the details of hospital discharge. Children's Mercy Home Care also provides rehabilitative coordination with school programs and other home care services, including pediatric hospice.
Physical and Occupational Therapy
Physical and Occupational therapy services provide health care to children whose lives have been disrupted by a physical injury or illness or who face problems with development. Therapists work to promote growth and development and help the child to improve their functional abilities through exercise, activities and modalities.
Our hearing and speech services provide evaluation and treatment for children who have deficits in the areas of articulation; receptive and expressive language; and voice and fluency. The speech-language pathologists also assist patients in the transition to school services.
Clinical Respiratory Services
Clinical Respiratory Service (CRS) is life-supporting, life-enhancing health care performed by licensed respiratory care practitioners and other licensed individuals, under qualified medical direction. CRS provides care and treatment for neonatal/pediatrics patients with various medical disorders and diagnosis with attention specifically to the cardiopulmonary system including diagnostic testing, therapeutics, education and monitoring. Patient, family, caregiver and public education are essential to achieve positive patient outcomes.
Social workers in home health perform a psychosocial assessment that helps to identify social or environmental problems that impact patient care. Social workers identify strengths and weaknesses and help families with problem solving. They can act as advocates, perform case management functions, coordinate services, provide counseling and link with needed resources.
Durable Medical Equipment
Select equipment, including medication compressors/nebulizers, enteral feeding pumps, wheelchairs and infusion pumps are available through Children's Mercy Home Care. Our team of pediatric professionals teach children and families how to use and care for equipment safely and effectively.
Our specialized pediatric nursing staff performs highly technical and quality focused patient care. Services provided include: acute and rehabilitative care, assessment of high-risk newborns, assessment and teaching, diabetes teaching, infusion nursing, respiratory care, specialized treatments, wellness and/or disease-focused education, enteral pumps, formula, supplies and nebulizers
The infusion program uses the expertise of multiple teams of specialists to provide the following: antibiotics, chemotherapy, growth hormone, hydration, IVIG, nutritional support, pain management, TPN, colony stimulating factors and other drug therapies
Conditions
Apnea monitors

Blood disorders

Burn care

Cancer

Cardiac conditions

Cerebral palsy

Coagulation disorders

Cystic fibrosis

Endocrine disorders

Gastrointestinal disorders

High-risk newborns

Immunodeficiencies

Infectious disease

Multi-congenital abnormalities

Orthopaedic conditions

Oxygen

Pre- and post-transplant care:Bone marrow

Kidney

Liver

Heart

Pulse Oximetry

Respiratory disease

Wound care
Service Areas in Kansas
Douglas

Jefferson

Johnson

Leavenworth

Miami

Wyandotte

Allen (Northeastern portion)

Crawford (Northeastern portion)

Lyon (Easter portion)

Pottawatomie (Eastern portion)

Wabaunsee (Eastern portion)

Woodson (Northeastern portion)
Service Areas in Missouri
Buchanan

Cass

Clay

Clinton

Jackson

Johnson

Lafayette

Platte

Ray
Stories
Bringing care home to kids
Children's Mercy Home Care brings education, encouragement and health care to kids in need throughout Missouri and Kansas. Meet the team and just a few of the families we have been fortunate to serve.
Home Care: Lucas' Story
Even though he is just four years old, Lucas Whitacre has overcome many challenges already, including feeding and nutrition issues, a brain tumor and a stroke. Children's Mercy Home Care helps medically complex kids like Lucas and his mom Shannon get the care they need without the burden of extra trips to the hospital.
Meet Lucas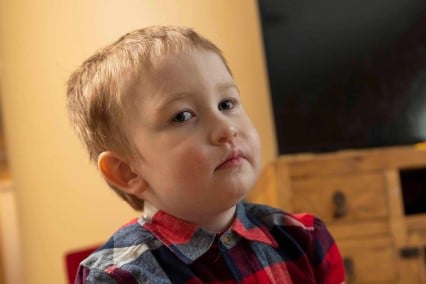 Contact Home Care

Missouri
700 NW Argosy Park
Riverside, MO 64150
(816) 895-5000
Kansas
5520 College Boulevard, Suite 365
Overland Park, KS 66211
(913) 696-5040