Esophageal Atresia and Tracheoesophageal Fistula
What are esophageal atresia and tracheoesophageal fistula?

Esophageal atresia and tracheoesophageal fistula are birth differences which affect the esophagus and/or trachea. The esophagus is the tube that connects the back of the throat to the stomach. The trachea is also known as the windpipe. This condition is commonly seen as a blockage of the esophagus that does not connect with the stomach. There is also usually a connection between the esophagus and the windpipe (trachea). This is called T-E fistula. Since the esophagus and windpipe develop in the fourth week of pregnancy, other parts of the body that are developing at the same time may also not form properly, such as the heart, limb bones or kidneys.


What are the causes and incidence of these conditions?

These conditions happen very early in pregnancy for unknown reasons. About one in every 5,000 births is affected with this condition. Additional birth differences are found in 50 to 60 percent of babies with T-E fistula.


What are the symptoms associated with these conditions?

There may be excessive amniotic fluid during the pregnancy (polyhydramnios), with a small stomach, due to your baby's inability to swallow amniotic fluid. A fetal ultrasound that shows too much amniotic fluid may be a sign of esophageal atresia or another blockage in the intestines. After birth, your baby may drool saliva and eat poorly due to problems swallowing milk or saliva. Your baby may also cough and choke with feeding due to the passage of milk into the windpipe and lungs.
If a small feeding tube cannot be passed into your baby's stomach, an X-ray is taken. If the X-ray shows the feeding tube coiled in the upper esophagus and air is seen in the stomach, then esophageal atresia with tracheoesophageal fistula is likely.
Treating these conditions

These conditions are treated with surgery to connect the upper part of the esophagus to the stomach and to separate any connection between the esophagus and the windpipe. Before surgery, the heart, kidneys and spine will be examined by ultrasound, and an X-ray will be taken of the arm and leg bones to look for any other areas of concern. Surgery is usually performed within a few days after birth.
Until surgery is performed, your baby is not fed by mouth and a suction tube is kept in the upper esophagus to prevent saliva from being breathed into the lungs. After surgery, your baby will be fed by IV fluids through the vein.
When milk is introduced, it will likely be given through a tube that is surgically placed through the esophagus into the stomach. During surgery, another tube will be placed to drain any fluid from the chest. This chest tube will remain in place until a contrast X-ray study is taken (approximately five to seven days later) to make sure there is no leak from the repair site before your baby starts taking feedings by mouth. Mothers planning to breastfeed are encouraged to pump breast milk that will be frozen and stored until your baby is able to be fed.
The length of stay in the NICU for an infant with this condition varies. Your baby will be able to go home when they can tolerate full feedings and are gaining weight. After discharge, a pediatrician will monitor your baby. Your baby will also come back to Children's Mercy to see the pediatric surgeon or any other necessary specialists.


What are the expected outcomes?

Babies without any other significant birth differences have a survival rate of greater than 95 percent. However, each baby might require additional procedures, such as esophageal dilation, if there is persistent narrowing of the esophagus.


Why choose Children's Mercy?

At Children's Mercy, our team of pediatric surgeons has the most experience treating esophageal atresia in the region. In fact, our surgeons were some of the first to apply minimally invasive surgical techniques (surgery through very small incisions) to the treatment of esophageal atresia.

The Fetal Health Center team can help diagnose conditions like esophageal atresia and plan for your baby's delivery so that they can receive immediate care from our neonatal specialists, all while staying close by to you.

Children with esophageal atresia can have problems eating. Our team of specialists will provide ongoing care for your child to ensure that any problems are recognized early and treated.
Want a second opinion?
If you've recently received a diagnosis or would like a second opinion, experience matters. We're happy to share our expertise with you. Call (816) 855-1800 to make an appointment with our team.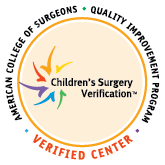 Highest level of surgical care
Children's Mercy is one of only 30 locations in the nation to be verified by the American College of Surgeons as a Level 1 Children's Surgery Center.
Neonatal Follow-Up Clinics: Care for your growing child
We recognize that many of our NICU graduates have special health care needs related to growth and development. The Neonatal Follow-Up Clinics provide follow-up services for your babies after they're home from the NICU.