Congenital Diaphragmatic Hernia
What is a congenital diaphragmatic hernia (CDH)?

A congenital diaphragmatic hernia is an abnormal opening in your baby's diaphragm (breathing muscle) that occurs early in pregnancy. This opening lets the abdominal organs (like the stomach, small intestine, spleen and liver) move into the chest instead of being in the abdomen. Because the stomach and intestines fill up the chest, the lungs do not have room to grow and develop normally. This makes it hard for your baby to breathe, even after the hole in the diaphragm is repaired.
Congenital diaphragmatic hernia (CDH) happens in one of every 2,200 to 5,000 babies born, with nearly 90 percent of those occurring on the left side. Other birth differences may also be present. Most congenital diaphragmatic hernias are typically found during a routine ultrasound at 16 to 18 weeks gestation.


Symptoms of congenital diaphragmatic hernia

Babies born with CDH often have problems like:


Difficulty breathing

A bluish coloration of the skin due to lack of oxygen

Fast breathing (tachypnea) and/or a fast heart rate (tachycardia)

A flat abdomen. A chest X-ray may show the presence of the intestines in the chest cavity.
Stories
Congenital diaphragmatic hernia: Kyler's story
Samantha Moran's water broke in the middle of the night just hours before she was scheduled to travel to the Elizabeth J. Ferrell Fetal Health Center to give birth. That's when the Fetal Transport Team sprang into action, safely bringing her and baby Kyler, who had been diagnosed with a congenital diaphragmatic hernia, to the hospital for care.
Meet Kyler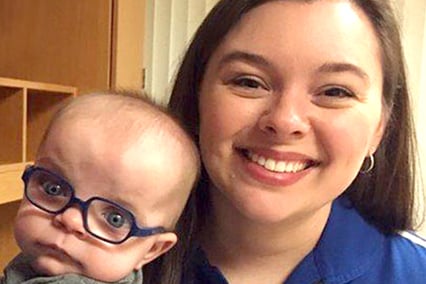 Neonatal Follow-Up Clinics: Care for your growing child
We recognize that many of our NICU graduates have special health care needs related to growth and development.

All infants born with CDH need continued care after going home from the NICU. Some children experience breathing and feeding problems, such as the development of gastroesophageal reflux. In addition, they may have some signs of neurodevelopmental delay. The hernia can also come back, which requires additional surgery to correct it.
At Children's Mercy, all babies with CDH are followed by a multidisciplinary team in addition to their pediatricians. The Neonatal Follow-Up Clinics provide follow-up services for your baby after they're home from the NICU.