Congenital Diaphragmatic Hernia
What is a congenital diaphragmatic hernia (CDH)?

A congenital diaphragmatic hernia is an abnormal opening in your baby's diaphragm (breathing muscle) that occurs early in pregnancy. This opening lets the abdominal organs (like the stomach, small intestine, spleen and liver) move into the chest instead of being in the abdomen. Because the stomach and intestines fill up the chest, the lungs do not have room to grow and develop normally. This makes it hard for your baby to breathe, even after the hole in the diaphragm is repaired.
Congenital diaphragmatic hernia (CDH) happens in one of every 2,200 to 5,000 babies born, with nearly 90 percent of those occurring on the left side. Other birth differences may also be present. Most congenital diaphragmatic hernias are typically found during a routine ultrasound at 16 to 18 weeks gestation.


Symptoms of congenital diaphragmatic hernia

Babies born with CDH often have problems like:


Difficulty breathing

A bluish coloration of the skin due to lack of oxygen

Fast breathing (tachypnea) and/or a fast heart rate (tachycardia)

A flat abdomen. A chest X-ray may show the presence of the intestines in the chest cavity.
Treating congenital diaphragmatic hernia

Stabilize your baby's breathing


A diaphragmatic hernia is a medical emergency. Your baby will need a breathing tube immediately after birth to help them breathe and prevent air from going into the stomach. The breathing tube is connected to a ventilator (breathing machine) to help with breathing. Some babies require heart/lung bypass with Extra Corporeal Membrane Oxygenation (ECMO), which gives the lungs a chance to recover so the doctors can do surgery to repair the CDH.


Repairing the congenital diaphragmatic hernia


When your baby is stable, the opening in the diaphragm is closed by an operation, usually through an incision in the upper abdomen. This surgery usually takes place within two weeks after your baby is born, depending on how much support they need in the first few days after birth.
During surgery, doctors will move the abdominal organs back into the belly and close the hole in the diaphragm. Sometimes, if the hole is significantly big or the diaphragm is missing completely on one side, we will use an artificial material to patch the diaphragm. Occasionally, this operation will be performed while the baby is on ECMO.


Recovery in the NICU


After surgery, your baby will recover in the NICU. Our pediatric anesthesiologist will use precisely calibrated medications to keep your baby comfortable during and after the operation and while weaning off the breathing machine. Children's Mercy has the highest-level NICU in the region.


Feedings with an NG tube


Your baby will have a nasogastric (NG) tube to keep their stomach and intestines empty until the intestines begin to work. This tube will be placed shortly after birth and will stay in place until feedings are started.

Once we begin to see signs that the intestines are working--such as a decreased amount of substance out of the NG tube and bowel movements--we can start feedings through a feeding tube that passes through your baby's nose and into his/her stomach. If you're planning to breastfeed, we encourage you to pump breast milk that will be frozen and stored until your baby is able to receive feedings.


Feedings by mouth


Once your baby is able to have the breathing tube removed and is breathing comfortably on low amounts of oxygen, they can begin taking feedings by mouth. Some babies with diaphragmatic hernia need to go home on oxygen and/or with a feeding tube. Others are able to go home without oxygen and are able to take all feedings by mouth.


Going home after congenital diaphragmatic hernia


The length of stay in the NICU for an infant with this condition varies. Your baby will be able to go home when they can tolerate full feedings and are gaining weight. After discharge, your pediatrician will monitor your baby. Your baby will also come back to Children's Mercy to see the pediatric surgeon or any other necessary specialists.


Want a second opinion?
If you've recently received a diagnosis or would like a second opinion, experience matters. We're happy to share our expertise with you. Call (816) 855-1800 to make an appointment with our team.
What to expect at birth and beyond

Congenital diaphragmatic hernia is a very serious condition. But with advances in neonatal and surgical care, overall survival is now around 70 percent.

The Fetal Health Center at Children's Mercy is ready to help you and your baby, from diagnosis to delivery and beyond.

At your first consultation, you can expect to have an MRI, echocardiogram and detailed ultrasound, all performed by specially trained technicians and sonographers who specialize in prenatal diagnosis. We'll continue to provide regular ultrasounds and checks at least once a month, and sometimes more often, depending on what your baby needs.

You may choose to continue your prenatal care with your own obstetrician or transfer your care to the Fetal Health Center specialists for the remainder of your pregnancy.

Most of the time, you will deliver your baby in the Special Care Delivery unit, located within the Fetal Health Center at Children's Mercy. That way, your baby can receive immediate, expert care from our neonatologists, and you and your family can be right there with them.

After birth, your baby will have every support they may need in our Level IV NICU, the region's highest-level care center for newborns. This means your baby will have access to a full range of more than 400 newborn medicine specialists, highly-trained pediatric nurses and anesthesiologists, and specialized equipment for our tiniest patients, including breathing assistance with ECMO if needed.
The length of time your baby needs to stay in the NICU varies greatly. Some babies are very stable and only need help with the breathing machine for a short period of time, have their operation, and can go home within a month or two. Other babies who need ECMO support and prolonged help with breathing assistance will be in the hospital much longer.


Choosing the best home for your child's care

Babies with CDH require highly intensive care, both at birth and as they grow. At Children's Mercy, we take a team-based approach. Our neonatologists work closely with our pediatric surgeons and other specialists to give your baby the very best care.

Children's Mercy has the most experienced specialists in the region, treating 10 to 20 new patients with CDH each year. Children's Mercy is a certified ECMO center and has the resources to care for the most critically ill babies with CDH.

Even after children with CDH leave the hospital, our team of specialists continues to care for them in our Neonatal Follow-Up Clinics to ensure they are meeting their developmental milestones and nutritional goals. Any specialists your child might need as they grow and develop are on hand and ready to help your family.
Stories
Congenital diaphragmatic hernia: Kyler's story
Samantha Moran's water broke in the middle of the night just hours before she was scheduled to travel to the Elizabeth J. Ferrell Fetal Health Center to give birth. That's when the Fetal Transport Team sprang into action, safely bringing her and baby Kyler, who had been diagnosed with a congenital diaphragmatic hernia, to the hospital for care.
Meet Kyler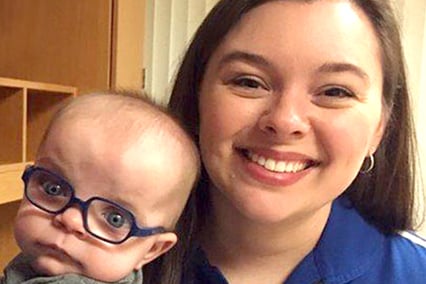 Neonatal Follow-Up Clinics: Care for your growing child
We recognize that many of our NICU graduates have special health care needs related to growth and development.

All infants born with CDH need continued care after going home from the NICU. Some children experience breathing and feeding problems, such as the development of gastroesophageal reflux. In addition, they may have some signs of neurodevelopmental delay. The hernia can also come back, which requires additional surgery to correct it.
At Children's Mercy, all babies with CDH are followed by a multidisciplinary team in addition to their pediatricians. The Neonatal Follow-Up Clinics provide follow-up services for your baby after they're home from the NICU.