Congenital Diaphragmatic Hernia: Kyler's Story
When Samantha Moran learned at her 20-week ultrasound that her baby had a congenital diaphragmatic hernia, she was – as any parent would be – stunned.
"We were devastated," said Samantha. "We'd had two perfectly healthy babies already and never expected it. We couldn't believe it."


The waiting game

After getting over her initial shock, Samantha started to plan. Her OB/GYN near Salina, Kansas, referred the family to the Elizabeth J. Ferrell Fetal Health Center at Children's Mercy. The team gave her several options for a care plan, but eventually decided Samantha would be closely monitored until 38 weeks, then travel to stay in the Kansas City area until she was ready to deliver the baby at Children's Mercy.
But, as Samantha found out, plans have a way of changing.
Just after 38 weeks, and hours before she was scheduled to travel to Kansas City, Samantha's water broke in the middle of the night. She was in labor. Samantha awakened her husband, Mike, and they decided to begin driving to Kansas City.
"We were literally pulling out of the driveway to drive to Kansas City and we got a call from the nurse at Children's Mercy," Samantha said. "She had reviewed my chart and said 'do not drive here.' We were going to need the transport team."


Up in the air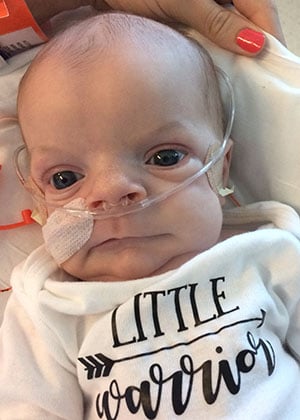 The Morans quickly changed course and drove to their local hospital, where the Children's Mercy fetal transport team would meet them. After a short wait, the hospital's twin-engine jet arrived in Salina and Samantha, now fully in labor, boarded the plane with the transport team. Mike set off in the car toward Kansas City.
"The transport team was amazing," said Samantha. "I was kind of freaking out and they did a great job supporting me and settling me down, especially without my husband there."
The flight lasted about 40 minutes and Samantha was monitored closely by the team during the entire journey. After Samantha arrived at Children's Mercy, the fetal health team quickly took action and determined that labor was not progressing. They decided a C-section was necessary and with that, Kyler entered the world less than 12 hours after Samantha's water broke.
"It was kind of a whirlwind," said Samantha.
Because of Kyler's congenital diaphragmatic hernia, he was placed on ECMO shortly after he was born. ECMO stands for extracorporeal membrane oxygenation and is a type of support for a patient's heart and lungs. It's a service typically only seen in the highest-level NICUs, like Children's Mercy's Level IV unit.
Kyler remained there for three days until he was able to be removed from the machines. But even with that improvement, Kyler still needed plenty of care. All told, he spent 79 days in the NICU. During that time, Samantha says the care of everyone from Children's Mercy made the difference.
"The Children's Mercy team is so knowledgeable," said Samantha. "We feel like they have always worked with us and included us in every important decision."


Looking ahead

Today, Kyler is coming up on his first birthday and Samantha is grateful for each day with him.
"You know, he's alive. He's happy," she said. "From everything he's been through, you would never know it. We're just taking it one challenge at a time."
There are still some challenges. Kyler still regularly travels to Kansas City for treatments and has had several follow-up surgeries, as is standard for children's with a congenital diaphragmatic hernia. He also still has a feeding tube. But overall, his prognosis is good.
"He's on a long-term care plan and we're still working closely with Children's Mercy," Samantha said. "But really, he's surpassed all of the predictions and expectations for him."
She continued, "Even though [Children's Mercy] is three hours away, it's worth the drive. It's worth it for the care he receives. We couldn't be happier with the experience and we feel so fortunate to have his care team in his life. The overall experience has been amazing."