Heart Center
Nationally ranked by U.S. News & World Report
Heart Center
Nationally ranked by U.S. News & World Report
The Ward Family Heart Center at Children's Mercy provides comprehensive care for children with all types of heart conditions. Our team of 35 pediatric cardiologists and heart surgeons, together with specially-trained nurses and staff members, work tirelessly to give your child the best possible care.
The size and scope of our program means that we are always ready to care for your child, no matter how rare their condition might be. Even though we care for some of the most complex kids, our survival rates continue to surpass the national average.


Choosing the best heart program for your child

We understand it can be very overwhelming to learn your child has a heart condition. That's why Children's Mercy has developed a full-service cardiology and cardiac surgery team to help you throughout your journey.
Children's Mercy offers hundreds of health care providers from every pediatric specialty so you can have an expert at your side for every moment of your child's journey. Because kids with heart problems often have other health conditions, it's helpful to have all your specialists working together on a comprehensive care plan for your child.


Families choose Children's Mercy because of our extensive experience, knowledgeable and personal care providers, and innovative research that translates into results. Our outcomes—the statistics that track how kids do after surgery—are one of the best ways to show how relentlessly our doctors are working to improve the lives of kids with heart conditions. Whether you're an expecting parent of a baby with a heart condition, a cancer survivor being monitored for long-term side effects of treatment, or an adult who needs continued care for congenital heart disease, Children's Mercy can help.
Year after year, Children's Mercy is recognized as one of the top cardiology and heart surgery programs in the nation by U.S. News and World Report. We consider it a privilege to provide care for children and families during some of their most difficult and stressful times.
Our experts come to you through regular visits to our outreach clinics across Kansas and Missouri. This helps ease the burden of frequent travel for families who live outside the Kansas City area.
In addition to the very best medical care, our Thrive program surrounds your whole family with support throughout your journey. Team members from many departments—including Child Life, Financial Counseling, Chaplaincy and more—come together to ensure you have the social and emotional support you need as you care for your child.
Kids with heart conditions often need complex care and close monitoring, which used to mean a long hospital stay was inevitable. But our commitment to research and innovation is making it possible for more families of kids with single-ventricle and complex congenital heart disease to safely live at home between surgeries. Our Ward Family Heart Center uses CHAMP® (Children's High Acuity Monitoring Program) technology—together with a dedicated support team—to help monitor your child at all times, even when you're at home.
Powering Children's Potential


It is one of our main missions to be a part of adding advancement and more scientific knowledge in order to have more and improved ways to treat patients with congenital heart disease.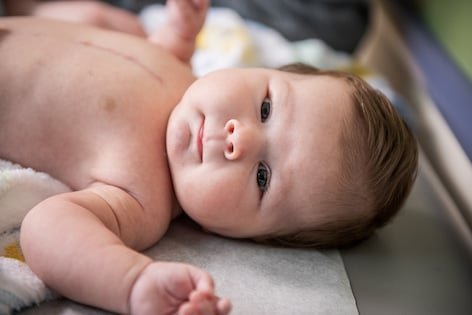 Through outstanding clinical care, innovation and research, Children's Mercy Kansas City has become a national leader in pediatric cardiology and cardiac surgery care. In this Powering Children's Potential video, Children's Mercy CEO Paul Kempinski and Dr. Barnes discuss the many ways the Ward Family Heart Center is improving the health of children with congenital heart disease and helping them fulfill their potential.
Watch the video
Conditions
Aortic Atresia

Aortic Valve Disease

Arrhythmias

Arrhythmogenic Right Ventricular Dysplasia

Cardiac Masses

Cardiomyopathy and Pulmonary Hypertension

Chest Pain

Congenital Heart Disease

Coronary Artery Anomalies

Cor Triatriatum

Ductal-dependent Heart Lesions

Ebstein's Anomaly

Endocardial Cushion Defect

Heart Failure

Heart Transplants (pre- and post-op)
Hypoplastic Left Heart Syndrome (HLHS)

Hypoplastic Right Heart Syndrome

Mitral Valve Disease

Pacemakers and Defibrillators

Pulmonary Hypertension

Pulmonary Stenosis

Single Ventricle Anatomy

Subaortic Membrane Abnormalities

Syncope (fainting)

Total Anomalous Pulmonary Venous Return (TAPVR)

Tricuspid Atresia

Truncus Arteriosus

Valvular Heart Disease

Vascular Ring
Improving care for kids through research
Research by the Ward Family Heart Center at Children's Mercy is truly translational, and spans the entire spectrum of medical research from bench to bedside. Multiple disciplines within the Ward Family Heart Center contribute to research in pharmacogenomics, imaging tissue engineering, and outcomes research. Our team is also collaborating with the Genomic Medicine Center to investigate genetic causes of congenital heart disease.
Heart Center Report
Please join us as we share the important progress our team has made—progress that's resulting in answers for patients and families at Children's Mercy, and for children around the globe.
Cardiac Patient Family Advisory Council
The Cardiac PFAC supports the highest standard of excellence in cardiac care at Children's Mercy through meaningful collaboration between families and hospital staff.
Stories
Inside Pediatrics: Ziah's story
Baby Ziah depends upon a passionate team of prenatal and cardiac specialists to help her survive through birth and the heart repairs needed during her first year of life.
Inside Pediatrics: Leah's story
Leah was born with half a heart, and despite several surgeries, it's failing fast. Cardiac and critical care specialists work to keep her alive, hoping a new heart can be found in time.
CHAMP: Winston's story
Winston Wahlgren has hypoplastic left heart syndrome, or HLHS, a congenital heart defect that requires three heart surgeries to repair. His parents used the CHAMP App, an innovative PC tablet-based application created by Children's Mercy researchers, to monitor his condition between surgeries.
Call for an appointment
We strongly encourage families to contact our hospital directly to schedule appointments and we request that patients bring relevant medical records and X-rays with them on their first visit.
Patients may be able to to be seen at our outreach locations in Joplin, Mo.; St. Joseph, Mo.; Junction City, Kan.; Garden City, Kan., and Wichita, Kan.
We've been blessed by being surrounded by a team of professionals at Children's Mercy that have encouraged us throughout this entire process. We have gained an extended family that will always be very special to us.