CHAMP | Cardiac High Acuity Monitoring Program
Nationally ranked by U.S. News & World Report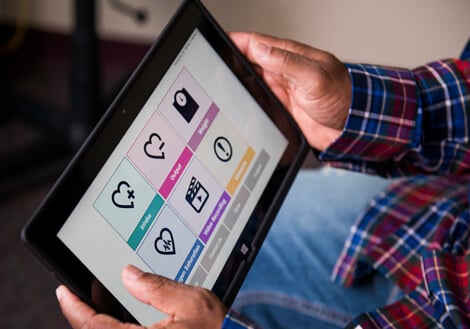 CHAMP | Cardiac High Acuity Monitoring Program
Nationally ranked by U.S. News & World Report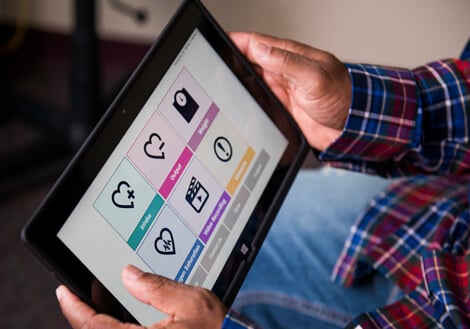 Single ventricle heart defect monitoring
CHAMP® (Cardiac High Acuity Monitoring Program) is a dedicated, multi-disciplinary team that has been built to meet the needs of some of our most complex patients: babies who are born with single-ventricle heart disease and are in the critical inter-stage period between the first and second stages of surgery. Single-ventricle heart defects include conditions like hypoplastic left heart syndrome (HLHS).
These high-risk single ventricle infants and their families receive support with home monitoring provided by the CHAMP team. An important part of our home monitoring program is our proprietary app, which is connected to a central database.
We provide families with a tablet PC that has the app to enable nearly-instantaneous in-home monitoring and to improve communication during this vulnerable time.
In 2017, Children's Mercy was honored as a recipient of a Microsoft's Health Innovation Award, which recognizes health organizations for using Microsoft devices and services in innovative ways that help engage patients, empower care teams, optimize clinical and operational effectiveness, and transform the care continuum.
CHAMP brings doctors home
Learn more about how Children's Mercy developed this technology and used Microsoft products to bring it to patients and families.
Parents are an important part of this team, engaged and empowered to assist in the medical care of their child when at home. The program depends on parents being involved and informed, taking a lead role in their child's care.
Children's Mercy is seeking other institutions to join us in utilizing the CHAMP technology to its full potential in saving lives with the CHAMP Multi-Site Project. To determine whether you meet the necessary site requirements, visit our CHAMP site application page, or email champapp@cmh.edu for more information.
Stories
Inside Pediatrics Season 3: Ziah's Story
Before she's born, Ziah is diagnosed with half a heart or HLHS (hypoplastic left heart syndrome). Because she also has severe premature issues, her parents were prepared to give birth and for Ziah to pass away. But thanks to an innovative idea rarely attempted with an HLHS baby, a tiny balloon is inserted in mom's womb to help Ziah survive through birth and the heart repairs needed during her first year of life. Between the first and second surgery, Ziah is closely monitored at home in real-time by the ground-breaking home heart monitoring program (CHAMP), which cardiologists use to diagnose a life-threatening problem with Ziah's heart.
CHAMP: Winston's Story
Winston Wahlgren has hypoplastic left heart syndrome, or HLHS, a congenital heart defect that requires three heart surgeries to repair. His parents used the CHAMP App, an innovative PC tablet-based application created by Children's Mercy researchers, to monitor his condition between surgeries.
Meet the CHAMP Team at Children's Mercy

CHAMP Coordinators
Nickey Crail RN
Amy Ricketts RN, CHAMP Multisite Project Manager
CHAMP Providers
Melissa Elliott RN, FNP-BC, MSN
Lori Erickson RN, CPNP, APRN
Hayley Hancock MD, Medical Director of CHAMP
Ryan Romans MD
CHAMP Nutrition
Whitney Lang RD, LD, MS
Thrive Team
Erin Perez LCSW, Program Manager
Jami Gross-Toalson Ph.D., Psychologist
Katie MacDougall LMSW, Social Worker