CHAMP | Cardiac High Acuity Monitoring Program
Nationally ranked by U.S. News & World Report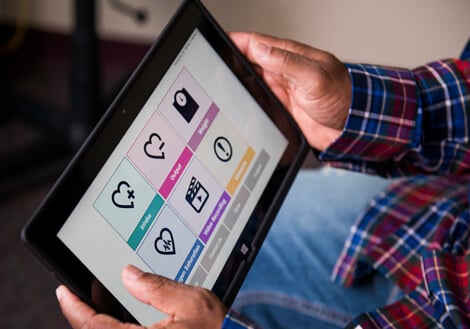 CHAMP | Cardiac High Acuity Monitoring Program
Nationally ranked by U.S. News & World Report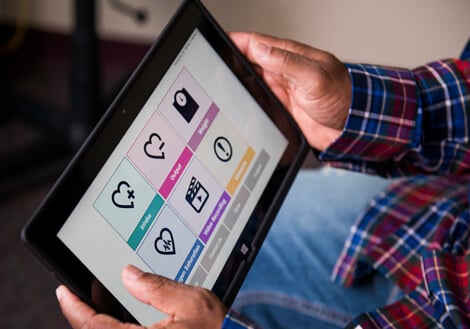 Cardiac high acuity monitoring
The Cardiac High Acuity Monitoring Program (CHAMP) is Children's Mercy Kansas City's cardiac home monitoring team. This team is a dedicated, multi-disciplinary team built to meet the needs of some of our most complex patients: babies born with complex congenital heart disease and in the critical period between birth and surgery. Complex congenital heart disease includes conditions like hypoplastic left heart syndrome (HLHS), heterotaxy syndrome, tricuspid atresia, and hypoplastic right heart syndromes, along with staged repairs for Tetralogy of Fallot with pulmonary stenosis/pulmonary atresia.
Infants with complex congenital heart disease and their families receive at home support from the CHAMP team. Currently, as part of the home monitoring program, providers and families have the option of using the CHAMP® App. The CHAMP® App is a mobile application developed by Children's Mercy Kansas City that can be used by parents or caregivers to send information electronically to the home monitoring team. The home monitoring team is able to access the information through a provider web portal. The CHAMP® App is available to providers and families exclusively as part of a research study. If you choose to participate in the research, you will be provided with more information during the informed consent process. IMPORTANT: The CHAMP® App is an investigational device limited by federal law to investigational use.
Parents are an important part of this team, engaged and empowered to assist in their child's medical care when at home. The program depends on parents being involved and informed, taking a lead role in their child's care.
Meet the CHAMP Team at Children's Mercy

CHAMP Coordinators
Nickey Barr, RN
Whitney Pierce, RN
CHAMP Providers
Sara Crawford MSN, RN, CPNP-AC
Melissa Elliott PHD, RN, FNP-BC, APRN Coordinator
Hayley Hancock, MD
Matthew Moehlmann, DO
Ryan Romans, MD
CHAMP Nutrition
Whitney Lang RD, LD, MS
Caylee Johnson RD, LD, MS
Thrive Team
Jami Gross-Toalson, PhD - Psychologist
Erin Perez, LCSW - Program Manager
Maddy Duvall, LCSW, LMSW CHAMP Social Worker
Speech Therapy
Renée Foerg M.S. CCC-SLP
Tessa Rabe M.S. CCC-SLP, NLP, NTMC, CNT
Brittany Brown MA, CCC-SLP