Information about CHAMP for Parents
How the CHAMP® program helps patients

Between the first and second stages of surgery (the inter-stage period), children who are born with single ventricle anatomy are at risk for rapid changes in their condition, which may require changes in management or hospitalization. We want to support you and your child during this stressful time by helping monitor your baby at home. The CHAMP app provides us with information about your baby nearly instantaneously, every day.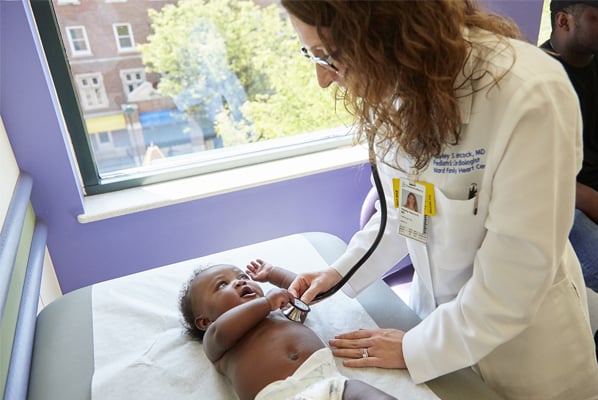 We have a CHAMP provider on-call 24 hours a day, seven days a week to provide easy access for communication for new concerns. In addition, the CHAMP team reviews each child's information every day, and also meets weekly to discuss each child's progress and review inter-stage data. Each weekly meeting is followed by phone calls to all families whose babies we are following.
Prior to your child's initial discharge, the CHAMP team will educate you about how we perform inter-stage monitoring.
CHAMP: what to expect

When a baby is discharged from the hospital after their first operation for single ventricle, their care can be quite involved. We want to make sure that you will be supported at all times, and we will do our best to make sure that you are not overwhelmed. Before your baby is discharged, you will receive teaching about many aspects of the care that is needed.
This includes things like review of your baby's heart defect, the equipment that will be used at home for your child (CHAMP app, oxygen saturation monitor, scale, and potentially feeding equipment), and red flags (a red flag is an alert that may signal a potential problem for your baby). We encourage CPR education or a refresher.
We will ask you to check your child's oxygen saturation and heart rates twice a day and weigh your child daily, and we will show you how to enter those numbers into the CHAMP app. We will also show you how to document feeding volumes and wet and dirty diaper counts in CHAMP. Also, we will teach you how to take a video of your baby using the CHAMP app. We find daily videos to be very useful to assess your baby for changes in their condition. Videos are particularly helpful when your baby has a red flag alert. CHAMP providers frequently compare several videos to determine whether there has been a change in your baby's condition.
During the interstage period, your child may need care and evaluation by other specialists. We work closely with other specialists as well as with your pediatrician and cardiologist to provide the best care for your child, and to coordinate appointments if possible. About one month after your child's stage II (Glenn) surgery, they will graduate from the CHAMP program. After this, you will follow up with your child's primary pediatric cardiologist at your preferred location, hopefully closer to home.


Red flags: When to call about your child
Any behavior or bodily change that worries you

Temperature over 101 degrees F

Does not gain an average of 20 grams/day over 7 days

Increased work of breathing or stopping to breath during feeding

Feeding difficulty, increased sweating during feeds, or excessive spitting

Vomiting or diarrhea (more than three episodes in 24 hours)

Irritability, won't calm or decreased response to you

Low oxygen saturations (less than 70%)

Fewer than four wet diapers per day

Three days of weight loss

Arrhythmia

Bloody stools
Resources for parents
Caregiver instructions



Single ventricle cardiac diagrams


Frequently asked questions
Turning the tablet off and on can help to restart and send data if you have trouble with getting it to save or send to your team. Make sure the green tower icon is present in the right upper corner of the tablet home screen.
Your home monitoring providers will get a daily report that will show the last 24 hours of data you have entered and some weekly trends that will help them to follow your child.
The home monitoring team will be able to review the videos you enter to see your child's progress and to see their status at home if you have concerns.
Your home monitoring team may provide reminders that come up on the screen for videos, or appointments, and may need to be updated so please bring the CHAMP App to your Clinic appointments.
Once data from your CHAMP App is entered into the cloud system, Instant Alerts to your team may be sent if the data is out of range. You may receive a call about the following:
Below or above goal oxygen saturation

High or low heart rate

Bloody or red stools

Significant vomiting

Significant diarrhea
You can change the time back to the correct time it occurred on the Input screen before you select the save button. This also can work for the other data entered in the output, oxygen saturations and heart rate, and video tabs.
Your team may be able to set up for you to be emailed a report weekly with this information.
The goal timing for use of the tablet is from the first hospitalization for single ventricle heart disease, returning it to your home monitoring team with the 2nd Stage Glenn surgery or shortly after.