Gastroschisis
What is gastroschisis?

Gastroschisis is an opening in a baby's abdominal (belly) wall where their intestines come out. The opening is usually to the right of the belly button and occurs early in the baby's development when the muscles in their abdomen don't form correctly.

When the intestines are not protected during pregnancy, they may become irritated and not function well after delivery. In addition, the infant may have a small belly cavity because the intestines were not inside during development.


What causes gastroschisis?

The exact cause of gastroschisis is unknown. It is not usually caused by a genetic condition and is generally not associated with other birth defects. Gastroschisis occurs in approximately one in 2,000 live births. The diagnosis of gastroschisis is usually made by ultrasound, often in the second trimester.
Treating gastroschisis after birth

The treatment for gastroschisis involves returning the intestines to the abdominal cavity and closing the belly wall.
Want a second opinion?
If you've recently received a diagnosis or would like a second opinion, experience matters. We're happy to share our expertise with you. Call (816) 855-1800 to make an appointment with our team.
What to expect when your child has gastroschisis

We will monitor you and your baby closely if they have a diagnosis of gastroschisis. Babies with gastroschisis require immediate surgical attention to protect their intestines. In the Fetal Health Center at Children's Mercy, our surgical and neonatal specialists are immediately available to attend to your baby while you stay close by.
Caring for your baby after birth

After birth, the intestines are carefully handled and the lower portion of your baby's body is placed in a clear bag to protect the intestines and keep them warm and moist.

When your baby is stable, the doctors will perform an operation to either return the intestines to the belly or to place a temporary bag, called a silo, over the intestines. The decision on the type of repair depends on how swollen the intestines are after birth, as well as the size of the opening and the abdominal cavity.

When a silo is used, the intestines are slowly moved back into the abdomen every day. When the silo is no longer needed, your baby is taken back to the operating room for closure. Babies often need breathing help from a ventilator during silo reductions and for several days after surgery.
Recovering from gastroschisis surgery

After surgery, we have experienced GI and dietary specialists who work together to maximize your child's ability to eat and get enough nutrition to ensure that they will grow appropriately— even after you head home from the hospital.

In rare circumstances where the intestinal length may be too short, Children's Mercy has the only intestinal rehabilitation team in the region to help restore your child's intestinal function as much as possible.
Feeding your baby after surgery

Before and after surgery, your baby will have a nasogastric (through the nose) or orogastric (through the mouth) tube. These are sometimes called NG or OG tubes.

This tube goes through the nose or mouth and into the stomach. It is used to remove air and stomach fluids until the intestines begin to function. At first, the fluid from the gastric tube will be dark green, but it will turn clear as bowel function returns. Your baby will receive nutrition through IV fluids until the body is ready to digest food.

It will take the intestines several weeks to recover after a gastroschisis repair. Signs of returning function include "spit" colored fluid in decreasing amounts from the NG/OG tube and the start of your baby pooping.

When feedings are started, your baby will receive a small amount of milk through a feeding tube while still receiving IV nutrition. Tube feedings will slowly be increased and later changed to feedings by mouth. Mothers planning to breastfeed are encouraged to pump breast milk that will be frozen and stored until your baby is able to eat.

Starting and increasing feedings is a slow and gradual process. Some infants who have a gastroschisis repair will have occasional setbacks requiring bowel rest or additional surgery.
When can we go home?

The length of stay in the NICU for an infant with gastroschisis varies. Your baby will be able to go home when they can tolerate full feedings and are gaining weight.

After discharge, a pediatrician will monitor your baby. Your baby will come back to Children's Mercy for follow up appointments with the pediatric surgeon or any other necessary specialists.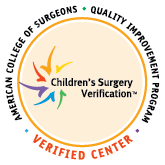 Highest level of surgical care
Children's Mercy is one of only 30 locations in the nation to be verified by the American College of Surgeons as a Level 1 Children's Surgery Center.
Stories
Gastroschisis: Warren's story
Just 18 weeks into her pregnancy, Mariah Schumacher learned her baby boy had a defect in his abdominal wall that would require surgery to repair. Thanks to the Elizabeth J. Ferrell Fetal Health Center at Children's Mercy, Mariah was able to give birth in the same hospital where her baby's surgery was performed.
Meet Warren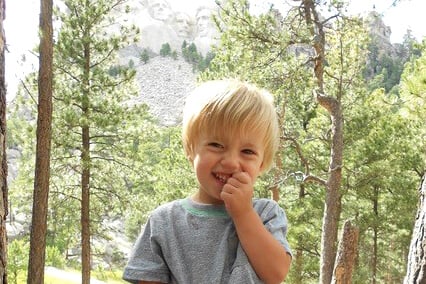 Neonatal Follow-Up Clinics: Care for your growing child
We recognize that many of our NICU graduates have special health care needs related to growth and development. The Neonatal Follow-Up Clinics provide follow-up services for your babies after they're home from the NICU.