Preparing Your Child for Surgery
A Guide for Families
Having surgery is a new experience for many kids. You can help your child feel prepared and comfortable before their surgery by watching the videos and reading the booklets on this page.
Teaching your child about surgery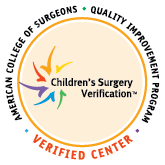 Our teaching materials are designed by Children's Mercy Child Life specialists, who prepare children for medical tests and procedures by using dolls, pictures, and words to help them understand their medical experiences. Child Life staff also provide age-appropriate activities and support for your child and family throughout your hospital stay.

Contact the Child Life department at (816) 983-6870 or by sending a message in the Patient Portal to "Child Life Messages."
A Patient's Guide to Surgery
We understand that surgery can be a scary experience for both children and families. By working hand-in-hand with you and your family, our doctors and nurses will make every effort to ensure your child's comfort during their stay. The following information was prepared to answer basic questions about getting ready for surgery.
View the guide
Ver la guía
Before surgery


7-10 days before surgery, a nurse from the Surgery Clearinghouse will call to discuss your child's upcoming surgery date and medical history. They will also give you important information about the day of surgery. The Surgery Clearinghouse requests that histories and physicals performed by primary care providers be faxed to (816) 302-9928.
2 business days before your child's scheduled surgery, a nurse will call with times and instructions about when your child should stop eating and drinking before surgery. During that call, feel free to ask any questions or express concerns you have regarding the upcoming surgery or procedure.
If you have not received your instructions by 5 p.m. the day before your surgery, we may not have your current phone number. Please call (816) 234-3534 and we will be happy to assist you.
What are acceptable clear liquids?


Often, there is a period of time before surgery when your child can have only clear liquids. Acceptable clear liquids include:
Water
Apple juice
Sprite
Pedialyte
Jello with nothing added
Chicken broth and/or bouillon are not clear liquids.
Bathing before the surgery

Below is an educational video for you to view about the importance of pre-op bathing.
Items to bring to the hospital
History and physical, X-rays and test results.

Legal papers documenting patient's guardianship.

A new or freshly washed blanket or stuffed animal that can be with your child during their surgery or procedure.

A pacifier, if a pacifier soothes your young child.

Books or magazines to read while you are waiting.

A list of child's medications and information about how much medicine your child takes and how often.

A list of your questions for the nurses, doctors, and anesthesiologists.


The day of surgery
You will check in your child and fill out needed paperwork upon your arrival to the Same Day Surgery area.

A nurse will check your child's vitals, which includes height, weight, blood pressure and temperature.

You and your child will meet with an anesthesiologist.

While your child is in surgery, you will wait in a parent waiting room.

When your child's surgery is complete, your child will wake up in the recovery room. You will see your child when they move to the post-op area or as they are transported to an inpatient room.


Anesthesia and your child

At Children's Mercy, a pediatric anesthesiologist is an active member of your child's care team before, during and after their surgery or procedure. We administer anesthesia for more than 27,000 kids per year—that's 74 per day—so our team is experienced at finding just-right doses of medication for kids of all sizes.

During the procedure, your anesthesiologist will carefully monitor your child's heartbeat, blood pressure and breathing. Afterwards, your anesthesiologist will make sure your child wakes up as comfortably as possible and continue to help with pain control.
Contact the Surgery Team
Children's Mercy Adele Hall Campus
Same-day Surgery
(816) 234-3534
Pre-op Call Center (Surgery Clearinghouse)
(816) 855-1841
Children's Mercy Hospital Kansas
Same-day Surgery
(913) 696-8107
(816) 696-8000
Child Life Department
(816) 234-3757
Commonly Asked Questions
We often receive questions about upcoming procedures from families. See some of the most common questions from families and answers from our dedicated surgery nurses.
Surgery at Children's Mercy Menu