Pediatric Surgery Fellowship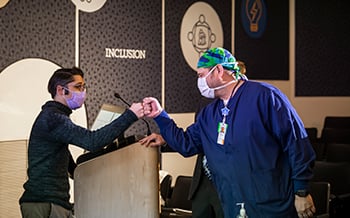 The Children's Mercy Hospital has a rich history of training the future of pediatric surgery and is recognized as a leader in innovative clinical care, minimally invasive surgery, and research excellence. Since inception in 1975, 40 fellows have successfully graduated from the pediatric surgery fellowship program at Children's Mercy Hospital Kansas City. Today, the fellowship program is under the direction of Jason D. Fraser, MD.
The educational goal of the pediatric surgery training program is to take a general surgery residency graduate from a position where he/she may know little about pediatric surgery and allow that person to gain knowledge and experience in physiology, the disease processes, and the preoperative, intra- operative, postoperative care of infants and children. This goal is achieved through didactic and other educational conferences, and through clinical training.
Through these educational avenues, the fellow acquires an understanding of:
General and thoracic pediatric surgical conditions

Significant exposure to the indications for and operative management of minimally invasive surgical procedures

Physiology and operative procedures for liver, kidney, and intestinal transplantation

Non-operative care of injured children

Management of the critically ill neonate or pediatric patient in an ICU setting

In-depth exposure to the management of burned children

Exposure to pediatric urological conditions
The pediatric surgical educational experience for fellows includes two or three PSFs and the general surgical residents who rotate on the service from other institutions. The program consists of didactic teaching, a regular conference schedule, daily rounds, outpatient and follow-up clinic evaluations, and one-on-one experience with the attending staff in the operating room.
The Pediatric Surgical Training Program at Children's Mercy Hospital is under the institutional oversight and sponsorship of the University of Missouri at Kansas City School of Medicine. An internal review of this training program is performed by the Graduate Medical Education Committee of the University of Missouri at Kansas City School of Medicine in the mid-term of the period of accreditation by the ACGME Residency Review Committee for Surgery.
Beginning July 1, 1997, a Surgical Critical Care Fellowship was approved by the ACGME in addition to the pediatric surgery fellowship. All critical care for surgical patients is provided by the PSFs and the surgical critical care fellow (SCCF) in the Pediatric Intensive Care Unit and the Neonatal Intensive Care Unit.
Salaries and benefits
2023-24 salaries


PGY 4: $74,609.60
PGY 5: $76,481.60
PGY 6: $78,852.80
PGY 7: $81,224.00
PGY 8: $83,626.40
PGY 9: $85,342.40
PGY 10: $87,049.25
Benefits for fellows


$1,500 Educational stipend per academic year for books, travel and other educational materials
$2,250 Professional stipend for academic year to present scholarly activity
Health and dental insurance for trainee and dependents with no premiums
Hospital-issued iPad
Free parking
Moving allowance
20 days of vacation
Paid sick time
Paid board exam
Access to clinical and research librarians, statisticians, scientific writers and learning specialists
Tuition allowance of $5,250 per year
On-site fitness center and wellness center
Academic curriculum
Learn more about the curriculum, including didactics, courses, and workshops.
Clinical experience
Learn about the quality and extent of hands-on experience offered through the Pediatric Surgery fellowship.
Research
Learn about the research opportunities and focuses offered during this fellowship.
Surgical Scholars Program
The Surgical Scholars Program at Children's Mercy was established in 2005 to provide clinical research opportunities for aspiring pediatric surgeons.
Apply for the program
The Pediatric Surgical Training Program at Children's Mercy Hospital participates in the National Resident Matching Program (NRMP).
Learn more about the application process.
Our Pediatric Surgery Fellowship team
More about Children's Mercy fellowships