Opportunities for Research
At Children's Mercy, residents and fellows don't just observe research. They drive it.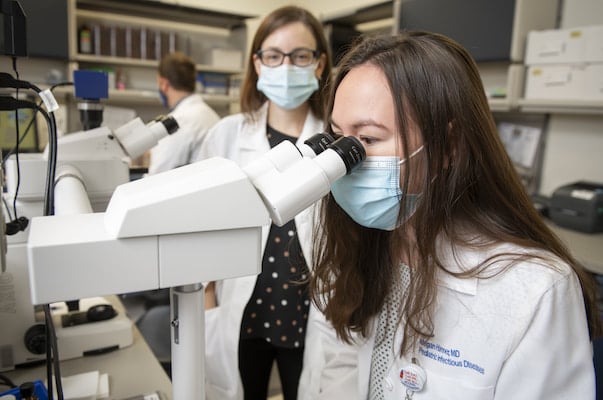 Across every department and subspecialty, research is one of the pillars supporting Children's Mercy as a leading pediatric institution. It's not a place where you come to watch over someone's shoulder as they do the kind of work you might get to do "someday." Our progressive, collaborative culture puts research within reach, so it can be part of your work every day.
Mentorship and Support
Fellows enjoy the full support of their divisions with mentorship from faculty engaged in advancing research to solve pediatric healthcare challenges. Programs with research requirements provide Scholarship Oversight Committees to guide and support fellows' progress. Fellows have access to librarians, statisticians, and scientific editors to guide them through their projects.
Grant Funded Research
TL1 post-doctoral and KL2 early career faculty development opportunities available through the KU/CMKC CTSA.
SHARE@Children's Mercy
Because Children's Mercy researchers are constantly publishing and presenting new work, we've created a place to share it. SHARE@Children's Mercy is an interactive repository that gathers, preserves and promotes the scholarly work created by Children's Mercy doctors, nurses and other staff — and that includes residents and fellows. SHARE includes journal articles, editorials, books and book chapters, conference presentations, and even posters, with hundreds of entries added each month.
SHARE is an invaluable resource for prospective fellows seeking exciting, ongoing projects to join and move forward. It's also a permanent home for your published work that you can always link to, and it's hooked into web searches like Google Scholar to make sure your work gets noticed.
Grant Writing Curriculum
In this six-month, longitudinal course, grant writing is broken down into its various components step by step. Fellows will be placed with mentors for monthly sessions to guide the creation of their first application, giving them the chance to work with faculty members who have successfully received their own grants. Upon completion of the course, fellows are eligible to apply for a Children's Mercy Hospital Clinical Fellowship Research Award of up to $15,000.
Research awards from 2017-2021 include:
Benjamin Hoag, MD (Pediatric Endocrinology) - The Turner Syndrome Transition Readiness Assessment Survey.
Mirae Fornander, PhD (Child Psychology) - A Mixed-Methods Examination of Transgender Youth Desistence
Ben Spector, MD (Pediatric Nephrology) - Rare genetic variants in renal developmental genes and the development of chronic kidney disease
Stephani Stancil, PhD (Clinical Pharmacology) - Eating Disorder Individualized Therapeutics-Naltrexone (EDIT-NTX)
Chelsea Hosey-Cojocari, PhD (Clinical Pharmacology) - Development of a Physiologically-based Pharmacokinetic Model to Address Metformin Failure in Type 2 diabetic Children Through Individualized Dosing
Lovya George, MBBS (Neonatology) - IT+A6:T6GB2 Immunomodulatory Gene Variants in Premature Infants with Necrotizing Enterocolitis
Joel Waddell, DO (Pediatric Infectious Diseases) - Antibiotic Dosing in Osteomyelitis among Obese vs Healthy Weight Children
Biostatistics Curriculum
This yearlong course is designed for fellows who are interested in learning statistical principles and research methodologies commonly applied in medical studies. Biostatistics offers fellows the unique opportunity to learn from Children's Mercy statisticians in the use of descriptive statistics, graphs, hypothesis testing, tests of association, regression and study design. Participants also gain hands-on experience with SPSS software, using material relevant to their individual fields of study.
The Children's Mercy Research Institute
Attached to the main hospital campus, the Children's Mercy Research Institute (CMRI) integrates research and clinical care with multidisciplinary teams to break new ground in pediatrics. It's a place where nationally recognized expertise moves science forward in genomic medicine, precision therapeutics, population health and health care innovation.
Research Days
Every spring, residents and fellows who have received financial support for a research project from Children's Mercy showcase their work during Research Days. Research abstracts including background, hypothesis, data with analysis, and results are submitted in advance, then featured in oral or poster presentations.
Awards
As another way to promote excellence at every level, the Annual Graduate Medical Education Awards Ceremony recognizes individuals nominated by their peers for going above and beyond. Winners are chosen by electronic survey.