Your Experience at Children's Mercy
We keep your days and nights rewarding.

So many factors contribute to what sets Children's Mercy apart. But they all come down to designing a graduate medical experience that creates the best doctors, psychologists, dentists, clinical pharmacologists and laboratory geneticists of tomorrow while serving families and children today. Because when you feel good about where you are, you make the whole world a better place.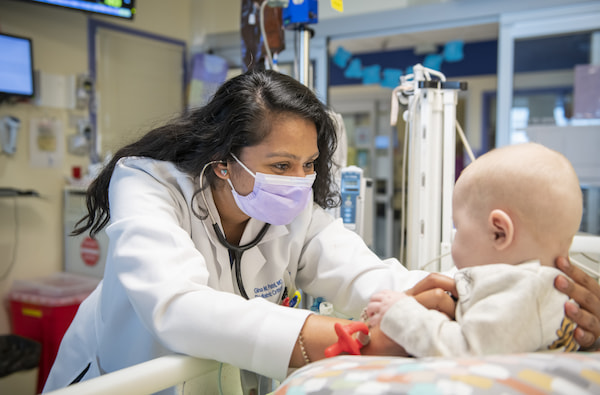 Wellness programs
Rely on Children's Mercy to provide the tools that will help keep your body and mind healthy during your training.
Faculty development
Your academic career as a pediatrician never stops growing. With support from our Office of Faculty Development, you'll find the opportunities to meet every academic goal, both personal and professional.
Salary and benefits
You deserve to be rewarded. Children's Mercy offers competitive pay, with perks that go above and beyond to keep you living up to your potential every day. Like parental leave, travel and moving reimbursement, all the way down to free parking and on-call meals.
The Kansas City appeal
Kansas City is pretty great, if we do say so ourselves. Which we do. Sure, you've probably heard about our world-class barbecue. You might not know about our thriving arts scene, livable neighborhoods and friendly faces everywhere. If you've never been to KC, it's time to fix that. Most people fall in love on their first visit.
Research and grants
At Children's Mercy, residents and fellows don't just observe research. They drive it. Across every department and subspecialty, research is one of the pillars supporting Children's Mercy as a leading pediatric institution. It's not a place where you come to watch over someone's shoulder as they do the kind of work you might get to do "someday." Our advanced, collaborative culture puts research within reach, so it can be part of your work every day.
Advocacy programs
Go ahead, make a difference. We'll help. Just like you, we're passionate about pediatrics because we care about the wellbeing of children, our community – and building a better future. Whether you want to advance pediatrics on a global scale or work with families one on one, our advocacy programs provide the framework to take residents and fellows from inspiration to action.
Diversity, Equity and Inclusion
We create a welcoming environment for all, both employees and patients alike.
See inside Children's Mercy
Words alone can't express what makes this place special. Dive deeper into the Children's Mercy experience with our video series.
Policies and reports
View our annual reports on Accreditation with Commendation from the state of Missouri, as well as our reports, as the official Graduate Medical Education Policy and Procedure Manual.
Graduate Medical Education awards
The Annual Graduate Medical Education Awards Ceremony recognizes excellence among Children's Mercy faculty, residents and fellows nominated by their peers.