Urology
Nationally ranked by U.S. News & World Report
Urology
Nationally ranked by U.S. News & World Report
Children with urinary- and genital-tract diseases have access to full diagnostic and therapeutic services through the urology program at Children's Mercy. The program has earned recognition as one of the top programs in the nation by U.S. News & World Report.
When conditions require surgical care, we use minimally invasive surgery approaches to reduce discomfort, recovery time and scarring patients experience after surgery. Each child receives long-term follow-up support as needed as well.
At Children's Mercy, a pediatric anesthesiologist is an active member of your child's care team before, during and after their surgery or procedure. We administer anesthesia for more than 27,000 kids per year—that's 74 per day—so our team is experienced at finding just-right doses of medication for kids of all sizes.
Children with congenital anomalies receive expert care here. Staff have received extensive training and experience to achieve successful outcomes. Complex urological problems are approached with a team perspective, bringing all providers together to provide children with access to the best, most convenient care possible. Many of these children require specialized radiographic exams, which can be managed through the Radiology department at Children's Mercy.
Clinical Services
The Centiped Clinic provides care to children and adolescents with combined bowel and bladder needs. A child's care team will include team members from urology, gastroenterology and psychology.
The DUCK Clinic provides treatment for children with voiding dysfunction, a common condition that involves poor muscle coordination between the bladder and urethra.
The Differences in Sexual Differentiation Clinic provides care for infants, children, adolescents, and young adults with disorders of sexual differentiation (DSD).
Children's Mercy is home to one of a very few comprehensive colorectal centers in the nation. We take a team-based approach to care for children with colorectal malformations such as Hirschsprung Disease and other anorectal and pelvic floor disorders.
Our team provides prenatal consultations for expectant mothers through our Fetal Health Center.
Additional services offered:
Bladder augmentation

Cystoscopy

Hypospadias repair

Laparoscopy

Orchiopexy

Pyeloplasty

Radiographic exams

Ureteral re-implantation
Conditions
Overactive bladder

Genital malformations

Hypospadias

Neurogenic bladder

Undescended testicles and orchiopexy

UPJ obstruction

Urinary obstruction diseases

Vesicoureteral reflux

Urinary stones
Advancing care through research
The urology program is involved with several randomized prospective trials to determine the best surgical approaches for patients with urologic conditions. Each trial is designed to compare current treatment options for specific conditions to determine the approach that results in the best outcomes for patients. Some of our current prospective trials include:


Laparoscopic vs. Open Pyeloplasty
Our research team is currently working to determine whether laparoscopic or an open approach to pyeloplasty (surgical removal of kidney obstructions) results in better outcomes for patients.


Circumcision – Skin Glue vs. No Skin Glue
This prospective trial will help determine whether the use of skin glue provides a better treatment outcome than traditional sutures.


The River Trial
This study is a research initiative with the Division of Nephrology at Children's Mercy. This study is designed to determine whether patients with kidney reflux benefit from antibiotic treatment.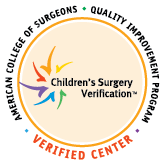 Highest Level of Surgical Care
Children's Mercy is one of only 10 centers in the nation to be verified as a Level 1 Children's Surgery Center — the highest possible rating — by the American College of Surgeons.
Resources for your family
Children's Mercy has developed a helpful resources for you and your family:
Contact Urologic Surgery

Children's Mercy Adele Hall Campus and Wichita
(816) 234-3199
Children's Mercy Kansas
(913) 696-8570