Spinal Differences Clinic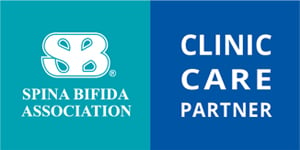 Children with spinal differences have complex medical issues involving multiple body systems such as the central nervous system, musculoskeletal system, urinary, and intestinal systems. Our Spinal Differences program provides continuity of care for children with these disorders. Our goal is to help children with spinal differences stay healthy, gain independence, and become confident in their abilities.
Through Children's Mercy's Spinal Differences Clinic, children and adolescents with spina bifida and other spinal cord injuries or disorders have access to coordinated, team-based care. Our program bridges the gap between primary and specialty care, and provides a vital link to medical and support services available to children with these disorders.
The Children's Mercy Spinal Differences Clinic has met the standards to become a Spina Bifida Association (SBA) Clinic Care Partner. Clinics that become SBA Clinic Care Partners implement best practices so that people with Spina Bifida receive the best care possible in order to have fulfilling lives.
Comprehensive care for families

Our center has a long and rich history of caring for children with spinal differences and provides a uniquely comprehensive approach to care. We offer many benefits to families, centered around the goal of providing all the resources you need in one place.


Extensive, coordinated team care

We are one of only a few clinics nationally to provide extensive coordination among specialties. Our Spinal Differences team includes experienced, dedicated professionals in neurosurgery, urology, orthopedics, gastroenterology, rehabilitation medicine, physical therapy, occupational therapy, social work, and many other specialties. We work together toward the common goal of health and wellness for every child.

Advanced imaging and testing

Our pediatric specialists provide detailed and personalized prenatal and postnatal testing. These tests can help you understand and make informed decisions about your child's condition during an otherwise chaotic time.
Urologic testing, radiology services, developmental testing, bracing assessment and full diagnostic services (such as CT scan and MRIs) are integral components of each child's program.


Compassionate prenatal care

Our Fetal Health Center provides prenatal consultation from a team of specialists with extensive experience caring for children with spina bifida. We are one of only a few centers in the region that has the expertise to perform myelomeningocele repair in utero and after birth.
The Fetal Health Center team will coordinate with all your health care providers, including obstetrics, maternal-fetal medicine, and neonatology, to plan your delivery and post-natal care.


Age-appropriate, personalized services

We provide transition care for adolescents until their 22nd birthday, helping teenagers and young adults with spinal differences move toward independence with the appropriate adult providers.


Family centered care

Above all, we are dedicated to providing emotional and educational support for your entire family by monitoring your child's progress toward developmental milestones and providing support to your whole family. The Spinal Differences team works hard to foster clear communication between your health care team here at Children's Mercy and your child's pediatrician, school and community service agencies.
Conditions
Spina Bifida

Myelomeningocele
Meningocele
Lipomyelomeningocele
Caudal Regression (Sacral Agenesis)
Tethered Cord
Diastematomyelia
Myelocystocele
Spinal Cord Injury
Spinal Cord Tumor
Transverse Myelitis
What to expect

Location and directions

Our Spinal Differences Clinic is held in the Rehabilitation/Special Care Clinic at the Children's Mercy Adele Hall Campus. Visits to the multidisciplinary clinic are about 4 hours in length. You are welcome to bring food and drinks for your family while you are in the clinic room. The cafeteria is also just below our clinic if you need a snack during clinic.


Daily schedule

When you check in to the clinic, your child and family will be placed in an exam room and will stay in the same room for the entire visit. There will be a Clinic Schedule that has been prepared for your child's visit with all the providers highlighted that you are scheduled to see. This sheet is taped to the cabinet so that you know where you are in your clinic visit.


Equipment adjustments

Please bring ALL equipment (braces, wheelchair, walker, and stander) to the visit. It is especially important to have the braces, wheelchair and walker as these items may need to be modified.
We have staff from Hanger (brace company) and Numotion (wheelchair vendor) at each clinic and adjustments can often be completed during your visit. Valet parking and wagons are available at the main entrance to help you with the transfer from your vehicle to the clinic.
Your child may be asked to walk in the hall with their braces so it is helpful to bring or wear shorts that allow a better view of the knees and feet and keep your child comfortable.


Prepare ahead of time

Please make a list of questions and concerns that you have before the visit. We want to make this visit very productive for you. Your visit is really driven by your concerns.
You will receive a phone call from one of our nurse coordinators a couple weeks prior to the clinic to discuss concerns that you may have, but note any other issues that arise after this call.


Pre-visit tests and studies

Your child's doctor will often request certain tests and studies to be done prior to coming to the clinic. These tests, such as Urodynamics Studies, help your care team provide you with answers to your questions and plan the best course of treatment for your child.

For families who live close to Kansas City, we want to schedule these studies a week or two before the visit so that information is available to the staff to give you results the day of visit.
For families coming from a distance, we try to schedule these studies the day before your visit. We will help you arrange for a stay at the Ronald McDonald House just across the street from the hospital if that works for you.
Please respond to the nurse from the Urology Clinic when she calls to schedule Urodynamics Studies. It is very helpful for the Urologist to have this study in front of them to help plan your child's care.


Rescheduling

If you are not able to keep your child's appointment, please call as far in advance as possible. These appointments are scheduled for 3-4 hours and our schedule is filled out several months in advance so it is not easy to reschedule for a week or two later. We often can move an appointment if we know in advance.
We look forward to making your clinic evaluation a productive and positive experience.
Accessibility & Rehab Patient Family Advisory Council
The Accessibility & Rehab Patient Family Advisory Council works in partnership with the Children's Mercy Spinal Differences Clinic staff members to advocate on behalf of parents and patients for the best quality of care and research.