Children's Mercy offers a collaborative model of care for children with physical disabilities that interfere with normal functioning. Our team of diverse specialists provide early and intensive interventions to maximize a child's function and development.
Our mission is to improve and maintain quality of life for the more than 5,000 children and families we serve through inpatient care, outpatient clinics, day treatment and home care.
We work closely with families to develop individualized care that reflects current research and practice trends while incorporating family values and goals. We are committed to continuity in care and the wise utilization of health care resources.
We have six physiatrists on staff who are the only pediatric board-certified and fellowship-trained rehabilitation specialists in the region. Our team also includes two physician fellows, residents, four nurse practitioners, two social workers, a rehabilitation psychologist, a triage nurse/coordinator and clinic coordinators.
Clinical Services
Spinraza is a treatment for spinal muscular atrophy (SMA). The drug, known generically as nusinersen, was approved by the Federal Drug Administration (FDA) in 2016. It is the only medication approved by the FDA to treat SMA. Since its approval, Children's Mercy has worked with families to evaluate if Spinraza is an option for their child.
The Amputation and Limb Differences Clinic helps children with amputations and limb differences whether congenital or acquired. Our philosophy is to encourage self-confidence and maximize function and independence in every aspect of daily life, while meeting the goals of the child and family.
The EMG laboratory at Children's Mercy is the first accredited electromyography lab by the American Academy of Neuromuscular and Electrodiagnostic Medicine (AANEM) specifically for pediatric patients in the country. An EMG test is used to record the electrical activity of muscles and nerves to aid in diagnosing congenital, traumatic, or acquired injuries that affect muscle movement or sensation.
Children's Mercy offers the only pediatric stroke center in the region. In this clinic, each child is seen by Hematology, Neurology, Rehabilitation Medicine, PT, OT, Neuropsychology, and Social Work to help identify underlying factors that may have contributed to the initial stroke, assess risk of stroke recurrence, identify ways to improve functional and cognitive outcomes, and provide appropriate resources to optimize outcomes.
Children's Mercy offers a comprehensive Inpatient Rehabilitation Program for children and adolescents with brain injury, spinal cord injury, neurologic disorders, brain/spinal cord tumors, trauma, and other issues that result in a change in function.
The Division of Rehabilitation Medicine operates a variety of clinics tailored to the specific needs of the children we serve. We provide outpatient services at five locations in Kansas and Missouri.
The Movement Disorder and Spasticity Clinic is one of the only clinics in the nation that provides a comprehensive multidisciplinary clinic for children with complex movement and spasticity disorders.
The Nerve and Muscle Clinic serves children with Duchenne's or Becker's muscular dystrophy, Charcot-Marie-Tooth, congenital myopathy, and other conditions resulting in abnormal nerve and/or muscle function. We coordinate care to accomplish diagnostic tests and consultations with cardiology, pulmonology, orthopedics, genetics, and other pediatric specialists.
The Spinal Differences Clinic is a multi-disciplinary clinic for comprehensive management of children with spina bifida, spinal cord trauma or illness, and other spinal cord defects.
The Day Treatment Program at Ability KC transitions kids from inpatient rehabilitation to home, school and community. The only program of its kind in the region, this individually tailored program provides intensive multidisciplinary evaluation, and therapies, to maximize the abilities of each child. 
Children's Mercy works with children who require a baclofen pump to treat cerebral palsy, brain injuries, spinal cord injuries, and spasticity disorders. The Baclofen Refill Clinic is available for patients with an implanted Baclofen pump. Nurse practitioners provide Baclofen refills and adjustments to Baclofen pumps as well as trouble-shooting for pump complications.
Children's Mercy Home Care provides respiratory, speech, occupational and physical therapy, as well as medical social work services.
The Adaptive Sports Medicine program at Children's Mercy provides comprehensive evaluation and guidance for children and teens with all types of disabilities who want to participate in sports. The program combines elements of Rehabilitation and Sports Medicine to ensure equitable access to sports medicine and musculoskeletal care for participants with impairments.
In the Brachial Plexus Clinic, we evaluate and treat children with brachial plexus abnormalities that prevent optimum use of the arm. Patients are evaluated by a rehabilitation physician and nurse practitioner, an orthopedic surgeon and nurse, and an occupational therapist.
EMG/NCV (electromyography/nerve conduction velocity) studies are performed to evaluate and diagnose nerve and muscle disorders.
Mild Traumatic Brain Injury Clinic
In the Mild Traumatic Brain Injury Clinic, we evaluate patients with a newly acquired mild brain injury (concussion) using a computerized program called IMPACT. This clinic is attended by a rehabilitation physician, rehabilitation nurse practitioners, and a neuropsychologist. We may consult neurology, social services, and behavioral and developmental pediatrics, as needed.
Seating/Wheelchair Clinic
In the Seating/Wheelchair Clinic, children who need wheelchairs and other customized seating and positioning devices are evaluated by a multi-disciplinary team.
In the Tone Management Clinic, we administer Botox and phenol injections for spasticity (or tight muscles). A rehabilitation physician (or physiatrist) will perform the procedure.
In the Torticollis Clinic, we offer advanced, non-surgical treatments for children with refractory congenital torticollis. Each patient receives medical and physical therapy evaluations and recommendations. A rehabilitation physician, nurse practitioner and a physical therapist are on-site to evaluate each patient.
Conditions
Amputation/limb disorders

Brachial plexus injuries

Brain/head injuries

Cerebral Palsy

Gait disorders

Musculoskeletal system diseases

Neuromuscular diseases:

Muscular Dystrophy

Neuropathy

Near drowning

Neuro-oncology rehab

Physical debilitation

Spina bifida

Spinal cord injury

Spasticity and movement disorders

Torticollis
Stories
International Services: Tobias' Story
Tobias was born in China. He was born with spina bifida and when he was five months old a small hole in heart was closed with surgery. The International Services team at Children's Mercy helped Tobias' mom plan for his care in Kansas City with all of his specialists in one place.
Severe Spasticity and Dystonia: Josie's Story
At three-years-old, a rare condition damaged Josie's brain, impacting her ability to speak and leaving her with a severe movement disorder. The Children's Mercy Comprehensive Movement Disorders and Spasticity Clinic recommended an intrathecal baclofen pump be implanted, and now Josie is on the road to recovery.
Meet Josie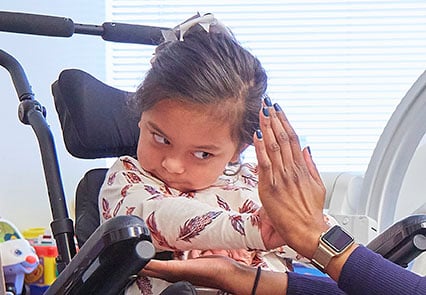 Inside Pediatrics: Martin's Story
Go inside the operating room to see surgeons give young Martin the gift of greater movement.
Make an appointment

To make an appointment, refill prescriptions or speak to a nurse, call (816) 234-3970.
To change an appointment time, call (816) 234-3790.

Rehabilitation clinic locations:

Children's Mercy Adele Hall Campus
Children's Mercy College Boulevard
Children's Mercy East
Children's Mercy Northland
Services also are available through Children's Mercy Home Care and outreach clinics
Medical Education
The Division of Pediatric Rehabilitation Medicine offers programs to train future rehabilitation medicine professionals.