Adaptive program/sport resources
The Limb Difference Clinic helps children from birth to 21 years who have limb differences, whether they were born with them or acquired later in life. Our team works to encourage self-confidence and help children maximize their function and independence in every aspect of daily life.
Our clinic is affiliated with the Association of Children's Prosthetic-Orthotic Clinics (ACPOC). This means the Children's Mercy rehabilitation team collaborates with other leading organizations to provide the very best care for children and adolescents with amputations or limb differences.
Clinical services


Rehabilitation services, including physical and/or occupational therapy
A full spectrum of prosthetics and orthotic options, including myoelectric arms, 3-D printed hands, and prosthetic components for upper and lower extremity needs
Surgery evaluation with pediatric orthopedic surgeons
Referral to genetics as needed
Recommendations for camps and sports programs
What to expect at your visit


We take a team approach to caring for your child. You can expect to meet with several different specialists at your first visit. Depending on your child's specific needs, these can include pediatric rehabilitation physicians, nurse practitioners, physical and occupational therapists, and prosthetists. Our experienced orthopedic surgeons may also be part of your child's consultation if surgery is a possibility.
While you are here, your family will learn about different options for treatments that can help your child achieve their best level of function within their home and community. We can look at adapting your home and school environment, finding recreational opportunities that appeal to your child, and connecting you with equipment and prosthetics as appropriate.
Prosthetic options


Our team makes prosthetic recommendations based on your child's age, individual development and both child and family's functional goals. Some children prefer to not use a prosthesis, especially when the arm is involved. Our goal is to facilitate the best function in daily life, with or without a prosthesis, based on your child's preferences.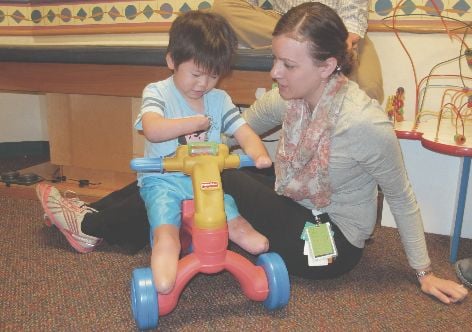 Family Fun Day
This is an annual event for children with limb differences and their families. For more details, please call the Children's Mercy Rehabilitation Medicine Office at (816) 302-3970.