Adaptive Sports Medicine Program
The Adaptive Sports Medicine program at Children's Mercy provides comprehensive evaluation and guidance for children and teens with all types of disabilities who want to participate in sports.
Staying active through playing sports—whether that's simply joining in playground games at recess or competing as an elite athlete—benefits all young people. But for kids with physical or cognitive differences, sports can be a huge game-changer for their overall wellness.


Removing barriers to an active lifestyle

The Adaptive Sports Medicine program combines elements of Rehabilitation and Sports Medicine to ensure equitable access to sports medicine care for participants with different abilities. By removing barriers to participation in sports, we encourage kids to focus on what they CAN do and find new ways to overcome challenges.
Early involvement in physical activities and adaptive sports contributes to physical and social development and builds the skills and confidence to increase independence later in life.
Get connected with an adaptive sports professional

Dr. Mark Fisher is a fellowship-trained pediatric rehabilitation medicine specialist. He has an extensive knowledge of the benefits and challenges of various sports for adaptive athletes. Together with team members from rehabilitation medicine, sports medicine, physical and occupational therapy, and other disciplines, Dr. Fisher can help guide your child into safe, fulfilling and fun participation in a variety of athletic activities.
During your child's appointment, Dr. Fisher will spend time getting to know your child and understanding their athletic goals. Together with your family, he will create a personalized plan to help your child become more physically active or enhance their performance in their sport.
Our interdisciplinary services include:
Disability-specific pre-participation physicals

Medical history with a focus on the child's abilities

Complete physical exam and thorough biomechanical evaluation

Recommendations for types of activities available to the child

Tailored medical and rehabilitation plan to prevent and treat musculoskeletal injuries

Prescription and advocacy for any necessary adaptive equipment

Therapeutic use exemptions for medications, if needed

Individualized plan to safely begin physical activity and achieve sports goals

Adaptive equipment and assistive device evaluation and prescription

Long-term management of rehabilitation needs in the adaptive athlete

Incorporation of 3D motion capture capabilities

Interdisciplinary coordination with detailed physical therapy evaluations and treatment

Experience with local, regional and national organizations and resources focused on individuals with athletic challenges
Expert care for athletes of all abilities

Children and teens with medical, sensory, social-psychological, mobility, balance, coordination or cognitively impairing conditions may benefit from this program. This includes young people at all ability levels, from those who are just learning to become active to elite para-athletes.
Many of the kids we see have been diagnosed with the following conditions:
Cerebral palsy

Spina bifida

Spinal cord injury/paralysis

Down syndrome

Amputation

Birth injury/birth differences

Neuromuscular disease

Any physical or cognitive impairment that limits a child's participation in athletic activities
Convenient locations

Children's Mercy offers the Adaptive Sports Medicine Program at two convenient locations:
Children's Mercy Sports Medicine Center at Village West
Children's Mercy College Boulevard
The Children's Mercy Sports Medicine Center at Village West offers your child or teen the opportunity to work out in a 13,000-square-foot, state-of-the-art sports medicine facility under the supervision of a physical therapist experienced in adaptive sports medicine. Also available at Village West is our 3D motion capture and gait analysis technology, which can be helpful in developing your student-athlete's plan for therapy and activity.
And, because of the hospital's relationship with Sporting Kansas City and U.S. Soccer, it's not unusual for Children's Mercy student-athletes to work out alongside other high school and professional athletes.
The Sports Medicine Center is part of the Division of Orthopedics, nationally ranked by U.S. News & World Report. Learn more about the Sports Medicine Center.


Meet the physician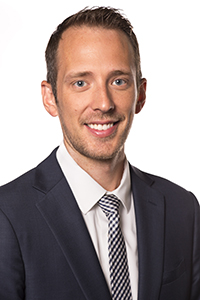 Children's Mercy is one of the few hospitals in the nation with a fellowship-trained rehabilitation medicine physician who specializes in caring for children and adolescents with adaptive sports medicine needs.
Mark Fisher, MD, FAAPMR, has expertise in caring for the musculoskeletal, biomechanical, neurologic and developmental considerations in youth with disabilities. His passion and focus are always on maximizing the function and independence of his patients. He believes supporting access to recreation, physical activity, and sport is a powerful way to do this. He also is experienced with adaptive sport-specific issues, such as classification, equipment and regulations related to prescribed medications.
In addition to Dr. Fisher, your child may work with physical therapists, athletic trainers, prosthetists, orthotists, and equipment providers whose expertise will align with your child's individual needs.


Contact us

Families do not need a referral to schedule an appointment with the adaptive sports medicine program. Contact us with questions or to set up an appointment: call (816) 234-3970 and select option 1.