Hand Surgery
Nationally ranked by U.S. News & World Report
The Section of Hand Surgery at Children's Mercy Kansas City cares for children with a wide variety of upper extremity differences. The program is recognized by Parents magazine for "best orthopedic care." We care for patients at three of the Children's Mercy facilities in both Kansas and Missouri.


Our team

The Section of Hand Surgery has a team of hand surgeons who work together to make our program one of the most robust in the nation to focus exclusively on children. Our surgeons are uniquely trained and experienced in pediatric hands, wrists and upper extremity repair in order to offer comprehensive care and evaluation for a wide range of congenital or acquired conditions, including neuromuscular disorders such as cerebral palsy, and peripheral nerve disorders, including brachial plexopathy, trauma and microsurgical reconstruction.
Services
Nationally ranked by U.S. News & World Report
Splinting, stretching, and/or manipulation by physician or therapist

Therapy to strengthen, stretch, and improve function of the hand

Surgery

Prosthetics
Conditions
Traumatic and overuse injuries


Amputations

Tendon and nerve injuries

Tendonitis

Post-traumatic reconstruction


Congenital Hand Differences


Webbed fingers

Extra fingers, thumb duplication

Underdeveloped thumbs or fingers

Missing or small fingers

Radioulnar synostosis

Missing or underdeveloped forearm bones

Cleft hand

Amniotic Band Syndrome

Arthrogryposis

Bent/curved digits
Neuromuscular Conditions


Brachial plexus birth palsy

Cerebral palsy

Carpal and cubital tunnel


Tumors/Bumps


Ganglion cyst

Osteochondroma

Enchondroma

Neuroma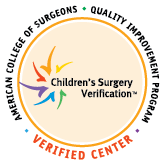 Highest Level of Surgical Care
Children's Mercy is one of only 10 centers in the nation to be verified as a Level 1 Children's Surgery Center — the highest possible rating — by the American College of Surgeons.
Planning for Surgery
From free valet parking at the front door to personalized follow-up care during your child's recovery, we want every aspect of your experience at Children's Mercy to be beyond your expectations.
Read about how to prepare your child for scheduled surgery, what to expect when you arrive, and resources available while you're here.
Pediatric anesthesia at Children's Mercy
At Children's Mercy, a pediatric anesthesiologist is an active member of your child's care team before, during and after their surgery or procedure.
We administer anesthesia for more than 27,000 kids per year—that's 74 per day—so our team is experienced at finding just-right doses of medication for kids of all sizes.