Broken Knuckle: Ashton's Story
Meet Ashton

Fifteen-year-old Ashton Meuret has been climbing, flipping and tumbling since she was old enough to walk. So, two years ago when the highly competitive Level 9 Junior Olympian broke the middle knuckle on the ring finger of her left hand, she feared her gymnastics career might be over.
"Ashton and her brother were playing in the basement," said Rhonda Meuret, Ashton's mother. "She was showing him how to do a flip on a mat, lost her balance, put her hand down to catch herself, and hyperextended that joint, chipping the corner of her knuckle off."
The injury was painful, but initially, Ashton thought she had just jammed it. When her finger didn't get better on its own, she mentioned it to her mother, who immediately took her to the doctor for an X-ray.
"When we found out the knuckle was broken, we started looking for a pediatric hand surgeon," Rhonda said. Another gymnast the family knew highly recommended Christine Cheng, MD, Children's Mercy pediatric hand surgeon and Chief, Section of Hand Surgery.
"I called Dr. Cheng's office and she was able to see Ashton the next day," Rhonda said. And that wasn't a day too soon.
Timing is everything

By the time Ashton saw Dr. Cheng, it was late November 2017, and the competitive gymnastics season was almost underway. The teen's goal was to compete at the state, regional and national levels in the spring of 2018. That meant Ashton had about nine weeks to have her finger surgically repaired, then rehabilitate it. There wasn't a moment to spare.
"Dr. Cheng told me that I needed to have surgery and that I couldn't do any tumbling for nine weeks," Ashton said. "I was disappointed, but she was open and explained everything to me. I felt very comfortable with her."
"More than 50 percent of your finger motion is at that middle knuckle," Dr. Cheng said. "Having incomplete motion at that joint is pretty significant, especially for a competitive gymnast like Ashton."
During her outpatient procedure on Dec. 1, 2017, Dr. Cheng put a pin and screw in Ashton's knuckle to stabilize the joint. At first, Ashton's hand was in a cast, then three weeks later, Dr. Cheng removed the pin and re-cast her hand.
Ashton wore the second cast another four weeks. By the time she was out of the cast, she only had a couple of weeks to rehabilitate her finger before state competition.
Initially, Ashton saw a hand therapist at Children's Mercy College Boulevard who taught her some exercises to improve her finger's flexibility. Dr. Cheng also gave Ashton some exercises to perform during her recovery, but once she learned them, it was up to her to get her finger back in shape.
"It would have been easy for Ashton to get discouraged at this point, but Dr. Cheng was always so optimistic, positive and understanding when we would see her," Rhonda said. "Ashton felt Dr. Cheng understood what she was going through, and she explained that Ashton had to push through the pain to regain the flexibility and strength in her finger."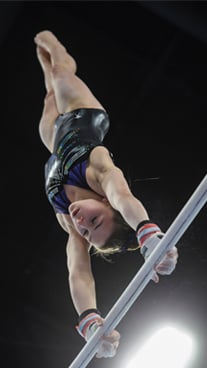 Reaching for every goal

At each appointment, Dr. Cheng measured how far Ashton could bend her finger, then gave her an attainable goal and the exercises to reach it.
"The end goal was always for Ashton to be able to compete at state," Rhonda said.
"Dr. Cheng made sure I knew exactly what I had to do to be successful, and then set small goals along the way so that I could fulfill each one," Ashton said.
By spring 2018, Ashton was ready to get back in the gym and to compete again. She not only qualified as a Level 9 Junior Olympian for the state and regional competitions, but she went on to nationals, an achievement her mother says would not have been possible without Children's Mercy.
"Dr. Cheng was always able to ground Ashton each time she saw her," Rhonda said. "She would tell her how much progress she was making and that she knew Ashton could do it. Ashton truly looks up to her."
Ashton agrees and said, "I just really think Dr. Cheng is awesome!"
"Ashton understood the severity of her injury," Dr. Cheng said. "It takes a certain level of maturity, as well as being goal-directed and a high-level athlete, to do this for yourself. Plus, Ashton had good therapy and a very supportive family. It took us all working together to get her back to a competitive level."
One year after surgery, Dr. Cheng removed the screw from Ashton's finger so that it wouldn't impinge upon her movement.
With some additional hand therapy, Ashton advanced to Level 10 of the Junior Olympics this year. But during a college showcase event, she broke her thumb while performing a skill on the bars. After having it examined by Dr. Cheng, she required surgery again to place two pins in her thumb. Her cast was recently removed, and she's hoping to return to competition.
Ashton's goal is to compete at the state, regional and national levels in 2020. Ultimately, she hopes to earn a gymnastics scholarship for college, and to one day study physical therapy.
"Gymnastics is a tough sport," Rhonda said. "Ashton has fractured toes, cracked a rib and broken her finger and thumb. Dr. Cheng did an excellent job of getting her back to competition, but in a safe manner. She understood that this is who Ashton is and what she loves to do. It's great we have doctors who understand that."
Stories & Videos
Bone lengthening: Aveon's story
After six surgeries to correct a condition she was born with, Aveon undergoes surgery at Children's Mercy to lengthen her bone. She will receive a new magnetic implant through a new technique. Dr. Olney has cared for Aveon for more than 10 years.
Pediatric Orthopedic Surgery - Hand, Pediatric Orthopedic Surgery
Section Chief, Hand Surgery; Clinical Assistant Professor of Orthopedic Surgery, University of Missouri-Kansas City School of Medicine; Clinical Assistant Professor of Orthopedic Surgery, University of Kansas School of Medicine