Orthopedics
Nationally ranked by U.S. News & World Report
Orthopedics
Nationally ranked by U.S. News & World Report
The orthopedic surgery program at Children's Mercy is consistently ranked as one of the top pediatric orthopedic programs in the nation. We provide comprehensive trauma, hand, musculoskeletal, sports medicine, spine, and general orthopedic services for children of all ages.
Our orthopedic surgeons specialize in children's musculoskeletal problems and work closely with the hospital's physical and occupational therapists to ensure the best possible outcome for every patient. We use an EOS imaging system that greatly limits your child's exposure to radiation.
Our approach to care is supported by ongoing research that is leading to new, more effective treatment methods.
Clinical Services
Additional services provided:


Limb lengthening

Full range of orthopedic surgery procedures

Botox injections for tone management

Casting and related procedures

Consultations

Follow-up care and coordination with OT/PT

Patient and caregiver education

Rehabilitation services

Arthroscopic surgery

Treatment of spinal deformities

Musculoskeletal oncology
Conditions
Bone and joint trauma

Bone disorders

Bone tumors

Bone and soft tissue tumors

Bow legs

Cerebral Palsy

Club feet

Developmental hip dislocation

Fractures

Hand anomalies
Hip and joint diseases

Infections of bone and joint

Joint replacement

Kyphosis

Leg length discrepancies

Limb length discrepancies

Scoliosis

Spina bifida

Sports injuries

Other orthopedic conditions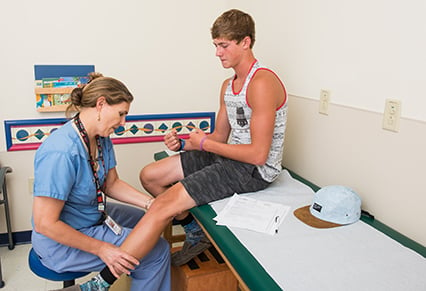 Bone health and healthy habits for life
Whether you have a question on safety, sports injuries or fitness, OrthoKids can be a great resource for your family. OrthoKids is designed for both kids and parents to learn about different types of bones, bone fractures and how they are treated. All of the information is provided by the Pediatric Orthopaedic Society of North America (POSNA), a professional organization of orthopedic surgeons. Children's Mercy is a member of POSNA.
Stories
Inside Pediatrics: Martin's Story
Go inside the operating room to see surgeons give young Martin the gift of greater movement.
Bone lengthening: Aveon's story
After six surgeries to correct a condition she was born with, Aveon undergoes surgery at Children's Mercy to lengthen her bone. She will receive a new magnetic implant through a new technique. Dr. Olney has cared for Aveon for more than 10 years.