Spine Care
Nationally ranked by U.S. News & World Report
The Spine Care experts at Children's Mercy manage all aspects of spinal conditions in children. With more than 60 years of combined experience, our spine surgeons are ready to provide expert care for your child and their surgical needs. Our advanced practice providers (APRNs) are specially trained in pediatric orthopedics and work alongside our surgeons as a trusted resource on the team.


Spine surgery for spinal curvature

For children with significant spinal curvature, our surgeons provide options such as vertebral body tethering (VBT), MAGEC (magnetic adjustable) growing rods, and a Vertical Expandable Prosthetic Titanium Rib (VEPTR) device. For most spine surgeries, children are in the hospital for just over three days, and we have historically low or non-existent infection rates after surgery for adolescent idiopathic scoliosis.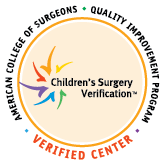 Highest Level of Surgical Care
Children's Mercy is one of only 10 centers in the nation to be verified as a Level 1 Children's Surgery Center — the highest possible rating — by the American College of Surgeons.
Spine Surgery - What to Expect
Meet Ellie, a teenager with scoliosis who is having spine surgery at Children's Mercy.

Non-surgical treatment for scoliosis

We also have a full range of non-surgical treatment options for kids with scoliosis, including both the Rigo 3D brace and Boston brace. We partner with Rigo-Cheneau trained orthotists and certified Schroth method physical therapists for bracing, and our established infantile scoliosis program offers MEHTA/RISSER casting from our experienced physicians.


Working together to help your child

Our spine care team, including Chief of Spine Surgery, Dr. Nigel Price; Dr. Richard Schwend and Dr. John Anderson work closely with other Children's Mercy specialists, such as pediatric anesthesiologists, intensivists, rehabilitative physicians, neurosurgeons, and certified orthotists. Everyone on your child's team is working together for the best possible outcome.

Advancing spine care through research

Children's Mercy was one of the largest contributors of participants in the Bracing in Adolescent Idiopathic Scoliosis Trial (BrAIST), a National Institutes of Health-funded study that affirmed the effectiveness of bracing for young people with moderate adolescent idiopathic scoliosis. We continue to be involved in the second phase of the study.
We collaborate with national spine registries to share information and resources within the research and clinical communities.
Services
Nationally ranked by U.S. News & World Report
Non-surgical services for scoliosis
Our team works very hard to prevent surgery whenever possible for children with scoliosis. We offer several customized bracing options, including Boston and Rigo Cheneau styles.
Physical Therapy for Scoliosis
Physical therapy and Schroth exercises may be prescribed as part of your child's treatment plan.
Growing rods help children with early-onset scoliosis to manage their curve while their spine is still growing. MAGEC (MAGnetic Expansion Control) growing rods can be adjusted from outside the body using special magnets, which helps kids avoid additional surgeries.
Mehta Casting is a type of body casting used with infants. The casting helps straighten the spines of young children with spinal deformities.
Spinal fusion permanently connects two or more of the vertebrae in the spine. This procedure can be done from the front (anteriorly) or back (posteriorly) and is generally only performed in children and teens who have reached skeletal maturity, meaning their bones are done growing.
Surgical Navigation for Repair of Spondylolysis
Certain types of spondylolysis may benefit by insertion through a small incision of screws used to repair the defect. Computer aided navigation is used to accurately place the screws in the lower lumbar spine.
This procedure uses an innovative system of screws and tethers to straighten the spine while adolescents are still growing. We have both open and endoscopic surgical options available. This is an alternative to typical instrumentation and fusion for scoliosis.
Children with conditions of the spine and chest wall that interfere with growth and normal function may benefit from a Vertical Expandable Prosthetic Titanium Rib (VEPTR) device.
Common Conditions
Back pain in children and adolescents—while not as common as in adults it can be a source of concern for parents. Depending on the symptoms and signs, the diagnosis and treatment can vary considerably. Often the diagnosis can be made with a thorough history and physical and minimal x-rays. Some children, particularly younger children, presenting with severe pain—particularly at night—require and MRI and lab testing.


Scoliosis



Adolescent idiopathic scoliosis—a curvature of the spine that is typically detected after the age of 10. It can worsen (progression of the curve) and need treatment. The medical provider may recommend observation, exercises, bracing or surgery.
Congenital scoliosis—a form of scoliosis where the child had an abnormal vertebra or multiple vertebrae at birth. While many can remain stable, some slowly worsen and can require surgery which is often done before school age.
Early onset scoliosis—a curvature of the spine that occurs or is detected before the age of 8-10 years of age.
Kyphosis — roundback deformities related to posture and excessive weight.
Neuromuscular scoliosis—a complex form of spine curvature seen in children with nerve and muscles disorders such as cerebral palsy, Duchenne's Muscular Dystrophy, Spinal Muscular atrophy, Rett's syndrome and many more. The curves can become quite severe at an early age and be challenging to treat with bracing. Larger curves often require extensive surgery which can successfully restore a child's upright balance and allow him or her to sit better.
Spondylolysis and spondylolisthesis—a defect of the posterior structure of the spine caused by injury or overuse. It can also develop over time. Many children can be managed with physical therapy. Some require a temporary brace. Occasionally injections or surgery are necessary because of chronic back pain or instability.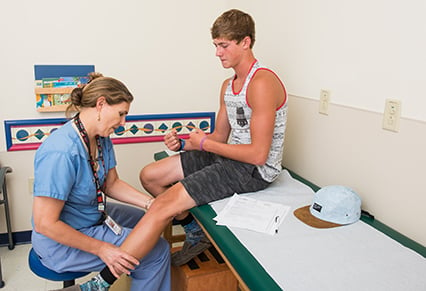 OrthoKids — Developing healthy bone habits for life
Whether you have a question on safety, sports injuries or fitness, OrthoKids can be a great resource for your family. OrthoKids is designed for both kids and parents to learn about different types of bones, bone fractures and how they are treated. All of the information is provided by the Pediatric Orthopaedic Society of North America (POSNA), a professional organization of orthopedic surgeons. Children's Mercy is a member of POSNA.
Stories
Meet Dr. Price, Chief of Spine Surgery
Dr. Nigel Price specializes in spine care at Children's Mercy and is committed to treating children with many types of back conditions. As the need for spinal expertise increases every year, Dr. Price and his team are well-equipped with the most advanced technology and expertise to assure patients and families that they are in the right place.