Vertebral Body Tethering for Scoliosis
Vertebral Body Tethering (VBT)--also known as the Zimmer Tether--is a surgical procedure that uses a series of screws and a medical-grade tether cord to gradually correct the spine of adolescents with idiopathic scoliosis. Unlike a spinal fusion procedure, VBT allows the spine to move more freely and naturally and gives the child room to grow without always needing additional surgeries.
The Zimmer Tether received FDA approval to be offered by a limited number of surgeons as a humanitarian use exemption. The Spine Care team at Children's Mercy has received specific training approved by the FDA and the device manufacturer to offer this scoliosis correction system.
Contact the Spine Care Team
We're here to help. Contact us to talk about your child's spine care needs.
Is the Zimmer Tether an option for my child?

Most often, we recommend this procedure for young people ages 9-15 with a curve measurement between 40 and 65 degrees. Your child will be asleep under anesthesia for the procedure, which can be done either endoscopically (a minimally invasive method that allows the surgeons to access the spine through small openings in your child's chest) or through a larger vertical incision in their back.

Ideal candidates for this procedure have:
a year or more of growth left, as determined by x-ray and other measurement indicators
an idiopathic curve (not caused by other health conditions)
no previous spine surgery
a reasonably flexible curve that is not too rotated
The Zimmer Tether works by gradually straightening your child's spine as they grow. It does not require additional visits to the clinic, other than periodic check-ins to monitor progress and address any questions you might have.
What to expect before and after vertebral body tethering surgery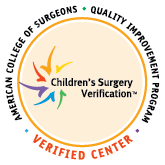 Before surgery, we will discuss all the treatment options with you and your child, including the potential benefits and risks. We will do x-rays of the spine and sometimes additional imaging studies, such as a CT scan or MRI. We may need to draw some blood as well.
Find out more about kid-safe, gentle imaging services at Children's Mercy
During surgery, the doctor will attach a series of screws into neighboring vertebral bodies on the side of your child's curve. Then the cord is attached to the screws. Over time, as your child grows, the tether will help to gradually straighten the angle of the curve.
Recovery from a VBT procedure usually takes about 10 days to two weeks. Your child's care team will teach them very gentle range of motion and trunk balancing exercises while they are in the hospital that you can continue to do together after they go home.
Afterwards, you'll continue to follow up with your orthopedic surgeon and team. They are available by phone and through the MyChildrensMercy Patient Portal for questions or concerns.