Microdiscectomy for Disc Herniation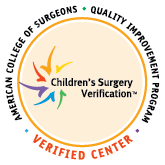 Pediatric disc herniations are rare in children and adolescents, but they do happen from time to time.
A disc is a fluid filled pocket between the vertebra in your child's spine that provides shock absorption and allows for movement. Disc herniation occurs when the disc is injured and the contents escape, causing irritation and pressure to the surrounding nerves.
Disc injury in children — apophyseal ring avulsion

One type of disc injury that is unique in children is apophyseal ring avulsion, where the injury to the disc can also result in pulling off a bone fragment from the body of the vertebra. Children with this type of injury will often experience:
Radiating leg pain with or without back pain

Some children may experience neurologic symptoms

Often, the pain will increase with bending forward or rotating the spine
Treating disc herniation at Children's Mercy

The Spine Care experts at Children's Mercy manage all aspects of a wide variety of spinal conditions in children and young adults, including disc herniations. Your child will be seen by an orthopedic surgeon who is specially trained in pediatric spine surgery to see if they are a candidate for surgical intervention.
An MRI of the spine may be needed based on your child's symptoms. Your child's provider will consider your child's response to treatments as well as evaluating their symptoms in order to determine whether surgical or non-surgical intervention will be most effective.
Non-surgical treatment for disc herniation

Many pediatric disc herniations can be treated without surgery through rest, physical therapy, or epidural steroid injections, which your child can receive through our Interventional Radiology department at Children's Mercy.
Microdiscectomy surgery

Microdiscectomy is a surgical intervention that can relieve your child's leg pain and neurologic symptoms. The procedure involves removing the portion of the disc and/or bone fragment that is placing pressure on your child's nerves.
At Children's Mercy, this procedure is done using a lighted microscope with a minimally invasive incision, allowing for a more rapid recovery. Many children will go home on the day of surgery or spend one night in the hospital.
Recovering from microdiscectomy surgery
Your child's care team will follow your child after surgery.
After surgery, your child will be limited in their activity and lifting for the first two weeks to allow for healing and to avoid re-herniation of the disc. Your provider will talk with you about specific movements that should be avoided.
Generally, a brace is not needed after surgery. Your child can return to school or light work 1-2 weeks after surgery. You will come back for a follow-up visit with your child's surgeon 2-3 weeks after surgery to check on their pain and function.
It is important to follow the instructions provided by your child's surgeon, and your child will gradually be released back to activity as soon as safely possible. Rest is crucial in allowing the back to heal, so your child may return to their pre-operative level of function.
Recovery for student-athletes
Student-athletes may want to consider physical therapy at our Sports Medicine Center to increase back strength and flexibility if they have goals to return to sports or certain physical activity. Your surgeon will discuss your child's expectations with them at your appointment before surgery.
Pediatric Orthopedic Surgery
Chief, Spine Surgery , Orthopaedic Surgery; Program Director, Pediatric Orthopedic Surgery Fellowship; Associate Professor of Orthopedic Surgery, University of Missouri-Kansas City School of Medicine