Early Onset Scoliosis: Quinn's Story
Meet Quinn

When you see the photo of 7-year-old Quinn Liberman leaping for joy over a series of chest-shaped objects stuck in a field, you have to wonder, "What are those things and what's she doing?"
Well, those "things" are the 15 casts and three braces she's worn to correct a severe curve in her spine over the past 3 ½ years. What she's doing is celebrating—no more casts!
Looking back, her mom, Meredith Liberman, said there were signs her daughter had a curve, or scoliosis, early on, but it didn't become apparent until she was about 3 years old.
"The curve became more pronounced after Quinn went through several growth spurts between 2 and 3," Meredith said. "She was more clumsy than usual, and leaned to the right."
That's when her pediatrician referred her to an expert in treating children with scoliosis at Children's Mercy Kansas City.
The hospital's Spine Care team includes specialized nurse practitioners and registered nurses who all work together to coordinate each child's spine care. The team also works closely with many other pediatric specialists, including pediatric anesthesiologists, intensivists, rehabilitative physicians, neurosurgeons, certified orthotists and child life specialists.
Finding the right treatment for Quinn

Quinn was diagnosed with early onset scoliosis, a condition that causes the spine to bend, or curve, as a child grows. In Quinn's case, she has a 56-degree right curve in her spine. She also had an abnormality of her brainstem and spinal cord detected on MRI.
There are a wide range of treatment options for children with early onset scoliosis, from casting to bracing to surgery.
Though casting is typically more successful in children under 2, the family decided to give Mehta casting a try. Quinn's casts were made of fiberglass and were applied under a general anesthetic on a specially designed table.
The goal with casting is to achieve a straight spine, but if that isn't possible, preventing the curve from advancing is the next best option.
For Quinn, the casts didn't straighten her spine, but they did prevent the curve from getting worse, and they helped her internal organs develop normally.
"We knew because Quinn was older when we started casting that it might not work as well for her, but it has helped her get to the next phase of her treatment," Meredith said. "When she was in the cast, her curve was more like 20 to 28 degrees. That meant her heart and lungs could grow and work as they should."
Thanks to casting every couple of months, Quinn's curve hasn't advanced in 3 ½ years. "We are blessed the casting has been able to help us hold that curve, and that Quinn hasn't had to have a surgery yet," Meredith said.
Recently though, casting became uncomfortable for Quinn, and it restricted her movements. When wearing the cast, she couldn't shower, or swim, or play in the sand. "It's 8 to 12 weeks in the cast without taking it off," Meredith said.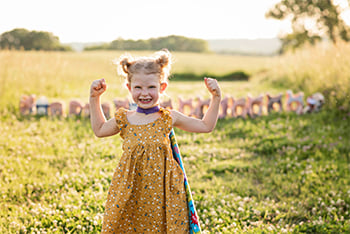 So when her doctor suggested it might be time to leave casting behind and pursue a new type of bracing called Rigo Cheneau, Quinn was in.
To celebrate the end of casting, Meredith scheduled a photo shoot. The photographer, Amber Dawkins, lined up all 15 of Quinn's casts and three braces chronologically in a field. Quinn posed with her casts and braces, smiling and victorious, ready to leave casting behind as she transitioned to the next stage in her treatment.
Staying ahead of the curve
Shortly after her photos were taken in June, Quinn began wearing her new Rigo Cheneau brace. Children's Mercy is one of only a few locations in the U.S. to offer this type of bracing, and to have orthotist/surgeon team trained by Manuel Rigo, the inventor of the brace. It is designed to improve spinal alignment in three dimensions, and works together with Schroth physical therapy exercises to optimize effectiveness.
The goal is for Quinn to wear her brace 20 hours a day. Because it is custom designed and fastens in the front, it also allows her the freedom to remove it so she can do some of her favorite things, like swim and dance.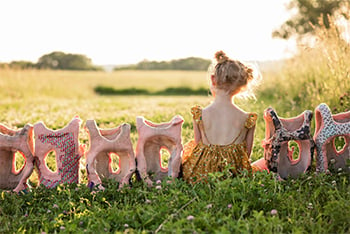 "This brace may be able to help us get Quinn to adolescence before she needs surgery," Meredith said. The family's hope is that less invasive surgical options may be available by then, and that Quinn could be a good candidate.
In the meantime, Quinn is ready to start second grade. She enjoys learning to read, playing with her dog and her friends, swimming, dancing and playing video games with her dad, Joshua.
Throughout her journey, Meredith said it's been important to make this process seem as normal as possible, though there's no denying it's not what most kids experience growing up.
"There were a lot of things that Quinn couldn't do when wearing the cast," Meredith said. "But as a family, we wanted to make sure she didn't spend time thinking about what it limited. We wanted her to spend time having fun. We did everything we could to help her find joy in the process."
And Quinn has even found a way to give back to Children's Mercy, working with her local Girl Scout troop to help make "Happy Kits" for other kids who are patients.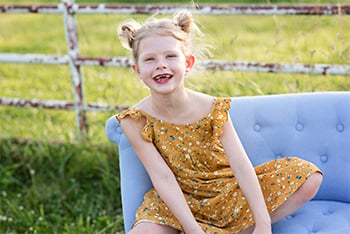 "Quinn knows how much those kits mean when you're in the hospital," Meredith said. "She's received them herself. One of her favorite gifts was a gray stuffed hippo she named Rose. She took it with her to several of her casting appointments. The team even wrapped it in stretchy colored gauze so it looked like it had a cast, too."
That extra attention to what matters to Quinn is what makes Children's Mercy such a special place, Meredith added.
"We have a lot of trust in our Children's Mercy team," Meredith said. "We feel incredibly lucky they are just a 30-minute drive from our home. We know that whatever path we end up walking, they are the best team for us, for as long as we have to walk this path."