General and Thoracic Surgery
The highest level Children's Surgery Center available
General and Thoracic Surgery
The highest level Children's Surgery Center available
The general and thoracic surgery department at Children's Mercy provides a wide range of treatments for conditions that affect the head, neck, chest, abdomen, pelvis, arms and legs.
We have surgeons available around the clock for surgical consultation and care. Every surgery is attended by a pediatric anesthesiologist, who has expertise in finding the just-right dose of medication for the child's age, size and condition.
Leading the way in surgical care
Whenever possible, our surgeons use minimally invasive surgical techniques to help kids heal more quickly. This results in shorter hospital stays, faster recovery and reduced risk of complications and scarring after the surgery.
Our research team is hard at work to determine the most effective surgical approaches for pediatric conditions.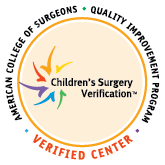 Highest level of surgical care
Children's Mercy is one of only 30 locations in the nation to be verified by the American College of Surgeons as a Level 1 Children's Surgery Center.
Conditions
Cutaneous (perineal) fistula

Imperforate anus without fistula

Perineal fistula

Persistent cloaca

Rectal atresia and stenosis

Rectobladder neck fistula

Rectourethral bulbar fistula

Rectourethral prostatic fistula

Vaginal fistula

Vestibular fistula

Branchial cleft and arch anomalies

Chest wall deformities

Empyema and lung infections
Epidermolysis bullosa

Esophageal and airway foreign bodies

Esophageal strictures

Gallbladder disease

Gastroesophageal reflex disease

Hydrocele
Inflammatory bowel diseases

Crohn's disease

Ulcerative colitis
Intussusception

Meckel's diverticulum

Necrotizing enterocolitis

Obesity (morbid clinically severe obesity)
Patent ductus arteriosus (PDA)

Portal hypertension

Pyloric stenosis
Short-bowel syndrome

Skin lesions requiring surgery

Umbilical hernia

Bronchogenic cysts
Choledochal cysts

Congenital lobar emphysema

Congenital diaphragmatic hernias and other related diaphragmatic anomalies

Gastroschisis
Intestinal atresia and stenosis

Intestinal malrotation and volvulus

Omphalocele

Pentalogy of Cantrell

Thyroglossal duct cysts and sinuses

Tracheoesophageal fistula and esophageal atresia

Undescended testis


Trauma


Commonly treated trauma conditions, such as head injuries and solid organ injuries
Vascular Lesions


Hemangiomas

Vascular malformations, including:

Capillary malformations (port wine stain)

Venous malformations

Arteriovenous malformations

Lymphatic malformations

Combined vascular malformations
Syndromes associated with vascular lesions

Kasabach-Merritt phenomenon

Sturge-Weber syndrome

Klippel-Trénaunay syndrome

Maffucci's syndrome

Proteus syndrome

Hereditary hemorrhagic telangiectasia (Rendu-Osler-Weber syndrome)

Ataxia-telangiectasia (Louis-Bar's syndrome)

Lymphangiectasia

Lymphedema

Other inherited vascular lesions
Tumors


Hepatic tumors

Hepatoblastoma

Hepatocellular carcinoma

Neuroblastoma

Ovarian tumors and cysts

Rhabdomyosarcoma

Soft tissue sarcomas

Teratomas

Wilms tumors
Planning for surgery
From free valet parking at the front door to personalized follow-up care during your child's recovery, we want every aspect of your experience at Children's Mercy to be beyond your expectations.
Read about how to prepare your child for scheduled surgery, what to expect when you arrive, and resources available while you're here.
Pediatric anesthesia at Children's Mercy
At Children's Mercy, a pediatric anesthesiologist is an active member of your child's care team before, during and after their surgery or procedure.
We administer anesthesia for more than 27,000 kids per year—that's 74 per day—so our team is experienced at finding just-right doses of medication for kids of all sizes.
Stories
Inside Pediatrics: Jacob's story
Revolutionary cryoablation procedures pioneered at Children's Mercy allow Jacob to recover with almost no discomfort from a chest repair that used to cause months of pain.
Center for Prospective Trials
Children's Mercy is home to the Center for Prospective Trials. The Center works to follow similar patients over time, observing how different variables may impact their long term outcome. Outcomes from trials like these lead to better care for kids. See how these trials are determining new ways to treat conditions.