Children's Mercy operates the only designated Level I Pediatric Trauma Center and the only burn unit devoted exclusively to pediatric patients between St. Louis and Denver.
Our Burn and Trauma Staff includes board-certified surgeons and pediatric-trained specialists who are available 24 hours per day. Our outcomes for pediatric trauma patients are above the national average.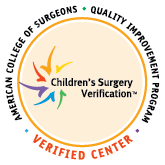 Our team offers a full range of burn and trauma services, from initial treatment to post-discharge follow-up. Staff includes:
Surgeons, nurse practitioners, and nursing staff who are specialists in burn care.

Physical therapists and occupational therapists who monitor exercises and positioning.

Nutritionists who minimize weight loss and oversee dietary needs to promote healing.

Child life specialists who provide emotional support.

Social workers who facilitate support throughout the community.

A psychologist offering comprehensive psychological needs for acute and long term care.
Conditions
First-degree or superficial burns

Second-degree or partial thickness burns

Third-degree or full thickness burns

Scald burns

Contact and friction burns

Chemical and electrical burns

Sunburns and radiation burns

Frostbite injury

Inhalation injury

Gunshot wounds/stabbings

Stevens-Johnson syndrome/toxic epidermal necrolysis/staph scalded skin syndrome

Injuries resulting from:
Bicycle crashes

Child abuse

Falls

Motor vehicle accidents

Sports
Surgical treatment:
Split-thickness skin grafting

Full-thickness skin grafting

Full reconstructive services

Laser therapy

Non-surgical medical services:
Burn debridement treatments

Dressing changes

Pain management

Scar management with compression therapy

Therapy management and referrals

Developmental and behavioral services

Transition and aftercare assistance
View common burn treatments
Scheduling an appointment and your visit
We strongly encourage families to contact our hospital directly to schedule appointments and we request that patients bring relevant medical records and X-rays with them on their first visit. Prior to arriving for your first appointment, please give your child a dose of pain medication (Tylenol, Motrin, or prescribed pain medication if given one).
Please bring the following items with you to all of your appointments:
Insurance card

Creams/ointments you have been using at home

Supplies and dressings you have been using at home
Preparing your child for burn treatment
The Child Life team has put together a guide to help your child understand what happens during a burn treatment.
Contact the Burn and Trauma Team


Please call (816) 234-3520:
Burn and trauma patients, established patients and families.
Acute burn injury patients.
Referring health care providers.