Center for Pectus Excavatum and Carinatum
Center for Pectus Excavatum and Carinatum
The Center for Pectus Excavatum and Pectus Carinatum at Children's Mercy is one of the largest centers for chest wall surgery and bracing in the country. The Pectus Center is the region's only authorized bracing system provider, correcting nearly every pectus carinatum case without surgery. The recommended referral age to the pectus center is during early adolescence between 11-13 years old.
My chest goes in: pectus excavatum


Pectus excavatum (also known as sunken chest or funnel chest) is the most common difference of the chest in children. The surgical experts at Children's Mercy are recognized leaders in repairing pectus excavatum by using the minimally invasive repair of pectus excavatum (MIRPE) or the Nuss procedure. Our surgery success rate is 99 percent.
Read about how Children's Mercy treats pectus excavatum.
My chest goes out: pectus carinatum


Pectus carinatum is a common pediatric condition characterized by an unusual overgrowth of the rib cartilages. The Pectus Center offers a nonsurgical treatment option for kids with pectus carinatum called the dynamic compression system (DCS) brace. Children's Mercy is a national leader in treating pectus carinatum with the DCS brace. Because of this, most children with pectus carinatum in our care do not need surgery.
Resources for families

Our pectus team has put together resources that may be helpful for your family, including exercises, recommendations, travel letters, brace billing information and more.
Stories
Pectus carinatum: Rogan's story
An innovative bracing system – combined with a committed patient and family and a dedicated treatment team – helped achieve full correction of one teen's pectus carinatum in just one month. Read Rogan's story to learn more.
Meet Rogan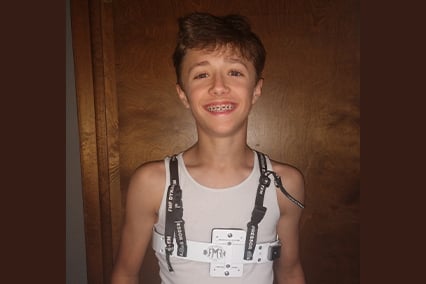 Inside Pediatrics: Jacob's story
Revolutionary cryoablation procedures pioneered at Children's Mercy allow Jacob to recover with almost no discomfort from a chest repair that used to cause months of pain.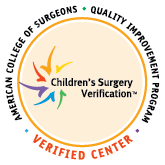 Highest level of surgical care
Children's Mercy is one of only 30 locations in the nation to be verified by the American College of Surgeons as a Level 1 Children's Surgery Center.
Center for Pectus Excavatum and Carinatum Menu