Center for Pectus Excavatum and Carinatum
Center for Pectus Excavatum and Carinatum
The Center for Pectus Excavatum and Pectus Carinatum at Children's Mercy Kansas City is one of the nation's most experienced pectus centers. Today, the center provides consults for more than 200 pectus excavatum and pectus carinatum patients each year and performs 30-40 surgeries annually. Since the official creation of the center in 2011, over 1,300 children and families have sought out treatment for pectus at Children's Mercy.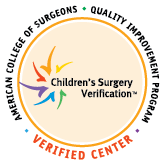 The center offers the pectus excavatum minimally invasive surgery "Nuss technique" with Cryoablation or freezing the nerves during surgery which is proven to decrease pain and shorten the hospital stay. We have a 99 percent success rate and perform the second-highest number of surgeries in the country.
For pectus carinatum patients, the center offers an innovative dynamic compression device (DCD) bracing system, bracing the most patients in the nation. Children's Mercy Pectus Center is the region's only authorized bracing system provider, correcting nearly every patient case without surgery.
Conditions
Pectus excavatum (sunken chest, funnel chest) is the most common abnormality of the chest in children. Children's Mercy general surgeons modified the referenced Nuss technique in 1999, which involves making an incision on each side of the chest about 1.5 inches long. A stainless steel bar that is curved to fit around the front of the chest is slid under the breastbone from one of the side incisions and passed to the other side. The bar is left in place for approximately three years to allow the chest to reshape. After three years have passed, the bar is removed in a same-day surgery.
Pectus carinatum (PC) is a common pediatric condition characterized by an abnormal overgrowth of the rib cartilages. Dynamic Compression Device bracing is used to treat this condition. The brace corrects abnormal chest shape and allows remodeling by applying external compression, similar to the way braces correct crooked teeth. The patient usually wears the brace six to 20 months, 23 to 24 hours a day. Adjustments are made at regular intervals. Once the deformity is corrected, the patient still wears the brace in a "retainer" mode.
Stories
Pectus Carinatum: Weston's Story
At 15, Weston Marshall was diagnosed with a protruding sternum, called pectus carinatum. The Center for Pectus Excavatum and Pectus Carinatum at Children's Mercy used a special brace to correct the condition.
Meet Weston
Pectus Carinatum: Zane's Story
A "bump" in the center of Zane Johnson's chest called pectus carinatum brought him to the Center for Pectus Excavatum and Pectus Carinatum at Children's Mercy. A special brace is correcting the condition.
Meet Zane
Pectus Excavatum: Sophie's Story
When Sophie Penland needed surgery to correct pectus excavatum, a chest wall deformity, her mom brought her to the experts at Children's Mercy. Now the teenager is dancing to her heart's content.
Meet Sophie
Center for Pectus Excavatum and Carinatum Menu